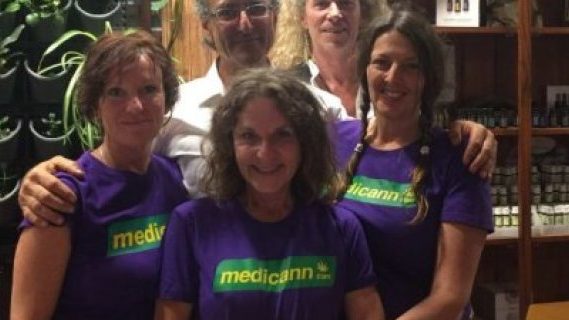 As the use of medical marijuana is fast becoming accepted across Australia, NSW police raided a medicinal cannabis growing dispensary in Newcastle. Last Thursday, 215 plants were seized from a hydroponic operation run by a local group called the Church of Ubuntu (pictured).
The church is one of the largest suppliers of medicinal cannabis products in the country, with close to 2,000 customers. The dispensary was providing small plants to patients to grow at their own homes to treat cancer and ease the symptoms of extreme epilepsy.
Staff at the clinic said some of their patients had been granted "terminal condition" waivers under the state government's Medicinal Cannabis Compassionate Use Scheme. Announced last year, the scheme gives police discretion not to charge terminally ill adults who use medical marijuana.
Detective Inspector Peter Mahon told the Newcastle Herald that despite the operation growing plants for medicinal purposes, it remained in breach of the Drug Misuse and Trafficking Act 1985. He said no one was arrested during the raid, but charges would ultimately be laid as a result.
Unnecessary raid
Co-founder of the Church of Ubuntu Karen Burge told Sydney Criminal Lawyers® they'd been growing plants for cancer patients and parents of children with epilepsy for two years. And the authorities were well aware of the operation.
"The police have been informed many times. We also invited Mike Baird here at Dan Haslam's funeral. He was told what we were doing and invited to come and see us," explained Ms Burge, a former Drug Law Reform Party candidate.
She added that the NSW premier had not responded to an emailed invitation sent 18 months ago.
According to Ms Burge, the not-for-profit dispensary has been a great success. "Everyone knows what we're doing and it's really taken on a life of its own." The staff have been educating people about the benefits of medicinal cannabis and assisted people who've had nowhere else to turn.
Moves towards legalising the medication
In February this year, federal parliament passed the Narcotic Drugs Amendment Bill 2016 allowing for the legal cultivation, manufacture and distribution of medical marijuana.
Under the new system – which came into effect on October 30 – businesses can apply for a licence to grow the plant for medicinal purpose. However, critics insist that smaller producers will be left out of the market due to restrictions and licensing prices.
The NSW government launched a medicinal cannabis trial into treating chemotherapy patients suffering nausea on Tuesday. This is one of three trials premier Baird announced in December 2014 would be launched in 2016.
A trial for children suffering epilepsy has already begun. But a belated trial for terminally ill cancer patients won't begin until next year, as the government is having trouble sourcing a placebo to test against the medicine.
Trials are preventing the roll out
President of the Australian Drug Law Reform Foundation Dr Alex Wodak has pointed out that a 2012 study identified 82 favourable controlled trials of medicinal cannabis held around the world, and only nine unfavourable ones.
The doctor believes the NSW trials will actually make the process of getting treatment to patients much slower. But he also thinks there's a need for continued trials in areas that haven't been thoroughly researched.
Ms Burge explained that the reason the Church of Ubuntu has been operating in the way it has been is that government "red tape" is slowing down the process of actually getting this much-needed medicine to patients.
When asked if she sees a link between the government establishing a legal medicinal cannabis market and cracking down on small operations like there's, Ms Burge replied, "Absolutely. We knew that the day would come and it's just really disturbing."
"The most disturbing part about childhood epilepsy is knowing that these parents could be growing their child's medicine for free," she said, adding that a single seizure can result in brain damage or death,  that families are "living in constant fear" of this.
Earlier medicinal cannabis raids
There have been other medicinal cannabis raids around the country over recent years. In May last year, 15 and a half kilograms of marijuana was found at the home of Matthew and Elizabeth Pallett in the Melbourne suburb of Carrum Downs.
The couple were providing the cannabis to help people treat chronic pain and terminal illness.
The Palletts were initially charged with drug possession, drug cultivation and drug supply. However in November, a jury found each of them guilty of one count of cultivating a prohibited plant only. The judge did not record a conviction against their names.
Another Newcastle producer, Malcolm Ronald Lee, was raided in November 2014. Police seized 116 plants and a large amount of cannabis oil. Lee was supplying local cancer patients with cannabis for half the street value.
In Newcastle District Court, Judge Roy Ellis sentenced imposed a two year good behaviour bond on Mr Lee. In sentencing, the judge took into account the benefits of medicinal cannabis and noted that Lee was not doing it for financial gain, but rather helping those in chronic pain.
Largest Australian grower jumps ship
But it's not just small medical marijuana producers expressing dissatisfaction. Australia's largest medicinal cannabis grower, Ecofibre, has decided to take its business to the US, where the legal framework is more favourable.
The business has been growing cannabis in NSW's Hunter Valley on 340 acres of land. Barry Lambert, a company advisor, said the federal government's medicinal cannabis legislation has so many restrictions that it's unworkable.
Mr Lambert pointed out that a grower must prove they have a manufacturer who is supplying for approved users, but it's almost impossible to get approval to use the medicine in Australia. And another issue is that the plant must be grown in expensive high-security glasshouses.
As for Newcastle's Church of Ubuntu, Ms Burge said, "Our wish is to continue on. And to continue to fight for all Australians to have affordable access to a plant that could be grown for free in their backyard."
Receive all of our articles weekly