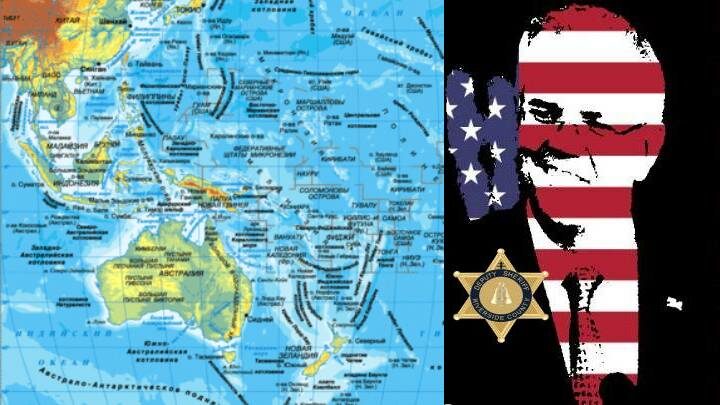 Exercising the powers to go to war – and all the regalia that comes with it – is something heads of state dream of. And that being the case, our head of state, prime minister Scott Morrison, must be in the throes of ecstasy.
Two weeks ago, the PM blindsided the entire nation by announcing that he's embroiled it in AUKUS: a new pact with the US and the UK, with warring on China as its focus. And if that wasn't enough, it also involves our nation going nuclear in the form of eight atom-splitting submarines.
While last week saw the "fair go" PM over in the States, rubbing shoulders with the three other leaders involved in another transnational partnership known as the Quad. This involves the nations of Australia, the United States, Japan and India, with an unspoken focus on countering China.
In a 24 September communique, the Quad leaders outlined that they'd convened in the US to promote a "free and open Indo-Pacific", to strengthen their science and technology cooperation, which includes cyberspace and outer space, and to develop a regional infrastructure partnership.
"Not a security meeting"
Known more broadly as the Quadrilateral Security Dialogue, the Quad was first initiated following the 2004 tsunami. But the informal alliance has taken on greater significance since 2017, with rising concerns about China's growing economic, diplomatic and military influence in the Indo-Pacific.
Despite the assertion that the Quad is not a defence alliance, the four nations took part in a joint naval operation, known as Exercise Malabar 2020, last November. And while last week's summit was the first face-to-face meeting of the leaders, an earlier virtual meeting took place in March.
US thinktank the Council on Foreign Relations cites "China's growing willingness to challenge the regional status quo" and "Beijing's challenging of democratic values", as reasons why the Quad has grown in importance.
And following the March meeting of the four nations, China's Ministry of Defence spokesperson Senior Colonel Ren Guoqiang made clear that his nation stands firmly opposed to the "four-sided mechanism" with its "Cold War mentality".
Deputy Dawg down under
Along with the US, the key component of both AUKUS and the Quad is the involvement of our nation.
Indeed, the quick succession of both the announcements around these arrangements has given a clear signal that Canberra has positioned itself in opposition to Beijing.
The Morrison government orientating the country as an opponent of our largest trading partner, comes after months of Morrison, deputy PM Barnaby Joyce, defence minister Peter Dutton and home affairs secretary Mike Pezzullo all publicly raising the prospect of war with China.
And Beijing has condemned Canberra's posturing with Chinese Communist Party mouthpiece the Global Times having stated in a recent editorial, "Australia has turned itself into an adversary of China", and if it continues to provoke it, "China will certainly punish it with no mercy".
Receive all of our articles weekly