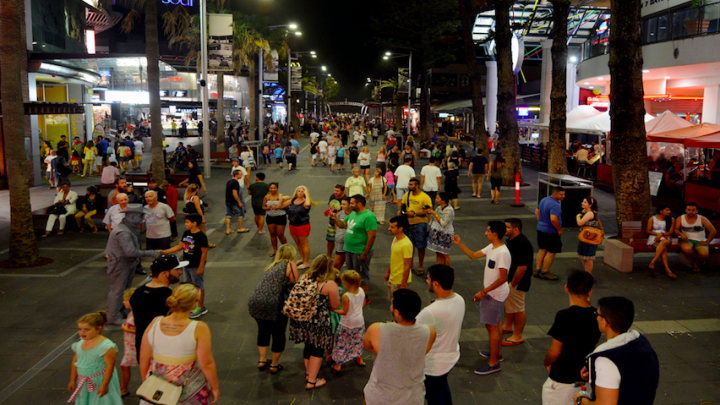 A group of 'schoolies' on the Gold Coast could be facing court for wilful damage after trashing a Gold Coast hotel room, ripping plaster off walls, and damaging furniture and carpets.
The group went on a rampage inside a luxury penthouse at Mantra Sun City Resort on the Surfers Paradise, before posting pictures on social media and boasting: "Yeah the boys" and "Schoolies 2k17".
Criminal charges
The group was eventually kicked out of the hotel by the duty manager, who then called the police.
Investigations are currently underway to identify the individuals responsible for the damage, with police foreshadowing criminal charges.
The group has already forfeited the bond money for the penthouse, but the damage bill will certainly be far greater.
While the boys were all bravado on social media, they had very little to say when faced with television cameras.
The owners of the building are playing down the incident, presumable for fear of scaring away more 'desirable' patrons. They have emphasised that the hotel has around the clock surveillance and security, and no one was injured.
End of week one
Police say the first week of schoolies was rather quiet despite a big start – with 41 arrests over the first weekend.
Only about 22,000 schoolies partied on the Gold Coast this year – a figure markedly lower than previous years. Over the course of the first week, a total of 66 people were arrested – forty-four of them for drug offences.
The lower patronage in traditionally popular places such as the Gold Coast, Noosa and Byron Bay is partly dues to schoolies trending towards overseas destinations such as Bali and other parts of South-East Asia, or keeping it 'low key', or even avoiding festivities altogether.
Females nearly 'twice as likely' to need help for intoxication
Australian police and paramedics have expressed concerns about the high numbers of females requiring medical assistance due to alcohol and drug intoxication, and even overdoses.
They say almost twice as many females as males require help, often due to consuming large amounts of alcohol and other drugs before heading out, in order to save money.
Police say the most common drug they come across is MDMA, also known as ecstacy. Other commonly used drugs include cocaine, cannabis, ice and "nangs" — which are nitrous oxide canisters inhaled through a balloon.
Other dangerous conduct
Earlier in the week, there were fears for the safety of several schoolies who were sitting on the ledge of a balcony of a Gold Coast apartment building more than nine floors above the ground.
There were also reports of schoolies hanging off railings themselves, throwing objects from hotel rooms and even climbing from balcony to balcony.
Every year, police brace themselves for the onslaught of schoolies and all the mayhem that comes with it.
Other organisations such as Red Frogs offer support by walking schoolies home, helping them to avoid conflict, and obtaining medical attention when required.
Receive all of our articles weekly