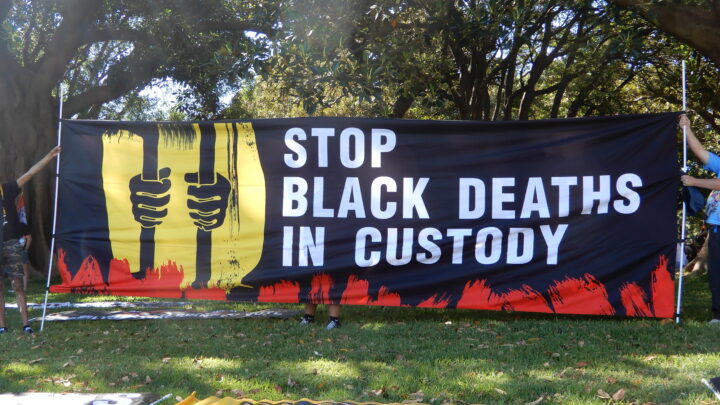 A 57-year-old Corrective Services NSW officer presented at Lismore police station on 5 February 2021 and was charged with manslaughter over the 15 March 2019 shooting death of Wiradjuri man Dwayne Johnstone, who was a detainee in the custody of the prison guard.
On the day of the fatal shooting, Johnstone had appeared in the Lismore Local Court and was denied bail over an assault charge. He later suffered a possible epileptic seizure in the holding cell at the courthouse and two Corrective Services officers took him to Lismore Base Hospital for treatment.
Johnston was being taken back to a van as he left the hospital when he elbowed an unarmed guard and made a break for it. The 43-year-old was handcuffed and shackled as he attempted escape. And the other officer fired three shots, hitting him in the lower back with the third, which proved fatal.
As is procedure with custodial deaths, a coronial inquiry followed. And in an unprecedented move, NSW state coroner Teresa O'Sullivan called a halt to the inquest in late October last year, as she referred the matter to the DPP to consider whether charges should be laid.
The decision to charge the guard with manslaughter is ground breaking. It marks the first time a corrections officer has faced a substantial charge in relation to a First Nations custodial death. And it comes at a time, when a number of police officers are also facing charges over similar killings.
The few charges laid
A lack of accountability has long marked the aftermath of Aboriginal deaths in custody. Despite the Royal Commission into this continuing crisis handing down 339 recommendations in 1991, there have now been over 440 First Nations custodial deaths since the inquiry tabled its report.
Secretary of the Indigenous Social Justice Association (ISJA) Raul Bassi confirmed that this is the first time nationally a corrections officer has been charged over an Aboriginal death in custody.
Bassi long worked beside Wiradjuri elder the late Ray Jackson campaigning against these deaths.
The activist told Sydney Criminal Lawyers that there have been a few officers referred to the DPP for consideration of charges following a First Nations death in their custody, however the current case marks the first time that such a matter has proceeded towards trial in NSW.
Bassi went on to add that there are currently cases before Australian courts involving law enforcement-related deaths and in the past, an officer was charged over the 1983 death of Yindjibarndi youth John Pat, while the 2004 Palm Island death of Mulrunji made it to trial.
When it was put to him that the current case is a national first in terms of charging a prison guard, Bassi conceded this is true, but added that for him it's the same as charging police officers as they're all the same "protected species" that secretly conduct their own investigations into these deaths.
Before the courts
The prison officer involved in the shooting death of Dwayne Johnstone is set to appear in Lismore court on 29 March. And there are currently similar cases involving police around the nation that have already proceeded further.
NT police officer Zachary Rolfe is set to stand trial for murder in July this year, over the shooting death of 19-year-old Warlpiri man Kumanjayi Walker.
The youth was shot in his Yuendumu home on 19 November 2019, during what's been described as a military-style raid over a breach of bail.
This marks the first time a territory police officer has gone to trial in relation to a First Nations custodial death. And it led the Yuendumu community to call for an end to police harassment, with Warlpiri elders asserting they want to patrol their own communities.
While a WA police officer is set to face a charge of murder late this year, again, over a shooting death.
The September 2019 incident involved a Yamatji woman known as JC, who lived in the town of Geraldton and suffered mental health issues.
At the time the officer shot JC, she was standing in the middle of the road, holding a knife and was surrounded by police. A family member had called law enforcement to ask for assistance in transferring her to a hospital as she was having difficulty at home after being released from prison.
State-sanctioned crimes
However, the current charges against the three officers and the trials set to take place are deviations from the norm.
The treatment of the senior police officer following the killing of Mulrunji serves as an example of the kind of favoured treatment that officers receive following First Nations custodial deaths.
On 19 November 2004, Queensland senior sergeant Christopher Hurley arrested Cameron "Mulrunji" Doomadgee on Palm Island for public drunkenness. Hurley then took the 36-year-old Bwgcolman man back to the station, where he fatally beat him.
Hurley was subsequently tried on a charge of manslaughter. The court heard that the sergeant kneed Doomadgee in the stomach rupturing his liver. And in June 2013, the all-white jury went on to acquit the law enforcement officer.
Less than a month after the killing, Hurley was transferred to the Gold Coat to work there. The now retired Queensland police officer even received $10,000 in compensation in relation to his house burning down during the riot on Palm Island that followed the death of one of its sons.
Black Lives Matter
The Hurley case is just one example of why, when the Black Lives Matter protests were sparked in the US last May – over the Minneapolis police killing of African American man George Floyd – tens of thousands took to the streets across this nation drawing attention to the same pattern here.
The local BLM demonstrations were calling for an end to Aboriginal deaths in custody and the defunding of police. The point was made that law enforcement and corrections systems in this nation were founded upon racialised brutality towards First Nations peoples.
Recent Aboriginal custodial deaths in NSW involving no one being held to account include David Dungay Junior, Patrick Fisher, Nathan Reynolds, Tane Chatfield, Rebecca Maher and Eric Whittaker.
This Sunday, 14 February, marks seventeen years since 17-year-old Gamilaraay youth TJ Hickey was chased on his bike through the streets of Redfern by a police van, until he became impaled on a fence.
The driver, Constable Michael Hollingsworth, refused to testify at the inquest on the grounds that he might incriminate himself. The NSW state coroner permitted this. While his partner and passenger Maree Reynolds said "I don't recall" so many times during proceedings that it was remarked upon.
Receive all of our articles weekly
Author
Paul Gregoire
Paul Gregoire is a Sydney-based journalist and writer. He has a focus on social justice issues and encroachments upon civil liberties. Prior to Sydney Criminal Lawyers®, he wrote for VICE and was the news editor at Sydney's City Hub.