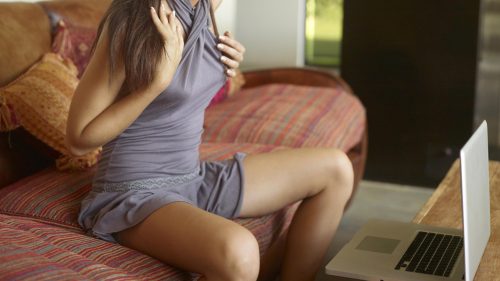 A range of new laws have been introduced in the wake of the Royal Commission into Institutional Responses to Child Sexual Abuse. Amongst them, are laws which repeal the criminalisation of teens of similar age who engage in consensual 'sexting'.
What is sexting?
Sexting is the sending, receiving or forwarding of sexually explicit images of oneself to another via text mobile phone or another digital device.
It has become increasingly common among those in their late teens – most of whom have their own smartphones. As emerging young adults, many experiment using technology to communicate with each other as part of normal sexual development.
Professor Anne Mitchell is a researcher at La Trobe University. Her study found that a quarter of 2,000 late teens surveyed admitted to sexting, leading her to conclude "It's just a part of a sexual relationship, part of courtship, now. Given that it's against the law, I think we have thoroughly lost that battle for young people."
Impact of 'one size fits all' laws
For several years now, law makers in New South Wales have grappled with the issue of sexting, which was has been dealt with under the same laws that make it illegal to possess or share child abuse material.
Before now, teens who exchanged sexually explicit material were left open to the possibility of being charged under these laws.
Many saw this as unfair given the teens were of similar age to those they were sharing images with.
New exception and defence
But a new 'sexting exception' has been introduced for those under the age of 18 who take, share or possess sexually explicit images of themselves and others.
The exception will be embodied in section 91AA of the Crimes Act 1900 (NSW) and provide that it is not an offence to possess child abuse material where:
The defendant is under the age of 18 years at the time of possession; and
A reasonable person would consider the possession of the material acceptable having regard to matters such as the circumstances in which the material was created and the defendant's relationship with the person depicted.
A new 'sexting defence' has also been introduced which applies to the situation where:
The child abuse material only depicts the defendant; or
The material produced or disseminated:
Only depicts the defendant, and
The production or dissemination occurred when the defendant was under 18.
Where the material depicts a person other than the defendant, it will be taken to only depict the defendant if it would no longer be child abuse material if the defendant were removed.
Laws against revenge porn still apply
It is important to note that it remains a crime for teens to engage in 'revenge porn', which is where a person publishes sexually explicit images of another without the their consent.
Such conduct often has sinister motives, such as humiliating the other person to their friends, family and work colleagues.
New reforms
The new sexting laws are among a raft of changes introduced across the state in the wake of the 'Child Abuse Royal Commission'.
Other key reforms include making it a crime to 'groom the parent or carer of a child for sexual purposes'. This law recognises that sexual predators sometimes provide adults with gifts, money and other benefits as a way of cultivating their trust and gaining access to their children. It comes with a maximum penalty of six years in prison.
It will also be made a specific crime to fail to reduce or prevent a threat of child sexual abuse, or to protect a child from sexual abuse within an organisation. This offence will be punishable by two years' imprisonment.
Failing to report known instances of child abuse will carry a maximum sentence of two years behind bars, increasing to 5 years if there was an inducement not to report.
Less legal 'jargon' and tougher penalties
Terminology around sexual abuse offences has also been changed to make it easier to understand.
The offence of "indecent assault" will now be known as "sexual touching", while "act of indecency" will change to "sexual act".
A new offence of 'sexual touching within a special care relationship' aims to protect children aged 16 and 17 from inappropriate sexual contact with teachers, health professionals and others who take special care of the child.
Previously, special care offences only applied only to where an adult had sexual intercourse with a child under their care.
Anyone who is guilty of sexually touching a child under ten face a maximum penalty of 16 years' imprisonment, or 10 years for touching a child between 10 and 16.
An offence of persistent sexual abuse of a child will attract a maximum penalty of life in prison. It will apply to situations where a person engages in two or more unlawful sexual acts with a person under 16 over a specific period of time.
Another significant change in the laws is that courts will no longer be able to take into account an offender's good character as a mitigating factor in sentencing for historical child sex offences.
Receive all of our articles weekly
Author
Sydney Criminal Lawyers
Sydney Criminal Lawyers®
is Australia's Leading Criminal Defence firm, Delivering Outstanding Results in all Criminal and Driving cases. Going to Court? Call (02) 9261 8881 for a Free Consultation.