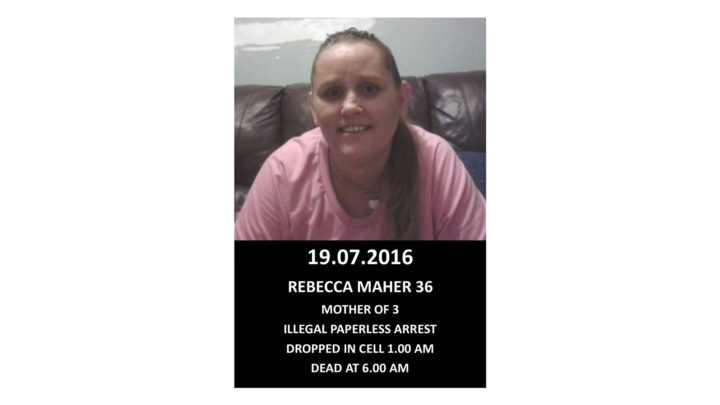 A little after midnight on 19 July 2016, NSW police sergeant Nathan Brooks came across Rebecca Maher and her companion DT – not his real name – on Wollombi Road in Cessnock. Rebecca appeared intoxicated to Brooks, as "she was unsteady on her feet".
Sergeant Brooks called in a name check, which resulted in the radio dispatcher informing him that the 36-year-old Wiradjuri woman had failed to report to police on bail the day prior and that she was HIV positive, amongst other identifying information. However, both of these facts were false.
The sergeant then called for a caged vehicle, as he was arresting Rebecca over breach of bail. By the time the van showed up, the confusion around her having actually checked in with police was cleared up. And the attending officers decided to take her into custody due to her intoxicated state.
The officers dropped DT off at Maitland train station. They then proceeded to take Rebecca to the police station and put her in a cell to "sleep it off". And the police on duty kept a wide berth of Rebecca all evening, allegedly for fear of somehow contracting AIDS.
At 5:52 am acting sergeant Greg Hosie entered Ms Maher's cell to find her not breathing and nonresponsive. And Rebecca, a mother-of-four – whose children have subsequently been separated and placed into care – became yet another Aboriginal death in custody statistic.
Police neglect
"It was a failure of duty of care," Justice Aunties founding director Tracey Hanshaw told Sydney Criminal Lawyers. "She did not need to die that night. Had they followed their own policies and procedures, she'd be alive today."
And looking through the coronial report released in July, the list of protocols that were disregarded or weren't followed as they were unknown to police is long. Cell checks weren't carried out right, neither was a search, food was denied and no attempt was made to contact a "responsible person".
"It was their own prejudices about her being Aboriginal," continued Ms Hanshaw, an Awabakal elder. "They didn't even do a body search of her." Indeed, over two hours after Rebecca was found dead, an investigating officer discovered two pill bottles containing benzodiazepines on her body.
Ms Hanshaw further set out that the reason officers refused to properly search Ms Maher, or to correctly check on her, was their concerns over the detainee being HIV positive. And the coroner's report notes that officers had an overall lack of concern for Rebecca's welfare.
Examples of the disdain shown towards this woman in police care, include mimicking her like she was a chimpanzee, avoiding her for fear of contracting a disease, neglecting to focus on information they had about her previously established self-harm risk and their "let her sleep it off" attitude.
No calls for help
Ms Maher was the first Aboriginal person to die in police custody in NSW in sixteen years. Aboriginal police custody deaths came to a halt in this state, after the Custody Notification Service (CNS) was established in 2000.
A recommendation of the Royal Commission into Aboriginal Deaths in Custody, the CNS requires police to contact the Aboriginal Legal Service (ALS), after they've arrested a First Nations person and detained them. A lawyer then informs the detainee of their rights and checks on their welfare.
However, the on-duty officers didn't contact the CNS, as she wasn't under arrest, and therefore, it wasn't required. So, they simply took the visibly intoxicated woman, locked her in a cell, called no one, gave her no medical attention, avoided her, and basically, left her to die.
Following the recommendations of then acting state coroner Teresa O'Sullivan, NSW attorney general Mark Speakman announced in mid-October that changes had been made to the CNS system, so that if police do detain an intoxicated Aboriginal person, they must contact the ALS.
Warning signs ignored
"What they should have done is taken her to the hospital," Ms Hanshaw said, in relation to officers first picking up Ms Maher off the street. "Maitland hospital was a lot closer than Maitland police station." And she added that DT had pleaded with the officers to get Rebecca medical help.
But, what the officers did do was place the noticeably intoxicated woman in a cell alone and avoid her. Senior constable Elizabeth South said she'd had concerns as to whether Maher was breathing early on. And on occasions, officers checked on her via a CCTV monitor, rather than in person.
Ms Hanshaw attended the coronial inquiry into Ms Maher's death in early March this year. And from what she heard and saw, she believes that Rebecca had stopped breathing long before she was pronounced dead at close to 6 am that morning.
While coroner O'Sullivan concluded that given her "severely intoxicated" state, as well as the concerns of a number of officers over whether she was breathing in the first hours of her detention, police should have called her an ambulance.
Emergency medicine expert Dr John Vinen told the NSW Coroner's Court that had the officers responded in this way and called paramedics, Rebecca Maher would have survived.
A long time coming
"There's systemic racism throughout all government departments: from the prime minister's cabinet down," continued Ms Hanshaw, who MCed the Blak Deaths in Custody (BDIC) forum held at NSW parliament a few weeks back.
Jointly run by the Indigenous Social Justice Association Sydney and FIRE, the BDIC campaign points to the links between First Nations deaths in police and corrective services custody. And it's calling for reforms around the issue.
Through Justice Aunties, Hanshaw is doing her bit to prevent further Aboriginal deaths inside. The Newcastle initiative has a focus on "intervening between Indigenous people and the justice system from first contact", providing those in need with support through all stages of the system.
Ms Hanshaw points out that the first Royal Commission held in this country was in 1915 in Western Australia, which was an inquiry into "wrongful treatment of Aboriginal people in custody". And she questions why, 114 years on, the nation is still having the same discussion.
As far as Hanshaw is concerned, it's all to do with accountability, as "there's no reason for corrective services officers or police officers not to be arrested and charged" over these deaths.
"And until such time, when one is charged, nothing is going to change," she concluded. "When they're held accountable for their negligence, then – and only then – will they start considering not to act in the way that they do."
Receive all of our articles weekly