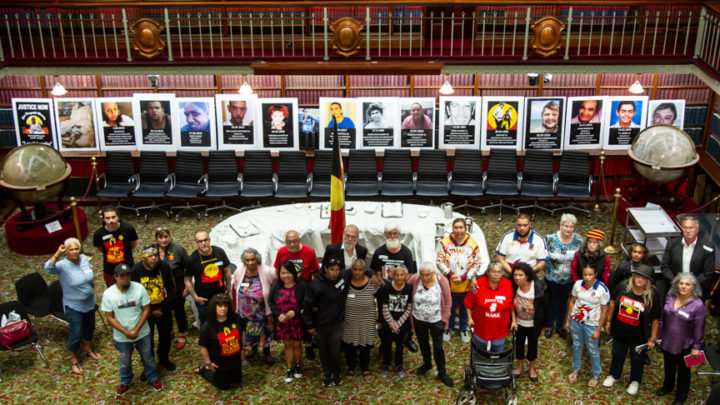 A group of representatives from Aboriginal families who've lost a loved one as a result of a death in custody gathered together to tell their stories at a meeting in the Jubilee Room of NSW parliament on 22 October.
Stories relating to the deaths of Eric Whittaker, David Dungay Junior, TJ Hickey, Tane Chatfield, Rebecca Maher, Patrick Fisher, Nathan Reynolds and Mark Mason were shared. And a stark similarity between each account were the suspicious circumstances surrounding the deaths.
Indeed, calls for reform around First Nations deaths inside go back as far as 1983, with the death of John Pat in police custody in the WA town of Roebourne. That suspect incident was one of many that led to the establishment of the Royal Commission into Aboriginal Deaths in Custody.
However, despite the Royal Commission recommending in 1991 that arrest and imprisonment be measures of last resort, today, Aboriginal and Torres Strait Islander people are the most incarcerated people on the planet. And over 400 First Nations custody deaths have taken place since that time.
Connected in circumstance
Jointly run by the Indigenous Social Justice Association Sydney and FIRE, the Blak Deaths in Custody (BDIC) campaign points to the links between these deaths that make them a series of related tragedies, which in turn, creates a movement that can more effectively bring about reform.
There are similar barriers to justice being served in each of these cases, which include the systemic racism in the system, police and corrective services investigating their own, and procedures that should have been followed having been neglected.
Murri activist Ken Canning told the room that "in 231 years of occupation, not one prison or police officer has been found guilty of the death of an Aboriginal person", adding that it's "a really stark statistic".
Another aspect to these cases that Canning raised concerns about is that when one of these killings does occur, "within one hour" corrective services "holds a media conference and says there were no suspicious circumstances", which is way too early for them to be making such a call.
Justice long denied
TJ Hickey was only 17, when he was chased on his bicycle by police in a paddy wagon. David Dungay Junior was being held face down by six corrective services officers, as he called out that he couldn't breathe. And Eric Whittaker passed away while he was shackled to a hospital bed.
Sydney Criminal Lawyers is running the Suspicious Circumstances series, which will be delving into the cases that the Blak Deaths in Custody campaign is highlighting, as well as the issues they raise and the reforms that the families left behind are calling for.
Eldest sibling of the late Patrick Fisher, Colleen Williams told the room that her brother had always believed that he would die at the hands of police. And he fell to his death from a Redfern apartment in February last year, as officers were at the front door demanding to be let in.
"We may never get the justice that our brother deserves, because the injustices towards Aboriginal people are atrocious," Ms Williams said. "All we can do is hope and pray that justice comes sooner than later. And keep fighting until we are treated with the dignity and respect that we deserve."
Receive all of our articles weekly