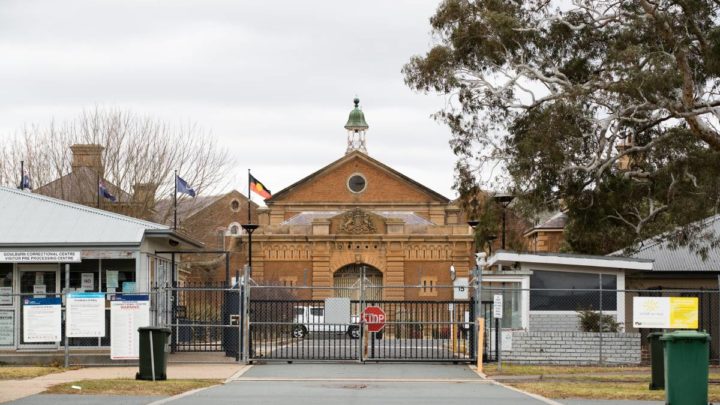 Sydney solicitor Martin Churchill is being held on remand for his alleged involvement in a drug supply syndicate that his client former Brothers 4 Life leader Bassam Hamzy was running out of his cell at Goulburn Supermax prison.
Police raided 62-year-old Churchill's Glebe home on 3 July. It's alleged the lawyer was using his confidential legal client calls to assist Hamzy in directing the drug syndicate that was supplying ice in the Illawarra and Riverina regions for the 12 month period ending in October 2018.
Also arrested last Wednesday was Bronwyn Brown: a 49-year-old woman from the Wagga Wagga suburb of Ashmont. She's currently behind bars after being refused bail. And police allege Brown supplied 400 grams of crystal methamphetamine to buyers around her local region.
Mr Hamzy was taken into police custody on the same day. The 40-year-old convicted murderer was removed from Goulburn gaol, so officers could question him. And he was subsequently charged with directing the drug supply ring from his cell, which isn't a first time scenario for the former gang boss.
Detective Acting Superintendent Mark Henney told reporters that NSW police officers became aware of a drug ring being directed by an inmate in a high security prison, while they were investigating a 2017 murder. "This is an abuse of client-lawyer communication," the detective said.
Criminal lawyer needed
A prominent Sydney criminal defence lawyer, Churchill was arrested at his inner west Sydney house at around 8 am. He stands accused of taking part in the supply of 452 grams of methamphetamine and dealing in $14,000 worth of the proceeds of crime.
The solicitor has been charged with numerous offences, which include the commercial supply of a prohibited drug, knowingly directing the activities of a criminal group, participating in a criminal group and hindering the discovery of evidence.
It's alleged Mr Churchill also tipped off Hamzy about the possibility police were monitoring him with a listening device. And following his arrest, he appeared in Newtown Local Court via video link on Wednesday. Representing himself, Churchill didn't apply for bail, and was formally refused it.
Magistrate Glenn Bartley suggested that Mr Churchill find himself some legal representation prior to his next court appearance, which won't be until 28 August, unless he decides to make a bail application sooner.
A revenge killing
NSW police learnt of the prison cell run drug syndicate, whilst they were investigating the murder of 15-year-old Brayden Dillon, who was executed in bed in his Glenfield home on Good Friday, 14 April 2017.
On the night of the boy's murder, his mother got out of bed when she heard something in the house and came across a man in the hallway. The intruder, who had his arms outstretched, ordered her to go back to her room.
The woman then returned to her bedroom and proceeded to call police, when she heard a gunshot. And after the intruder fled, the mother entered her teenage son's room to find him still in bed with a wound to his head.
Seven people have since been charged over the teen's death, which has been deemed a revenge killing by police. Indeed, the boy's mother recently testified in Campbelltown District Court that her son had told her he believed there was a bounty out on his head.
Employee linked to murder
On the same day as his arrest, SMH revealed that a former paralegal employee of Mr Churchill's was involved in the attempted murder of one of the men who has subsequently been charged with Brayden Dillon's death.
Known as Witness M, Churchill's former employee had become involved with Hamzy. And through her boss' client, she became acquainted with a number of members from the notorious, and now defunct, Brothers 4 Life gang.
Witness M drove the getaway car following the 2013 shooting murder of Hamzy's cousin Mahmoud, which was perpetrated, whilst several Brothers 4 Life gang members were attempting to kill their leader's other cousin, Mohammed.
And just weeks after this initial hit, Witness M was involved in another shooting, when she identified Abdul Abu-Mahmoud to several gang members, who shot him in a Bankstown café. Mr Abu-Mahmoud, who survived the shooting, is now in prison awaiting trial over Dillon's murder.
It's alleged that Abu-Mahmoud arranged for and financed alleged gunman Conrad Craig to carry out the execution of 15-year-old Dillon, as revenge over the murder of his own nephew Adam Abu-Mahmoud, who's stabbing Brayden's older brother, Joshua Dillon, has been charged with.
An extreme-risk inmate
Bassam Hamzy is not due for parole until 2035. The prisoner grew up on the streets of Kings Cross. And in 1999, at the age of 19, Hamzy shot dead another teenager and was subsequently sentenced to 21 years behind bars.
And it was from within prison that Hamzy started the Brother 4 Life gang. But, once authorities caught on to what he was up to, he was transferred to Lithgow prison and placed in segregation, which is where he began running a drug network via a smuggled mobile phone.
The convicted killer was making up to 450 calls a day. And he's said to have organised two kidnappings, torture and a drive-by shooting over the phone. And once police became aware of his activities, they began monitoring his calls.
Hamzy's operations from within Lithgow prison landed him in solitary confinement in Goulburn Supermax prison, as well as the designation of Australia's first high-risk inmate. And it also saw him sentenced to a further 22 years imprisonment.
Breaching client privilege
It was only after officers investigating Braydon Dillon's death began to look into links with Hamzy that they discovered the convict was up to his old tricks. And they soon learnt that he was directing drug suppliers via client-solicitor privileged calls with Churchill that actually involved a third person.
Churchill, who runs his own criminal law firm, and has worked for both the Commonwealth and NSW governments, is also alleged to have given $4,000 to the former head of Brothers 4 Life Illawarra chapter, Damien Featherstone, to help him avoid arrest on firearm charges in February last year.
Receive all of our articles weekly