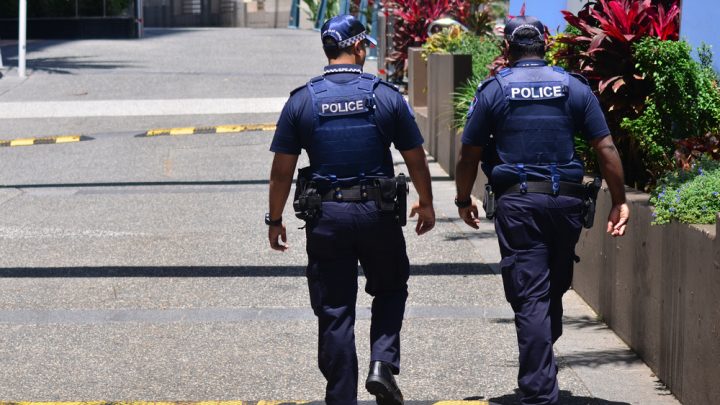 In yet another horrifying case of alleged police misconduct, it has been reported that a Sydney police officer is facing numerous assault charges for allegedly brutalising two men held in custody at The Rocks Police Station.
25-year-old Constable Rabi Farsheed is currently on trial for four counts of assault which allegedly occurred on two separate occasions in 2014.
The first incident was in February 2014 and involved a man by the name of Anthony Sukkar.
The circumstances surrounding Mr Sukkar's arrest are unclear – but an ABC news article reports that CCTV footage shown during the hearing suggests he was subjected to repeated, brutal assaults inflicted by Mr Farsheed while in police custody.
The footage, which has not been released to the public, is said to depict Mr Sukkar being led down to the police cells by Farsheed and two other police officers when he suddenly slumps.
Mr Farsheed allegedly responds by grabbing him by the throat in an apparent bid to keep him standing.
Mr Sukkar is then allegedly led to his cell, where police remove his belt and shoes. It is alleged that Mr Farsheed then grabs Sukkar by the throat a second time and pushes him back into a metal bench.
It is further alleged that Mr Farsheed assaults Mr Sukkar a third time when he is having his fingerprints taken – again grabbing him by the throat, before pushing him to the ground and pressing his knee to his chest.
The accusations are said to have been corroborated by one of Mr Farsheed's colleagues, who allegedly witnessed one of the assaults. According to reports, Constable Chantelle Breally observed Farsheed place his hand around Mr Sukkar's throat twice for between three and five seconds while she was in the process of removing his belt and shoes.
She is said to have told the Downing Centre Local Court that Mr Sukkar made a 'gargling sound' as this occurred.
In a separate incident in June 2014, Constable Farsheed is alleged to have assaulted another man, Praveen Samarsinghe, in a similar fashion.
The court heard that Mr Samarsinghe was sitting in his holding cell when Mr Farsheed entered and pushed him roughly on the neck, forcing his head to one side. Again, CCTV footage is reported to corroborate the allegations.
Mr Farsheed has pleaded 'not guilty' to the four charges and his matter is currently being heard in the Downing Centre Local Court.
He has reportedly been suspended from his position on full pay until the matter is finalised.
Charges for Common Assault
If found guilty, Mr Farsheed could face a maximum penalty of two years imprisonment for each of assaults, under section 61 of the Crimes Act 1900. The maximum cumulative (combined) penalty that can be imposed in the local court is 5 years imprisonment.
An 'assault' is defined as 'any act…by which a person intentionally – or recklessly – causes another to apprehend immediate and unlawful violence.'
There is no need for physical contact to occur for an assault to be established – but where the prosecution alleges that physical contact occurred (as in Mr Farsheed's case), they must prove beyond a reasonable doubt that some kind of striking, touching or application of force occurred without the consent of the complainant, and that the accused person acted intentionally or recklessly.
It must also be shown that there was no 'lawful excuse' for the defendant's actions, such as self-defence or necessity.
In the case of Mr Farsheed, these provisions are complemented by sections of the Law Enforcement (Powers and Responsibilities) Act 2002, which sets out the limits on the use of police force.
Notably, section 230 says that in carrying out their duties, police should only use 'such force as is reasonably necessary to exercise the function.'
The issue in Mr Farsheed's case is therefore likely to be whether the force used in handling the men around the throat is deemed 'reasonably necessary.'
It is unclear when the case will be finalised.
Receive all of our articles weekly
Author
Sydney Criminal Lawyers
Sydney Criminal Lawyers®
is Australia's Leading Criminal Defence firm, Delivering Outstanding Results in all Criminal and Driving cases. Going to Court? Call (02) 9261 8881 for a Free Consultation.