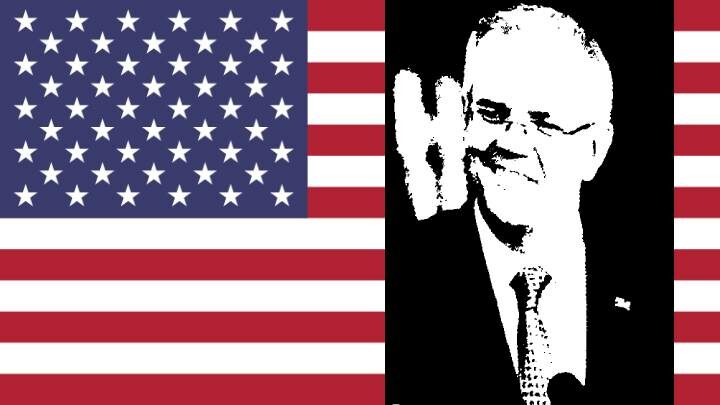 The autocratic Morrison government dropped a bombshell on the Australian public on Thursday, as it unveiled that the nation is dramatically stepping up its war footing against China in alliance with the UK and the US. And we're going to use nuclear power to do it.
This is all part of a newly concocted "enhanced trilateral security partnership" between Canberra, Number 10 Downing Street and Washington, known as AUKUS.
This agreement is supposedly warranted because of the "security challenges in the Indo Pacific region" – read China – and our waning "technological edge".
"G'day," Scott Morrison greeted the media on Tuesday, and went on to explain that the "relatively benign security environment" is behind us, so our nation is now a party to what he calls "a forever partnership" with the aim of maintaining "peace and stability and security in our region".
So, the first part of this "peace" initiative is to get our nation kitted up with eight nuclear-powered submarines to be built in South Australia.
The war department will be utilising this "sensitive technology" to establish a permanent nuclear submarine taskforce. And we've been assured not to concern ourselves about acquiring nuclear weapons, as the US and the UK – who already have heaps – are committed to non-proliferation.
"It has been some time in the making, it is true to say," explained the prime minister. "These types of forever partnerships don't happen overnight."
Well, thanks for the heads up, supreme leader. So much for liberal democracy.
The drums of war
The appointment of Peter Dutton as defence minister at the end of March was somewhat ominous. As home affairs minister, as well as when holding the immigration portfolio prior, the Queenslander had a talent for delivering destructive policies regardless of how divisive they relate on the ground.
Five weeks later and the minister was speaking to the press about the nation already being "under attack on the cyber front". Cyber-attacks are evidently a new form of conflict known as "grey zone" warfare.
And his describing a "state actor" as having perpetrated these attacks is Canberra code for China.
Dutton is hardly alone in gunning for Beijing. In June last year, Morrison updated the nation on its war strategies, announcing that Australia was purchasing long-range anti-ship missiles from the US, with tensions in the Indo Pacific – again, China – being cited as necessitating the investment.
Meanwhile, home affairs secretary Mike Pezzullo – Dutton's former right-hand man – delivered an Anzac Day speech, asserting that the "drums of war" are again beating.
"War might well be folly," he added, "but the greater folly is to wish away the curse by refusing to give it thought and attention."
And in response to a question on Thursday regarding whether Beijing might see the new defence pact as provocation, Morrison mentioned that he'd been in discussions with the heads of state of the Quad: another strategic partnership between Australia, the US, India and Japan.
The radioactive creep
"This is a one off, as the president in Washington has made very clear," Morrison told the press in relation to Australia being only the second nation, after the UK, that the US has shared its nuclear sub technology with. "This is a very special arrangement and a very important one for Australia."
The move to nuclear submarines means that Australia is ditching its pre-existing $90 billion arrangement to obtain twelve diesel-powered submarines that was brokered with French defence contractor Naval Group in 2016. The nation of France is not impressed by this "stab in the back".
The advantage of the new submarines powered by the splitting of atoms is they can remain underwater for much longer periods without having to surface, as the vessels are powered by onboard nuclear reactors.
Another less than encouraging aspect to this initiative is that it opens the door to further nuclear technology.
Six nations currently have nuclear submarines: the US, the UK, Russia, India, China and France. And all these nations have nuclear powerplants and nuclear weapons.
As the last of Australia's unprecedented bushfires were still burning in February 2020, Morrison appointed Keith Pitt as resources minister. And he called for investment in fossil fuels and nuclear energy to lift living standards. Re-establishing the nuclear industry is Pitt's pet project.
Renowned environmental activist Bob Brown told the AFR on Thursday that the local antinuclear movement will be reawakened as this move will likely be used as a backdoor means to promote the use of nuclear power, especially with the current push to drop fossil fuels.
Hiroshima, Nagasaki, Chernobyl, Kursk no more
"This dangerous nuclear submarines move puts floating Chernobyls in the heart of Australia's cities," remarked Australian Greens leader Adam Bandt in a post following the announcement. "It makes Australia less safe, increases the risk of conflict in our region and puts us in the firing line."
Initiated in the 1970s, Russia's Project 949A Antey saw thirteen nuclear-powered submarines constructed over the next decades. However, the 1993 completed Kursk submarine sank on 12 August 2001, after one of its non-nuclear torpedoes exploded onboard.
When the Kursk hit the seafloor a second more extreme explosion occurred involving several other torpedoes, which was the equivalent of two tonnes of TNT. Fortunately, the two onboard reactors withstood the explosions and were able to shut down automatically, avoiding a nuclear meltdown.
Our forever partnership
The AUKUS announcement comes as another slap in the face from an Australian government that increasingly treats its citizens like subjects who have no say in state affairs.
Indeed, gearing us up for war in the midst of an ongoing pandemic and a long-term climate crisis isn't music to the ears of most of the constituency.
Despite no direct mention of China being made when AUKUS was unveiled, Chinese foreign ministry spokesman Zhao Lijian publicly denounced the pact as seriously undermining regional peace and stability, intensifying the arms race and undermining international non-proliferation efforts.
But not to worry, the prime minister is having a great time, and that's all that really seems to matter.
"I've got to say my greatest thanks are to my partners in this forever partnership – this AUKUS partnership – to president Joe Biden and to prime minister Boris Johnson," our head of state said sweetly.
Receive all of our articles weekly
Author
Paul Gregoire
Paul Gregoire is a Sydney-based journalist and writer. He has a focus on social justice issues and encroachments upon civil liberties. Prior to Sydney Criminal Lawyers®, he wrote for VICE and was the news editor at Sydney's City Hub.