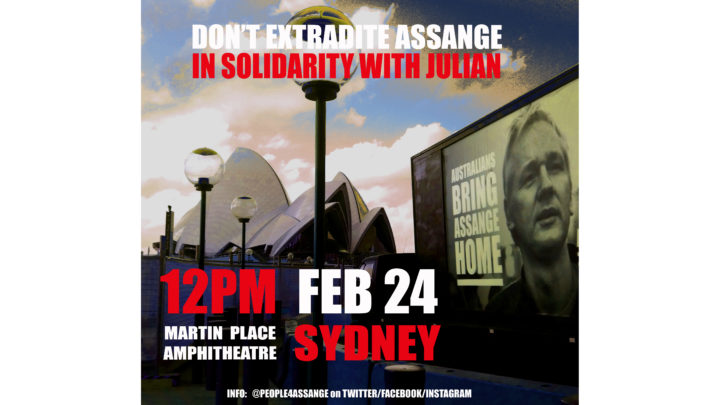 There's an Australian citizen of ailing health currently being detained overseas, who until very recently had been held in prolonged solitary confinement. His liberty has been withdrawn by one of this nation's closest allies and yet, our government has remained silent on his treatment.
It's well-known that Julian Assange has been thrown to the dogs. It seems many simply accept his fate without truly questioning why he's in such a predicament, or even contemplating what it means to our society as a whole that someone is facing lifelong imprisonment for telling the truth.
Assange is being detained in the UK over bail issues regarding Swedish allegations now dropped. And the US has arrested him by proxy. But, while it asserts it has such reach that it can arrest a foreign national across international borders, the US also claims he's not protected by some of its own laws.
At the time of Julian's arrest last April, our PM said he won't be afforded "any special treatment", which shows a government shirking on its responsibility to its citizens, especially when other nations are stepping over official protocols.
The right to know
Not so long ago, Julian Assange's praises were being sung throughout this country and across the globe. Indeed, as he received the 2010 Gold Walkley award, revered Australian political reporter Laurie Oakes took a moment to reflect on the value Assange had brought to local journalism.
And Oakes was also setting the record straight, as the political establishment was already starting to take aim at Julian. Then prime minister Julia Gillard had recently told the press that she was receiving briefings from intelligence agencies to ascertain whether Assange had broken the law.
Of course, what Gillard was referring to were the classified US documents that Assange had been publishing on the Wikileaks platform. Having been passed on by Chelsea Manning, these files had been exposing the lies and crimes of the United States government.
Mr Oakes further told the Walkley crowd that the work Julian was doing was no different from traditional journalism, it was just that the technology had changed. And the following year, the Walkley Foundation made a similar point when awarding Wikileaks, with Assange as editor-in-chief.
A global day of protest
Next Monday, Assange's extradition trial is set to commence in London. If the US was to succeed and the UK simply hands him over, he'll be facing 17 espionage charges and one relating to computer intrusion. And together they carry a maximum penalty of 175 years in prison.
In conjunction with similar events around the world, People for Assange are holding a rally in solidarity with Julian in Sydney's Martin Place. And amongst its impressive array of speakers is veteran Australian journalist John Pilger, who's been known to uncover a few secrets himself.
Sydney Criminal Lawyers spoke to Michelle Wood, a spokesperson for People for Assange, about recent developments relating to the extradition trial, the lineup at next week's rally, and what she'd like to say to the prime minister regarding Assange's unwarranted incarceration.
Firstly, on 24 February, People for Assange is holding a protest rally in Martin Place to mark the first day of Julian's extradition trial. In late January, it was decided that the trial will now be split over two periods. Michelle, what does this entail? And why's it happening?
Julian Assange is facing what will become known as the trial of the century – it is frankly a trial about democracy and what we understand that to be – freedom of speech and our right to know.
Julian's legal team and the US legal team both agreed that they needed more time. We know that Julian has had very little access to his legal team. He hasn't had access to read legal papers until quite recently and considering what he is up against, the might of the US, it will be a long process.
The first week of the trial runs from the 24 to 28 February. Then it restarts again in May. It will take place at the courthouse that's near the gaol, which has limited public seating and a small media seating area – an interesting choice for a such and important trial.
At the time that decision was made, the US government lodged documents with Westminster Magistrates' Court. People for Assange has warned that these could lead to an unfair trial.
The first point with these submissions is they assert that the US doesn't consider Assange to have first amendment protections. What are the concerns around this?
Firstly, it shows the hypocrisy. The US has charged Julian Assange with 17 counts of espionage, but he is an Australian citizen. This is judicial overreach and you would imagine that to commit treason you would have to be a US national.
But, at the same time, he won't be given first amendment protection. The US legal team says he will not receive the freedom of speech protection that all other journalists are granted in America.
Your group has also pointed out that the US submissions would place Assange under what are referred to as "special administrative measures". What would this mean for the Australian journalist?
John Kiriakou and Ray McGovern have both outlined what this means. We understand that Julian Assange – from the moment that should he be extradited – will be silenced.
Julian will be gagged from speaking to the media, as will his legal team. He will only be permitted to see a handful of selected people once in the prison system. And he will be open to torture and mistreatment and no one will ever hear about it.
We may literally never hear from Julian again. That's our greatest fear.
Julian has been held in London's Belmarsh Prison since April last year. For a lot of that time, he's been held in solitary. And reports of his failing health started arising soon after his incarceration. How's he holding up at present?
From what I understand from his visitors, he's resilient, but a changed man. He has lost 10 to 15 kilograms. Resilience shows an inner strength, but does not mean he's doing well. It shows that despite how badly he may be treated he's fighting on – doing the best that he can.
MP Andrew Wilkie was going to be at Belmarsh prison today. It will be interesting to hear what he says after the visit. It will be able to prove what others like the UN Rapporteur on Torture have been saying about his poor health and need for immediate release.
Julian was in the health wing of the gaol from May 2019 up until two or three weeks ago, which suggests he has been in bad shape.
The Australian government has been silent on how Assange is being handled by the UK and US justice systems, even though the groundswell of people speaking out in his support is widespread. Why would you say that is the case?
My instinct is telling me that the Australian government does not operate independently as a nation should be. Australia appears to go along with what it's US and UK allies dictate.
This current government is no different to any government from Gillard onwards. They have all been silent in regard to Julian and all complicit in his ongoing torture.
A global wave of protests is set to take place on the first day of Assange's trial. People for Assange has organised an impressive rally at Sydney's Martin Place Amphitheatre on the day. What can supporters expect?
We've got a brilliant lineup of speakers, including John Pilger, Quentin Dempster, Greg Barnes, Mary Kostakidis and Dr Lissa Johnson.
There's Stuart Rees, who's the Sydney Peace Foundation founder. And there's Mark Davis, the journalist who worked with Julian.
So, we're going to hear from some people who worked with Julian, have known him for a long time and can give us some great insight into him.
Then we've got Steve Kilbey from the Church singing. Hopefully, other equally prominent artists will have the courage to come forward too.
And lastly, Michelle, as you've mentioned, the Australian government has been notoriously silent on Assange since he first walked into London's Ecuadorian embassy in 2012.
What do you think about the way the government is acting? And what's People for Assange calling on it to do?
The government is acting cowardly. It is lacking morality. How they can let a man be kept in solitary confinement indefinitely, and not advocate for his release is appalling. It shows it isn't prepared to stand on its own two feet and literally rock the boat.
Australia is acting as if it is another state of the USA, and still afraid to tell the UK what it needs to do and block extradition. But we hope that will imminently change. There is change in the air. Public opinion is strongly in favour of Julian.
I would like to have a personal meeting with Scott Morrison and ask him as a father, as a brother, and as a man to do the right thing and ask for Julian to be immediately released to seek proper health care and be reunited with his family.
Reporting a crime is not a crime. All Julian did was very good journalism. He shone a light on the wrongdoings of the US military. He himself did not commit a crime.
Is this the future, where someone can remain in gaol indefinitely without charge?
Receive all of our articles weekly