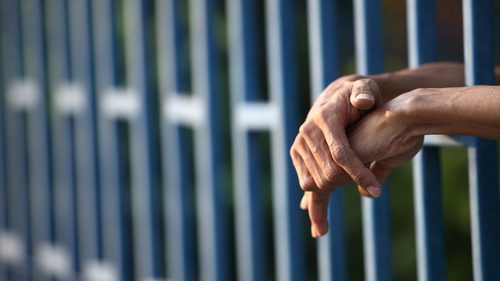 Incarceration rates in Australia are at an all-time high. The sharp increase in the number of people being imprisoned in this country began back in the 1970s.
In June last year, there were 38,845 adults being held in Australian correctional facilities, according to the Australian Bureau of Statistics.
This put the national imprisonment rate at 208 prisoners per 100,000 adults, which was a 6 percent increase on the previous year. The rate is higher than in countries like Canada, the UK and most European nations.
The latest figures from the NSW Bureau of Crime Statistics and Research (BOCSAR) reveal that our state remains the greatest incarcerator in the country. Authorities had 13,092 adults locked up in June this year, and it's predicted that the inmates population in NSW is set to pass 14,000 by June next year.
This is despite NSW crime rates being at a forty year low. BOCSAR found that in the 24 months ending in December last year, all major categories of crime had either fallen or remained steady.
BOCSAR director Dr Don Weatherburn has pointed out that crime rates nationwide have been on a steady decline since 2001. During that period, the Australian imprisonment rate has grown by 30 percent.
It's not working
So, what has the Australian criminal justice system achieved by throwing all these people in prison?
Well, according to a report released this week by Melbourne-based conservative think tank the Institute of Public Affairs (IPA), it's resulted in a system that produces "revolving door" prisoners.
It's done nothing to assuage the sense of fear in the community. And it's leading to taxpayers having to fund one of the highest expenditures rates on prisons amongst the 29 countries in the Organisation for Economic Cooperation and Development (OECD).
The underlying causes need to be addressed
The report, titled Australia's Criminal Justice Costs: An International Comparison, was produced by Andrew Bushnell, a research fellow at the IPA Criminal Justice Project. He explains that there's "reason to believe that Australians are receiving worse value for criminal justice spending than many other countries."
Currently, the cost of putting a person behind bars in Australia is $109,500 a year. This is the fourth highest national cost per person. The countries found to have higher costs were Sweden, Norway and the Netherlands.
Those three European nations are renowned for having rehabilitative approaches that have led to a rapid decline in prisoner populations over recent years.
Bushnell is of the view that increasing expenditure on prisons will not reduce offending. He believes the underlying problems in the Australian system are due to "prison policy or socio-cultural factors."
Revolving door inmates
Indeed, the recidivist rates outlined in the report reveals there's a desperate need for a change in correctional services policies in Australia. Fifty eight percent of inmates in this country have been inside before, and this rate has remained stable for the past decade.
Forty four percent of prisoners released from gaol in the year 2013-14 returned to prison within two years, and 52 percent of these inmates returned to corrective services over that same time frame.
"The number of persistent criminals in Australia is indicative of the failure of our corrections system, and especially our prisons, to change the behaviour and thinking of those who enter it," Bushnell writes.
Building More Prisons
The solution Australian authorities have to an increasing inmate population is to simply throw more money at correctional facilities.
The report notes that over the period 2010 to 2015, Australian prison expenditure grew by 25.3 percent, which was way over the OECD average of 12.5 percent.
Currently in NSW, the state government is investing $3.8 billion to fund an extra 7,000 inmate beds. This is an increase in the capacity of the state's correctional facilities to accommodate over 50 percent more prisoners.
The funding covers the re-opening of Berrima Correctional Facility and two rapid-build expansions at Wellington and Cessnock prisons, as well as the construction of two new facilities at Lidcombe and Unanderra.
The privately-owned Grafton Correctional Facility is also being built. It will be the nation's largest prison with the capacity to detain 1,700 inmates.
Over-policing in Australia
Australians are also spending exorbitant amounts on being policed.
In 2015, the average Australian was spending $427 to be watched over by the boys in blue. This places the nation at number nine in the OECD rankings, which averages at $367 per capita.
This high level of spending on police has unsurprisingly resulted in Australians being more heavily policed than they were in the past. Between 2007 and 2015, Australia's number of police per capita increased by 18 percent.
In 2007, there were 222 police officers per 100,000 Australians. By 2015, the number had risen to 263 officers. Australia's level of policing is higher than all other common law countries, besides Ireland.
Australia is living in fear
Despite increased police presence out on the street, and the increased number of people being thrown in prison, public perception in Australia is that crime rates are still high.
Four Gallup polls were taken worldwide between 2007 and 2014 asking citizens whether they felt safe to walk in their own neighbourhoods at night. Australia ranked in the bottom third of OECD countries every time. In the last poll the nation ranked as low as 24th.
Bushnell also notes that Australia has one of the largest gender gaps in terms of feeling safe. In 2015, only 48 percent of women polled said they actually felt safe walking at night, compared with 80 percent of men.
Changes are needed
"Australia's criminal justice system is outperformed in all major categories by comparable developed countries," Bushnell ends the report.  This is despite the high investment in corrections and policing.
The research fellow gives several solutions to the issues being faced by the Australian criminal justice system.
In terms of the high cost of prison expenditure, Bushnell suggests that prison sentences be reserved for the most high risk offenders, and instead, more emphasis should be place on the use of non-custodial sentences, such as home detention, community service orders and fines.
To address high reoffending rates, Bushnell recommends that correctional authority's look at programs to reintegrate inmates back into the workforce.
Digby Hughes, senior policy and research officer at Homelessness NSW, told Sydney Criminal Lawyers® in June  that there needs to be more affordable housing available for inmates on release, as well as support programs that begin on the inside and continue post-release.
Perpetuating the problem
As for over-policing, along with the public's sense of fear, Bushnell said that "police resources should be concentrated in those postcodes in which crime is known to originate and take place."
However, this would do nothing to address the underlying socioeconomic causes of crime. This approach would merely exacerbate the issues, and do nothing to halt the cycles that marginalised people find themselves in that lead to offending.
Bushnell concludes the report by recommending that Australia learn from other jurisdictions, such as the United States, where they "have reduced prison expenditure and crime at the same time."
But despite recent reports that US incarceration rates are dropping, the nation is still the greatest incarcerator on the globe. The US imprisonment rate is 700 inmates per 100,000 adults.
So perhaps we should take a closer look at the policies of big spenders like the Netherlands and Sweden, where they're actually closing down prisons.
Receive all of our articles weekly