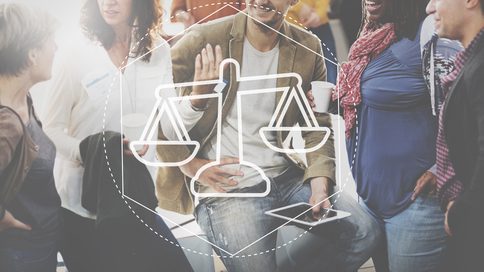 Social media can be a source of information and leisure, a way to connect with other people and a means to express views about a range of subjects – including those which invoke emotions such as anger and disgust.
But legal experts are warning social media users to be careful about what they post online, especially when relates to pending criminal investigations and prosecutions, as uninformed and unfairly prejudicial posts and remarks can adversely affect a defendant's right to a fair and impartial trial.
Emotive topics
In the wake of recent reports of horrific crimes against women, thousands have taken to social media to express their outrage, and communicate their desire for those responsible to be brought to justice.
Such incidents include the sexual assault and murder of Melbourne woman Eurydice Dixon's, the abduction and rape of an 11-year old girl in Newcastle and news that a former NSW policeman pleaded guilty to 44 sexual offences, including 17 counts of sexual assault, some of which occurred while he was on duty in Sydney.
Putting aside those who are convicted, many social media users demand that suspects are locked up indefinitely upon being charged by police – even before the evidence gathering process has occurred, let alone after cases have been ventilated in court.
They will often express the view that those who are charged must be guilty, despite the fact that the law in our state merely requires police to have a 'reasonable suspicion' to criminally prosecute a suspect – a situation which allows police to 'shoot first and ask questions later'; in other words, to press charges and then attempt to gather whatever admissible evidence they may be able to find.
Mainstream journalism
The problem is that online vitriol can significantly impact on a defendant's right to a fair trial.
In Australia, everyone has the presumption of innocence until proven guilty – no matter how serious and distasteful the accusations may be.
This is why journalists are supposed to use words like 'alleged' when referring to an accusation against a particular person. That is certainly not to say journalists are faultless – indeed, much of the mainstream reports about crime are sensationalised and even highly misleading, frequently ignoring exculpatory evidence and suggesting guilt.
Indeed, there have been numerous cases where reporting has tended to infer guilt when the person was later shown to be innocent.
The court of social media
When large numbers of everyday Australians express their emotional views about defendants on social media, they run the risk of that material being used by defence lawyers in combination with media reports to make submissions that a defendant cannot possibly receive a fair trial in the jurisdiction. Such submissions can result in cases being transferred to another location or even adjourned for long periods of time – delaying and potentially denying justice for all involved.
Of even greater danger is the risk that jurors will read and be influenced by social media comments by their peers – which could result in an unfair trial.
When Jill Meagher was violently killed in Melbourne several years ago, her husband John publicly thanked everyone for their online support, but asked people to be aware of what they post on social media to ensure that legal proceedings aren't compromised. Victorian Police also warned social media users of their responsibilities.
Impartiality of jurors
When jurors are selected for a trial, they are supposed to reach their verdict solely on evidence presented in the courtroom.
This is to ensure that irrelevant material which is not subjected to testing inside the courtroom does not unfairly sway their decision-making process.
And while it is impossible to ensure that jurors are not exposed to media – whether mainstream, social or otherwise – about a case, a fair trial can only occur in the absence of such material forming part of the basis for a juror's decision.
Indeed, when one South Australian juror was discovered to have Googled information about a case, it resulted in the trial being aborted and the juror being criminally prosecuted – which illustrates the importance court place upon impartiality.
Impartiality of judges
But jurors are not the only ones who need to be mindful of their exposure to social media.
It can affect lawyers and even judges. In one case, New Zealand judge Allan Roberts became aware of comments made by a defendant, Troy Henry La Rue, about him on Facebook.
The judge printed the comments and demanded the defendant read them out in court before sentencing him to community service for unpaid fines. A lawyer who witnessed the proceedings encouraged Mr La Rue to appeal the sentence, and the country's High Court ultimately decided in the defendant's favour, ruling the judge may have been influenced by what he had read online and reducing the defendant's sentence.
Social media as a policing tool
To the surprise of some hapless offenders, social media is increasingly being used by police in Australia and overseas to detect offences and accumulate evidence.
People have been caught posting pictures and even videos of themselves in possession of illegal drugs, or large sums of money which their regular employment (or lack thereof) does not explain, and even committing violent offences against members of the public.
In other cases, social media posts have led to large awards for defamation.
The lesson is clear – always be mindful of what you post online, as it may affect the lives of others, or even your own.
Receive all of our articles weekly