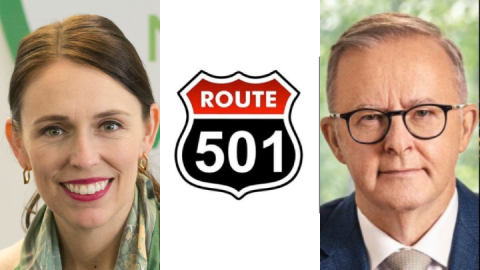 An 8th July joint communique by Australian PM Anthony Albanese and NZ counterpart Jacinda Ardern released following the Australia New Zealand Leaders' meeting in Sydney makes no mention of the key gripe between nations, which is Australia's deporting people to NZ.
At a post-meeting press conference, it was again notable that in both prime ministers introductory speeches the issue around Australia having deported thousands of New Zealand born Australian residents since 2015 wasn't mentioned. And it wasn't until questions that a reporter raised the issue.
When asked as to where the action was on "softening" the 501 deportation regime, Albanese replied that "the action is one of friends". And he added that Ardern had "certainly not been backward in raising the" issue. However, he didn't explain why it was completely left off the agenda.
Under Abbott, then immigration minister Scott Morrison oversaw laws enacted in late 2014, which toughened the deportation character test in section 501 of the Migration Act 1958 (Cth). And since then, the majority of deportees have been NZ born people, often long-term Australian residents.
The deportation of NZ born people has been of significant concern to Ardern since she took over the top job. The New Zealand prime minister has vocally raised the issue with several Australian PMs.
So, to have it disregarded in the communique and the speeches, only to be brought up as an afterthought by a reporter, is quite telling.
Common sense hasn't prevailed
"501s will continue to exist," Albanese told the reporter. "We will continue to deport people when appropriate. But we will have some common sense apply here."
In terms of what that means, the PM said, "This will apply where someone has lived their entire life, effectively, in Australia with no connection whatsoever to New Zealand."
But according to founder of deportee support group Route 501 Filipa Payne, without amendments to the deportation laws, Albanese's statements guarantee no reform.
"Common sense with no legislative change, means nothing has changed. Common sense has not prevailed thus far," Payne told Sydney Criminal Lawyers.
"Sadly, there are no changes to the 501 legislation, leaving many people still held against their will in Australian immigration detention centres being treated with brutality and denied their human rights," she continued.
At last week's meeting of the two nations' leaders, the Australian PM did throw the dog a bone, however. The Labor leader has promised to restore rights that were once available to NZ born migrants, specifically a pathway to citizenship and voting rights.
Howard-era changes to Special Category Visas given to the NZ born have meant that those arriving after February 2001 have only been provided temporary resident status with no ability to apply for citizenship. So, this has left them exposed to the character ground deportation system ever since.
"It has been a long battle for many New Zealanders living in Australia to have their contribution to Australian society recognised," Payne said in relation to the reforms that are slated to appear by Anzac Day 2023. "The new Australian prime minister has made small steps to acknowledge this."
Fortress Australia
Morrison's 2014 migration amendments altered the character ground deportation test in section 501 of the Act, so noncitizens sentenced to at least 12 months prison are automatically deported. This includes multiple sentences, suspended sentences and time spent in residential rehab.
The major issue is that this has meant numerous long-term residents, not only the NZ born, who at times have lived here the majority of their lives and have established families and deep connections, have been thrown out of the country, often over minor offences, with no consideration given to this.
In December 2014, the NZ born weren't listed as a distinct group in Australian onshore detention centres. December 2015 saw them rank as number two inside, while in December the following year, they were number one, which is the same position they held in March this year.
"There have been low-level offenders sent to NZ, who arrived in Australia at 6 months old and literally have no family," outlined Payne, "or possibly a remote whanau member remaining in Aotearoa versus a rugby team worth of immediate family members who remain in Australia."
Morrison also strengthened section 116 of the Act, which permits the cancellation of noncitizen's visas on ministerial discretion based on grounds, which include if their presence "is or may be, or would or might be, a risk to the health, safety or good order of the Australian community".
Payne explains section 116 deportations are on the increase. "Australia has removed roughly 10,000 people globally under section 501 or section 116 of the Act, since amendments were made in 2014," she outlined, adding, "approximately 3,000 of these removals were people extradited to Aotearoa,"
And another concern regarding the deportation regime that NZ police commissioner Andrew Coster raised earlier this year, is that some deportees are leading to a rise in crime rates in his country, and this is resulting in the criminal environment over there starting to replicate the conditions over here.
The hardline remains
The Route 501 advocate released a short film about NZ born deportees this week, which tells the tale of families torn apart, deportations without criminal convictions, a man expelled after 30 years of living in Australia and another who developed cancer after being denied treatment in detention.
"Australia has reaped the repercussions of separation and deportation for generations and generations," Payne continued. "PM Albanese has the opportunity to lead a maturing nation into breaking the intergenerational cycle of exiling their people problems, instead of solving them."
However, on the day prior to the PMs' meeting, former home affairs minister Karen Andrews warned against altering the deportation system, stating, "if Labor is going to capitulate to the demands of Jacinda Ardern to keep foreign criminals in Australia it would be a very worrying sign".
Andrews asserted that her statements had nothing to do with politics, but rather she was concerned with keeping the community safe and getting criminals off Australian streets. And she added that the PM should think twice about watering down the strong Liberal Nationals established position.
As far as Payne's concerned, Andrews' sentiments "show the venom and spite the past government ruled with". And she added that "if the Liberal party had listened to the people of the country, they would still be in government".
In March this year, 892 501ers were locked away in this nation's onshore detention regime. This accounted for 59 percent of the entire detainee population. One hundred and fifty 501ers were being held at the Christmas Island facility, which is notorious for its brutal treatment of detainees.
"Changes must be made not to meet the demands of Jacinda Ardern," Payne said in conclusion, "rather to stop the trauma, brutality and punitive incarceration that Australia has placed on people."
Image: New Zealand Prime Minister Jacinda Ardern by Newzild is licensed under CC BY SA 4.0
Receive all of our articles weekly