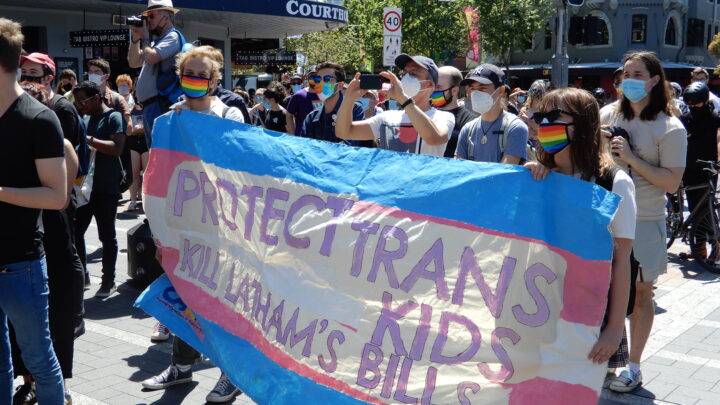 At a couple of minutes to 1pm on Saturday, there was a heavy police presence at Sydney's Taylor Square, which was disproportionate to the number of civilians in the area. It led one shop owner to approach a group of uniformed officers, only to find that "there was nothing to worry about".
Moments later, hundreds of protesters had converged upon the public square to take part in the Protect Trans Kids rally, which was a mobilisation against legislation designed to erase trans and gender diverse children from schools, introduced by NSW One Nation MLC Mark Latham.
Those gathered were breaching a Supreme Court imposed prohibition placed on the event at the behest of NSW police. The court ruled the 500-strong COVID safe rally couldn't go ahead, at the same time the state announced it would allow 11,000 patrons attend a Sydney racing event.
And what the successful rally revealed, yet again, was the unofficial and arbitrarily-enforced protest ban in NSW isn't silencing dissent, but in fact, it's encouraging social justice activists to organise outside of authorised protest protocols, which is only serving to strengthen their voice.
An attack on vulnerable children
"The point of Mark Latham's Bill is not just about getting passed, it's about trying to make us ashamed of who we are, to make young people feel alone, and make teachers and counsellors think twice before they stand up for a student who's being bullied," April Holcombe told the crowd.
Holcombe is a spokesperson for Community Action for Rainbow Rights (CARR), the group that organised the rally. And she further asserted that simply ignoring Latham's bill is not enough, and what's needed to counter such extreme rhetoric and proposals is a show of force on the street.
Introduced into NSW parliament on 5 August, the Education Legislation Amendment (Parental Rights) Bill 2020 seeks to prohibit all mention of gender fluidity from schools, which would mean the identity of transgender and gender diverse children would be erased from the education system.
Latham proposes that this ban would be enforced upon adult staff via threat of losing their jobs. This would include counsellors, meaning a young trans kid asking for help around any identity issues would simply be met with a blank expression.
Stand up, fight back
The protest crowd on Saturday afternoon was impressive. It was hard to believe that the demonstration was essentially illegal, as the public square was covered with activists wearing rainbow facemasks, as large numbers of police watched on at either side.
It was around the time that NSW Greens MP Jenny Leong was about to take the microphone to speak out against Latham, that one commanding officer commenced making the, of late, regular dispersal announcement via threat of $1,000 public health order fines.
At that point, large numbers of protesters simply pushed through the police presence on the Darlinghurst side of the square, and made their way down Oxford Street, running along the footpath and spilling out onto the street at times.
Dozens of uniformed officers began sprinting after them. And the by now highly illegal protest went on to take over the intersection where Oxford, Liverpool and College streets converge, blocking traffic in all directions, which is when officers commenced using force.
After being shoved off the road, the rainbow procession made its way through Hyde Park. Protesters stopped to chant at times, until police caught up with them, at which point they'd take off once more. And eventually, the march flowed out onto Elizabeth Street, blocking inbound traffic.
Things came to an end on the footpath at the corner of Elizabeth and Park. Officers kettled the protesters in. Excessive force was applied. Demonstrators were picked off one by one. Some were tackled to the ground.
Much pushing and shoving of mostly young, peaceful protesters transpired.
Restoring the spirit of protest
Thirteen demonstrators were taken into custody and received steep COVID fines on Saturday. Although, the tactic of surrounding activists and then pushing them in upon themselves might need a rethink in terms of how effective it is in preventing virus transmission.
Democracy Is Essential spokesperson Eleanor Morley called out the hypocrisy of the ban. She pointed out that while the Spring racing carnival is permitted thousands, police are cracking down on groups of over 20 for protesting for trans rights, and against racism and cuts to higher education.
Morley was one of the protesters who got dragged out of the crowd on Elizabeth Street. Officers moved in on her, as she was suggesting over a megaphone to other demonstrators that it was time for them to disperse.
The Democracy Is Essential campaign had a strong contingent at the rally. It's calling on NSW authorities to restore the right to protest.
But it might be said that in their attempt to see political public assemblies legalised once more, these activists are forging much more effective ways to get their message across without the authorised tick of approval.
Receive all of our articles weekly