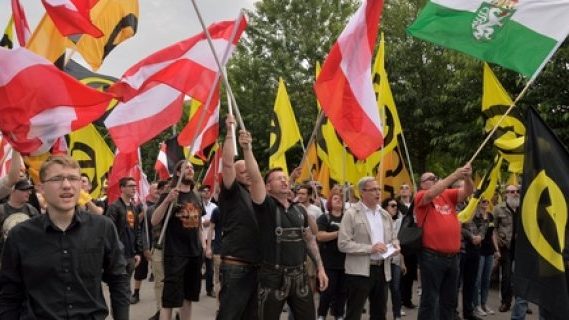 A surge in hate crimes has followed the surprise election win of US president-elect Donald Trump. The Southern Poverty Law Centre has reported over 300 cases since election day, with Muslims, Latinos, African Americans and transgender people all being targeted.
The same thing occurred in the United Kingdom after the Brexit vote. Anti-immigration sentiment fuelled the campaign to leave the European Union. And as it became apparent the split would occur, racist incidents were reported throughout the nation.
The Brexit vote and Trump's victory are clear examples of the far-right is gaining traction across the globe. Both events saw large numbers of disillusioned voters express discontent with the establishment, and revealed a desire to turn towards more ethnocentric and isolationist politics.
On the Australian Scene
Although the July federal election in Australia was no Trump moment, we did see the re-emergence of Pauline Hanson's One Nation party – which ran on an anti-immigration and anti-Muslim platform.
Since the election, support for One Nation has risen from 1.3 percent nationwide to 6 percent last month. In the wake of the Trump victory, Hanson announced that One Nation hopes to gain the premiership of Queensland in the next state election.
The Coalition was victorious in July under the leadership of Malcolm Turnbull, who was thought to be moderate than his predecessor Tony Abbott. However in recent weeks, we've seen Turnbull appeasing the more conservative elements both within his party and in parliament generally.
The prime minister announced at the end of last month that tough new asylum seeker laws will be introduced permanently banning those who attempt to arrive by boat.
And just last week, the PM reopened debate over the Racial Discrimination Act, announcing a parliamentary inquiry into whether it unduly restricts freedom of speech.
The far-right across the globe
There are signs this wave of reactionary conservatism is also sweeping across Europe. France could move towards the right in its 2017 general election, as ultra-conservative National Front party leader Marine Le Pen rises in popularity.
There are fears that more Brexit-type referendums could occur if Ms Le Pen is elected president, as countries such as Italy and France express dissatisfaction with the European Union.
Then there's Norbert Hofer, leader of the Austrian Freedom Party, who could be voted president of his nation next month. He endorses a proposal to build a wall along the border with Italy to stem the flow of immigrants into the country.
And we're all too aware of the fervour for building walls over recent months.
Russia is already under the authoritarian grip of Vladimir Putin, who Trump has expressed an allegiance with. Turkish president Recep Tayyip Erdoğan has brought economic stability to his country, but under autocratic rule, which has seen him silencing his opponents and the media.
Meanwhile, outspoken Philippine president Rodrigo Duterte has been ruling over his nation with an iron fist since June this year. Over 2,000 people have already been killed during his war on drugs, and he's decided to continue buying weapons from the US now that Trump is coming to power.
The lost golden age
But how can we account for the global rise of the far-right?
In regard to the triumph of Trump, American journalist Chris Hedges puts it down to what anthropologists call a "crisis cult" – the disaffected public puts its faith in a leader that is promising a return "to a lost golden age", to restore the nation to its perceived past glory.
Hedges said that political commentator Noam Chomsky told him six years ago that the US was ripe for a "charismatic figure" to take power. Chomsky likened this period in US history to Germany's Weimar Republic right before the rise of Hitler.
"If somebody comes along who is charismatic and honest, this country is in real trouble because of the frustration, disillusionment, the justified anger and the absence of any coherent response," Chomsky said.
Chomsky predicted that the US public will be told that "white males are a persecuted minority" and that illegal immigrants and African Americans are the enemy.
And it's the perception of a lost golden age that the likes of One Nation are using as their platform in Australia too, according to Dr Jean Jonathan Bogais, adjunct associate professor at the School of Social and Political Sciences at the University of Sydney.
Mr Bogais told Sydney Criminal Lawyers® that Pauline Hanson and her supporters are trying to hold onto an ideal that no longer exists. "The way she does it is extremely detrimental," he explained, "because it is impossible to go back."
The cycles of history
Academic Tobias Stone, writing in Medium prior to Trump's victory, believes humanity is going into one of its "phases of mass destruction", and that if current events are observed from an historical perspective, another world war may be imminent.
As Stone sees it, just as people didn't realise that events such as the assassination of the Austrian Arch Duke Franz Ferdinand in June 1914 could lead to the first world war, nor can people gauge where current world events are taking us.
Stone notes that Trump is promising to "Make America Great Again," but the reality is the US is doing very well in economic and other metrics. He says the Republican leader has made people "feel they have lost control of their country", causing them to look for scapegoats.
It's unpredictable
However, it might not all be 'doom and gloom' if you agree with US author Charles Eisenstein. He explains that a majority of US voters were of the view that the system was working smoothly under Obama, and that this would have continued under Clinton.
But the reality is Trump has been elected, and once it becomes clear his administration will do little to effect positive change, his supporters are also likely to lose faith in him. Eisenstein believes this has the potential to "incite massive civil disobedience and possibly disorder."
As Eisenstein puts it, we're entering "the dissolution of the old order" and, try as Trump may, he won't be able to restore what has come to pass. A political vacuum will be opened and what takes the current system's place is unpredictable from our present perspective.
So perhaps the rise of the far-right could actually mark its own death rattle, rather than signal a repeat of past atrocities.
Receive all of our articles weekly