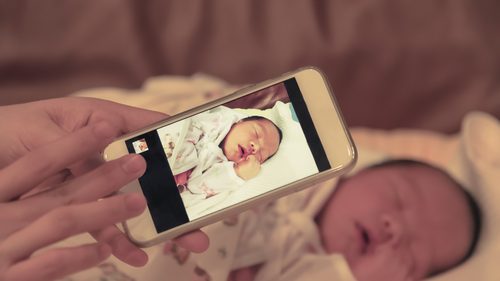 It's entirely possible that you saw and perhaps even shared the desperate pleas on social media from couple Jay and Dee Windross calling for help to find a lost mobile phone that held photos of their dying baby girl.
The post has gone viral over the past few weeks, with the heartbroken couple desperate to get back the phone containing precious memories of their 11-month old daughter Amiyah, who  since passed away from a rare neurological condition she battled since birth.
In the midst of their despair came a ray of hope from a Malaysian woman, who claimed to have the phone which disappeared from public toilets near Target in the Chadstone Shopping Centre in Melbourne over the Easter long weekend.
Malaysian woman, Siti Nurhidayah Kamal, a 24-year old mother of two, allegedly contacted the couple and demanded $1000 for the return of phone.
She is said to have threatened to sell the phone if they did not pay the money.
Woman charged with blackmail
Ms Kamahl has been charged with blackmail, an offence that carries the possibility of a prison sentence and can even lead to deportation.
Phone hoax, a 'low act'
A Magistrates Court in Melbourne heard that Ms Kamal began to message the couple on Tuesday after the Easter long weekend, as Mr and Mrs Windross were saying their final goodbyes to their daughter in hospital. Amiyah died several hours later.
The court also heard Ms Kamahl was never at any time, in possession of the phone belonging to Mr And Mr Windross, that she claimed to have found. She is struggling financially, having moved to Australia with her husband last year, leaving their two children with relatives in Malaysia.
Both have been working as Uber drivers, delivering meals on rented bicycles and living in a shared house, where they are behind in rent payments.
Ms Kamahl remains in custody until her next court appearance in June, based on the fact that authorities considered her a flight risk, despite confiscating her passport.
Second scam targeting the couple
It's also been reported that Mr and Mrs Windross have been targeted by a second scam, a fake GoFundMe fundraiser page set up to trick people into giving money. While it appears that the fake page has since been taken down, a genuine fundraising initiative remains, and has raised around $10,000 in memory of Amiyah.
Phone still missing
Mr and Mrs Windross have still not been able to recover the phone, a Samsung Galaxy S8 phone, with a purple cover, despite trying every avenue they can think of including naming several drop off points where it could be returned anonymously. They are now urging anyone with information to contact Crime Stoppers.
The offence of blackmail in NSW
Section 249K of the Crimes Act sets down a maximum penalty of 10 years in prison for the crime of blackmail, which is where a person makes any unwarranted demand with menaces with the intention of:
obtaining a gain or causing a loss, or
influencing the exercise of a public duty.
The maximum increases to 14 years where the person threatens to commit a serious indictable offence, which is any offence that carries a maximum penalty of at least five years' imprisonment.
Examples of serious indictable offences include larceny (stealing), assault occasioning actual bodily harm, robbery etc.
Section 249L explains that a demand with menaces is 'unwarranted' unless unless the person believes that he or she has reasonable grounds for making the demand and reasonably believes that the use of the menaces is a proper means of reinforcing the demand.
'Menaces' is defined by section 249M to include:
an express or implied threat of any action detrimental or unpleasant to another person, and
a general threat of detrimental or unpleasant action that is implied because the person making the unwarranted demand holds a public office.
The section makes clear that a threat against an individual does not constitute a menace unless it would cause:
an individual of normal stability and courage to act unwillingly in response to the threat, or
the particular individual to act unwillingly in response to the threat and the person who makes the threat is aware of the vulnerability of the particular individual to the threat.
Further, a threat against a Government or body corporate does not constitute a menace unless it would:
ordinarily cause an unwilling response, or
cause an unwilling response because of a particular vulnerability of which the person making the threat is aware.
In any event, it is immaterial whether the menaces relate to action to be taken by the person making the demand.
Section 249N defines the terms 'gain', 'obtaining a gain', 'loss' and 'causing a loss'.
A 'gain' is defined as any gain in money or other property, whether temporary or permanent, and includes keeping what one has.
'obtaining a gain' includes obtaining a gain for oneself or for another person.
A loss is a loss in money or other property, whether temporary or permanent, and includes not getting what one might get.
'causing a loss' includes causing a loss to another person.
And finally, section 249O defines 'public duty' as a power, authority, duty or function:
that is conferred on a person as the holder of a public office, or
that a person holds himself or herself out as having as the holder of a public office.
Receive all of our articles weekly