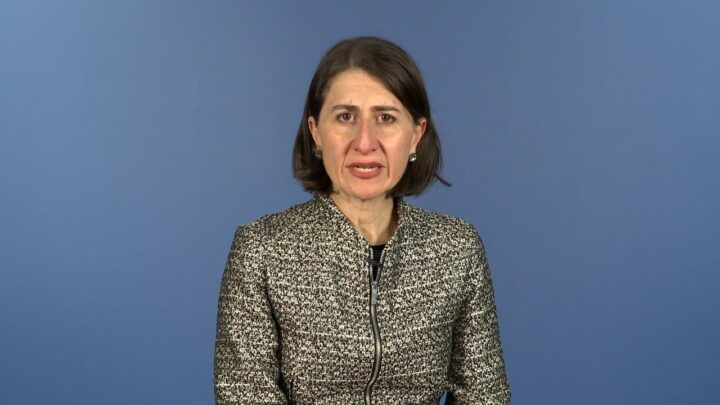 The rules pertaining to proper conduct applying to all citizens of this state, as well as less senior politicians, don't apply when it comes to the NSW premier, according to the suspect actions and excuses of current office-bearer Gladys Berejiklian.
The latest scandal to beset the state's leader – and perhaps the most damning – involves her signing off on a suite of council grants adding up to $141 million, much of which just happened to be allocated to councils in Coalition-held seats in the lead up to the last election.
Berejiklian is not the only minister to have signed off on the grants in order to "curry favour" within the community.
The $252 million grants rort – 95 percent of which was allocated to Coalition regions – saw deputy premier John Barilaro and a former local government minister giving biased approvals too.
As part of a Public Accountability Committee inquiry, chair NSW Greens MLC David Shoebridge and committee member Labor MLC John Graham were able to track down documents that had conveniently been shredded and deleted by the premier's office detailing the pork barrelling.
Berejikilian, however, went on to shrug off her part in the Stronger Communities Fund grants scandal, explaining that distributing taxpayer money in a manner to gain political advantage isn't illegal and besides, all politicians do it.
Everybody's doing it
"At the heart of the NSW Coalition, we have a premier who was willing to use public funds and, in this case, hundreds of millions of dollars to literally buy an election," Shoebridge told Sydney Criminal Lawyers.
"Even more disturbingly, she is now trying to defend that as politics as usual," he continued. "If it is politics as usual, then the Greens fundamentally believe politics needs a deep, deep clean out."
On the day the pork barrelling scandal broke, the NSW premier told the press that "all governments and all oppositions make commitments to the community in order to curry favour". And she added that it's "not an illegal practice".
In a desperate attempt to fleece the community further, Berejiklian implied that Coalition seats mainly received grants as there are simply more of them. Although, currently, the Liberal Nationals hold 48 of 93 seats, which hardly explains why 95 percent of the grants went to them.
"If pork barrelling is not illegal, let's make it illegal," Shoebridge suggested. "If politicians express these values, let's throw them out of office."
Strengthening the select
In May 2016, the NSW Liberal Nationals government announced it would be amalgamating a number of local government areas to form 19 new councils, and a few months later, then premier Mike Baird announced the roll out of the Stronger Communities Fund.
The fund was to ensure that ratepayers didn't foot the bill for the mergers. However, in June 2018, the guidelines were broadened to include any council impacted. Approved by premier Berejiklian, this provided for $100 million to be granted to Coalition seats in the lead up to the 2019 election.
The Public Accountability Committee's Inquiry into Integrity, Efficacy and Value for Money of NSW Government Grant Programs was launched on 6 July this year in response to questions raised in regard to the allocating of the Stronger Communities grants.
And the investigation soon uncovered evidence that on the same day the grants program was expanded, a senior public service officer charged with administering the fund called Hornsby Shire Council and offered a $90 million grant.
Just press delete
"We had been searching for any kind of document that was put in front of the premier that would explain that she allocated $141 million of public money to all of these Coalition projects," Shoebridge outlined. "The government had repeatedly said no such documents existed."
However, the inquiry located the senior policy officer in the premier's office, who'd emailed the Office of Local Government detailing the grant approvals Berejikilian had signed off on. And it was her testimony that alerted the inquiry that the "documents had been created, shredded and deleted".
Invoking the powers of the upper house, the inquiry then ordered the Coalition to undertake a forensic documents recovery process, which laid bare the premier's role in the dodgy dealings.
Shoebridge explained that the premier's office has since stated that the shredding and deleting of the documents was part of their standard document management system.
"Far from being an answer that provides comfort, it makes us deeply concerned about what other state records are being routinely destroyed in the premier's office," he added.
Habit forming
This is not the first recent scandal to tarnish the reputation of the NSW premier.
On 12 October, she admitted to the ICAC that she'd neglected to disclose a five-year-long relationship with disgraced former NSW Liberal MP Daryl Maguire, which could amount to a breach of the ministerial code of conduct.
As well, after having implored the public to self-isolate while waiting for any results of COVID-19 tests, Berejikilian confessed last week that she'd recently taken a test, and instead of isolating, she continued meetings with colleagues. And she only had to wait two hours for her results.
In both these cases, the premier went on to make public statements that simply shrugged off her actions, in a similar manner to the grants fiasco.
"There's a sense of entitlement and political hubris within the premier's office," Shoebridge said in response to a question about Berejiklian's dismissive responses to her unbecoming head of state behaviour.
"With hubris comes these kinds of fundamental mistakes, and a sense that nobody will hold the premier to account," Shoebridge concluded. "I'm in politics, as a Greens MP, to listen to the community and do exactly that: hold the premier to account."
Receive all of our articles weekly
Author
Paul Gregoire
Paul Gregoire is a Sydney-based journalist and writer. He has a focus on social justice issues and encroachments upon civil liberties. Prior to Sydney Criminal Lawyers®, he wrote for VICE and was the news editor at Sydney's City Hub.