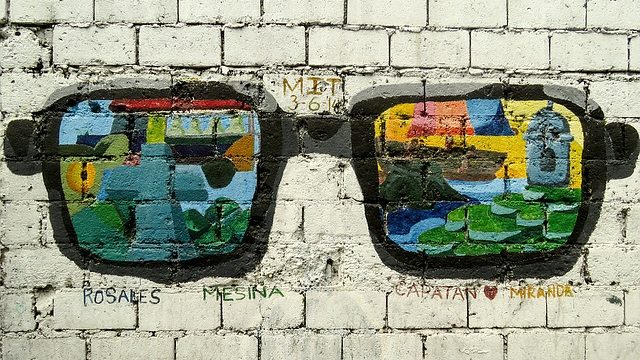 Acclaimed Australian artist, Anthony Lister, whose works appear in the homes of celebrities like Hugh Jackman, Pink, and Pharrell Williams, appeared in a Brisbane court recently, charged with wilful damage by graffiti.
Hailed as "Brisbane's Banksy", Mr Lister is widely known and well regarded for his legal street art, which adds bold and unapologetic colour to several Australian capital cities. His art is exhibited all over the world and fetches upwards of $10,000 a piece.
The Brisbane City Council, however, is not a fan. Police arrested Mr Lister in November 2014 for applying paint to walls and property in the Brisbane CBD, Paddington and Fortitude Valley. His arrest came only months after the council established an "anti-graffiti unit" that destroyed a street painting estimated to be worth $15,000 in a Brisbane alleyway.
Others in Mr Lister's hometown of Brisbane, including former Brisbane Deputy Mayor, David Hinchliffe, take a different view. In 2000, Mr Hinchliffe launched a project to paint Brisbane's traffic signal boxes and Mr Lister was one of the first artists to become part of the project.
"I have a great envy for the career that he has been able to establish – he is a credit to Brisbane," Mr Hinchliffe told the court.
"Anthony's whole body of work has been to create beautiful, interesting things in the cities that he is painting in."
The Courier Mail reported that Mr Lister felt particularly aggrieved by his arrest. After spending 10 hours in police custody, he said, "I thought what I do is art. Apparently it's a crime."
Mr Lister's criminal defence lawyer told the Courier Mail that:
"Preferring such charges, which Mr Lister has instructed my office to fully defend, highlights the disdain the Queensland Government has for the arts, which was publicly highlighted when the Premier cancelled the Premier's literary awards.''
How Does Sydney Compare?
Mr Lister told the Sydney Morning Herald that Sydney City Council has "quite an open mind" when it comes to street art, where contractors assess the merit of any graffiti before it is removed.
He said, "[Graffiti] tags are like weeds in a garden that's ready to bloom," he said. "If you don't let the weeds grow through the soil and germinate … then there are no flowers."
But even the Sydney City Council's Graffiti Management Policy has Rangers inspecting "priority zones" in the city every day and suburban "routine zones" weekly, seeking to remove all graffiti within 24 hours and "particularly offensive" works within 4 hours.
Graffiti and the law
As Mr Lister has learned, the law is firm on what constitutes graffiti and what it determines to be street art.
As discussed in some of our previous posts, Graffiti is the act of marking any space with a marker, spray paint, or any other substance which can't be easily removed with water or detergent.
Graffiti is illegal if it's done without the permission of the owner, and the place that is marked isn't a legal graffiti space.
If you intentionally mark a space without the permission of the owner, you could be charged with an offence under the Graffiti Control Act 2008. The most common penalties for graffiti offences are section 10 dismissals and conditional release orders (guilty but no criminal record), community service orders, good behaviour bonds and fines.
In some cases, the court may impose a clean-up order whereby you will need to perform community work removing graffiti. You may also be required to participate in a graffiti prevention program.
If you are facing charges for a graffiti-related offence, expert legal representation from an experienced criminal lawyer will give you the best chance of having your charges dropped or thrown out of court if you wish to plead not guilty, or avoiding a criminal record if you wish to plead guilty.
Receive all of our articles weekly