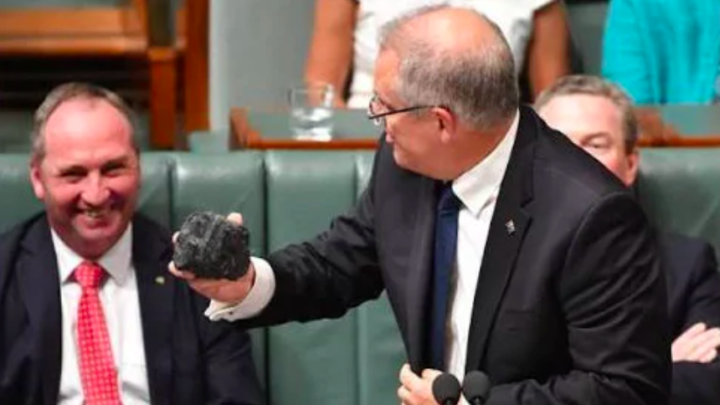 In the wake of this summer's wildfires, which burnt an unprecedented area of bushland and saw over a billion animals perish, the Morrison government has seen fit to appoint a new resources minister, who seems to have misread the implications of the catastrophe.
To coincide with this year's first sitting day of parliament, 270 scientists released an open letter to the Liberal Nationals government urging it to acknowledge the link between the fires and the climate crisis, and take action to cut the nation's greenhouse gas emissions.
While on the third sitting day, the PM appointed Keith Pitt as new resources minister. And the man who's now in charge of the climate heating fossil fuels in the ground is spruiking his own brand of scorched earth policy, which is sure to lead to much more robust bushfires in the future.
Pitt told the Herald last week that what this country needs is more coal, more gas and more uranium exports, so as to lift standards of living. And he explained it's going to be his mission to get the states on board with opening up new coal seam gas fields.
We're all in it together
But, if you think it's merely federal ministers that can't kick their fossil fuel habits – think again. In NSW, the Berejiklian clan have got dollar signs in their eyes, which seem to be blocking their understanding that if fossil fuel extraction continues on, there's likely to be no standards of living.
During that same first federal sitting week, as many bushfires continued in this state, the Morrison government cut a deal with the NSW Liberal Nationals, whereby the state provides an additional 70 petajoules of gas and the nation provides it with $960 million.
This funding has been earmarked to upgrade the NSW energy grid and invest in emissions reduction initiatives. Although, it could be remarked that a much cheaper emission reduction scheme would involve leaving the gas in the ground and turning to renewable energies.
And meanwhile, there's still a bill before NSW parliament introduced last October by planning minister Rob Stokes that seeks to remove the requirement that involves authorities having to consider the impact of exported coal emissions when assessing new mining projects.
Something's got to give
A report by the IPCC released in October 2018 asserts that governments must cut greenhouse gas emissions to net zero by 2050 to prevent ecological collapse. However, feedback loops are likely to speed up this process. These phenomena were beyond the scope of the IPCC inquiry.
And a study published this week outlines that oil and gas are much more responsible for rising levels of methane, as the industry has been found to produce up to 40 percent more of what's in the atmosphere. The methane greenhouse effect is 80 times more potent than that of carbon emissions.
For those unaware of the fact that the fossil fuel industry has infiltrated the Morrison fold, a quick perusal of the 2019 Greenpeace documentary Dirty Power will fix that. And of course, then there was Morrison's mid-bushfire promise to a Queensland fossil fuel lobby luncheon last November.
The PM said he's looking into a means to stamp out secondary boycotts in relation to climate and ecology. This is a form of protest that many "quiet Australians" use as a means to vent their opposition. And it's been revealed this week that the Coalition is cooking up this strategy right now.
Last year's federal election saw polls find the climate emergency as the number one concern on voters' minds. But, that was nothing compared to the groundswell of grassroots recognition of the issue that came during the bushfires, which saw Australia become ground zero of the climate crisis.
So, it only seems a matter of time before the voice of the people rises to such a crescendo that all politicians, regardless of creed, are forced to give up their fossil fuel abuse.
Receive all of our articles weekly