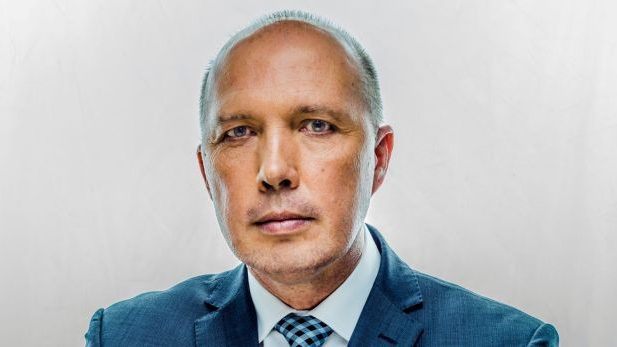 Back in August, Australian immigration minister Peter Dutton caused a furore when he accused lawyers who represent asylum seekers on a pro bono basis of being "un-Australian." The backlash from inside and beyond the legal profession was widespread.
Now, it seems Australia's chief law officer wants his colleague to pull his head in. On October 8, attorney general George Brandis gave the keynote speech to open the International Bar Association (IBA) conference in Sydney, in which he defended "the role of lawyers."
An attack on the legal profession
Dutton made his controversial remarks on Alan Jones' 2GB radio program. Before the show, the minister had stated in the press that former offshore detainees who were transferred to Australia due to medical reasons, where using "tricky legal moves" to remain in the country.
Mr Jones queried how these asylum seekers were able to access lawyers. The minister said that some law firms "as part of their social justice agenda" were providing free legal representation.
"But, this is un-Australian behaviour by lawyers, isn't it?" asked Jones. "Well, of course it is," Dutton replied. "And it's gone on for far too long."
The minister further stated that "these lawyers have been playing the game" with asylum seekers as "willing participants." He then implied that both he and the prime minister were going to bring an end to the practice.
QC chides former cop
About halfway through his speech at the IBA conference, the attorney general began to make comments which have been taken as a condemnation of Dutton's assertions.
Mr Brandis outlined that "the right of access to the courts" should never be denied, "the role of lawyers" representing their clients should be respected, judicial power should not be subordinated to the executive, and ministers should respect "the rule of law and the authority of the courts."
After much ruminating about the rule of law, Brandis stated that upholding the rule "may involve lawyers in controversy." Then, seemingly addressing the lawyers Dutton criticised, Brandis stated, "it may mean standing up to the powerful, or defending the vulnerable, the marginalised or the despised."
The attorney general then went onto assert that lawyers who stood up to the powerful and defended those in need "serve the finest traditions of our profession."
Cutting off the lifeline of the vulnerable
Dutton decided to take aim at lawyers working to help people applying for asylum so they don't have to return to the countries from which they fled, at the same time that he announced up to 370 asylum seekers could be facing eviction and having their welfare payments cut off.
The group of asylum seekers were former Manus Island and Nauru detainees, who had come to Australia for medical treatment. The immigration minister claimed these people had been pulling the "tricky legal" manoeuvres.
The group – which includes 116 children, 50 of whom were born in Australia – were told they could be placed on "final departure" bridging visas. Once on these visas, the asylum seekers would have their payments cut off within two weeks, and be given three weeks to vacate their accommodation.
"Since this announcement approximately 60 people have been affected," explained Sarah Dale, principal solicitor at the Refugee Advice and Casework Service (RACS). "They are now being cared for by the community with the provision of welfare support."
This support is being provided by organisations such as the NSW Alliance for People Seeking Asylum (NAPSA), which consists of RACS, the Asylum Seeker Centre, the Jesuit Refugee Service and House of Welcome.
A mammoth achievement
This is not the first time Dutton has threatened vulnerable people in the last year. In May, the immigration minister gave 7,500 asylum seekers until October 1 to lodge their visa applications or be deported.
After years of being denied the ability to lodge their applications, these people were suddenly asked to complete the complicated document in English – not their first language – within a limited time frame. Ms Dale informed Sydney Criminal Lawyers® that all except 71 people made the deadline.
"This was only achieved by the legal and asylum seeker service community working together to support such vulnerable people in a phenomenally efficient and compassionate way," Ms Dale explained.
Indeed, much of this work was done by pro bono lawyers, who would be drawing the ire of Dutton.
Unfortunately, those who failed to lodge their applications are facing the termination of welfare payments, Ms Dale explained. She added that their bridging visas would not be renewed, which will result in them being detained and ultimately deported.
"Its RACS position that all people that have arrived in Australia seeking protection ought to have their claims assessed fully, fairly and in accordance with the law," Ms Dale remarked, adding that this should include the provisions set out under international law, to which Australia is a signatory.
Pro bono support
As Brandis suggested in his IBA speech, lawyers such as those at RACS have been working around the clock to protect the vulnerable. Many believe the organisation should be commended rather than condemned for assisting almost 2,000 people to lodge their visa applications.
"RACS received tremendous support from the pro bono community and could not have supported the large number of clients that we did" without them, Ms Dale outlined, adding that RACS is "continually humbled by the support of the pro bono community."
Australian values?
However, Mr Dutton believes that providing free support to stop people being sent back to countries they've risked their lives to flee is un-Australian. It seems more likely that to him, turfing people with no money or support out into the streets is the Australian way.
And for lawyers assisting the vulnerable on a pro bono basis, it should be remembered that if they draw criticism from a man like Dutton, it's actually a sign they're upholding the greatest virtues of the legal profession and values that should be Australian.
Receive all of our articles weekly