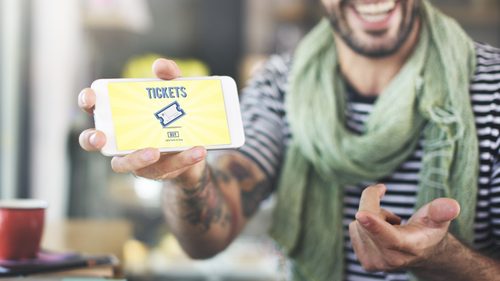 A 33-year old man from Queensland has been charged with fraud after allegedly accepting online payments for tickets to singer Ed Sheeran's recent concerts in Brisbane and Sydney, but never delivering them.
The current charges relate to two complainants, with police investigating complaints from five more.
The buyer's allegedly transferred $250 per ticket to the seller's nominated bank account after making the purchase via an unauthorised online ticket platform.
One of the charges relate to the use of a stolen identity to create the online account and a bank account to receive transfers.
"He does come across as somebody who's experienced in this field, someone who's engaged the public in respect of various other scams, so it's hard to tell whether he's done it just for the Ed Sheeran concert," said police sergeant Alex Dmitrovic.
Police stumbled upon the alleged scam after raiding the man's home for other suspected fraudulent activity last month.
They are working through the man's computer and telephone to determine the extent of his activity, and say there could be dozens more victims.
Buyers beware
Detective superintendent Terry Lawrence has advised members of the public not to purchase tickets from secondary resale sites.
"This is another clear example of buyer beware", he warned. "I urge entertainment ticket buyers and all buyers of online products to keep control of their purchase. Only use the official authorised sellers and their platforms."
He conceded it is difficult to dissuade buyers from using these sites because they are desperate to see their favourite artists and willing to take risks to facilitate this.
Other cases
A 21-year old man was arrested in 2013 and charged with selling fake tickets to the Swedish House Mafia concerts in Sydney and Melbourne, the Soundwave music festivals in Sydney, Melbourne, Perth and Brisbane, and tickets to the AFL Grand Final.
The man was found to have been selling tickets online for between $200 and $800. He was charged with 11 offences and ultimately given fines and good behaviour bonds.
And just last year, fans were scammed via ticket resale website Viagogo, which hosted an advertisement for hundreds of tickets to the sold-out Adele concert. Simone Mohr purchased 4 fake tickets for a total of $3000 for her daughters, but never received them.
Also last year, a Melbourne teenager purchased a $257 ticket to The Book of Mormon on the same site, but was turned away at the theatre because the ticket was invalid.
Avoiding a scam
The best way to maximise the chances of receiving a legitimate ticket is to buy through the festival itself or the authorised promoter.
Avoid buying from secondary sites and, remember, if a deal seems too good to be true it probably is.
If you are desperate for a ticket and the only way to get one is through a reselling platform, suggest a meeting in a public place where you can inspect the ticket before transferring the money into an account.
It may be also be worth checking whether a sold-out event has an authorised resale facility; such as Moshtix, where you can register on a waiting list and buy tickets at the original price.
Consumer advocates
Consumer group CHOICE has released the following warning:
"The message couldn't be clearer, if you're going to a very popular event, buy through the official ticket seller," said CHOICE head of media Tom Godfrey.
"Unfortunately if you don't, if you buy a ticket off Gumtree, Facebook, any other social network, you'll find yourself in a bit of a problem, because it's very hard to verify who you're dealing with."
The organisation has also warned against giving sellers the code for a 'cashless' transfers, as this makes it even more difficult to trace a scam.
Definition of fraud in NSW
Section 192E of the NSW Crimes Act 1900 makes it an offence to obtain property belonging to another, or obtain any financial advantage or cause a financial disadvantage to another, where this is done dishonestly by any deception.
To be found guilty, the prosecution must prove beyond reasonable doubt that the defendant:
By deception, acted dishonestly, and
These actions created a financial advantage over another person's property, or caused them to suffer a financial disadvantage, and
The actions were intentional or reckless.
The maximum penalty for the offence is 10 years imprisonment if the case is tried in the District Court, or 2 years if it remains in the Local Court.
Receive all of our articles weekly