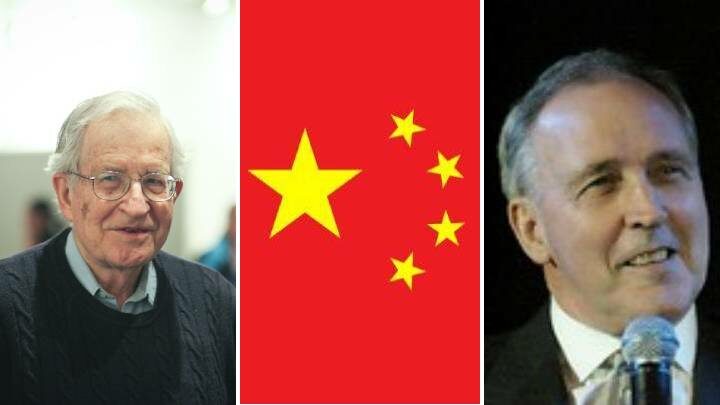 "The worst case is the increasing provocative actions towards China," MIT Professor Noam Chomsky told Democracy Now host Amy Goodman this week, in response to a question about the Biden administration's foreign policy.
"By now, there is constant talk about what is called the China threat," he added.
The world-renowned political commentator noted that when it comes to the question of what the China threat actually is, it's "rarely raised" in the US. But "it is discussed in Australia", he continued, "the country that is right in the claws of the dragon".
Chomsky pointed to the essay that our nation's former PM Paul Keating delivered to the National Press Club on 10 November, in which the former Labor leader concluded that the threat that China poses to the United States is its mere existence as it can't "be intimidated the way Europe can be".
"China does not represent a contiguous threat to Australia," posited Keating. "China is not about turning over the existing world order. It only wants to reform it, and it wants to reform it only because of its scale."
No real military threat
Chomsky then pointed to a recent assessment of China's military power in relation to other nations that veteran Australian journalist Brian Toohey recently published. The professor then summed up the "relative military power of China" as "laughable".
Toohey made his assessment in late September just after the PM announced AUKUS, which sees our country, the US and the UK forming a pact, with a key component being Washington assisting Canberra in the building of eight nuclear-powered submarines in response to a rising China.
"China doesn't pose a realistic nuclear threat to Australia," writes Toohey. "It shows no sign of abandoning its long-held position that it will never engage in a nuclear first strike." And he further set out that its "nuclear weapons are so inferior" that it would be concerned about US retaliation.
According to Toohey, China has four Jin-class nuclear-powered submarines, which pose no threat to the US because the ballistic missiles onboard don't have the range to strike North America from its military base on Hainan Island, and nor could their subs get close enough due to patrolling US subs.
The journalist outlines that in contrast, the US has 14 Ohio-class nuclear subs, equipped with 24 Trident missiles each. "This means a single US submarine can destroy 192 cities, or other targets, compared to 12 for the Chinese submarine." And the US subs are being replaced with bigger ones.
Yet, despite this, Toohey continues, there are Australian commentators stating that China poses a real nuclear threat to this nation and, therefore, the nuclear submarines are warranted. But this is unrealistic, he goes on, considering the subs won't be in operation until sometime after 2040.
Diplomacy is key
"While serious abuses that China is carrying out are wrong, you can condemn them, they are not a threat," Chomsky further told Goodman. And he pointed to "US support for Israel's terrorist war against two million people in Gaza" as posing no threat to Beijing.
The long-term political commentator acknowledged that there are problems in the South China Sea – China's maritime claims in the region are disputed and so too is its island building – but these issues can be dealt with via "diplomacy and negotiations".
"But the right measure is not increasing provocation, increasing the threat of an accidental development which could lead to devastating, even earthly-terminal nuclear war," Chomsky warned.
Receive all of our articles weekly