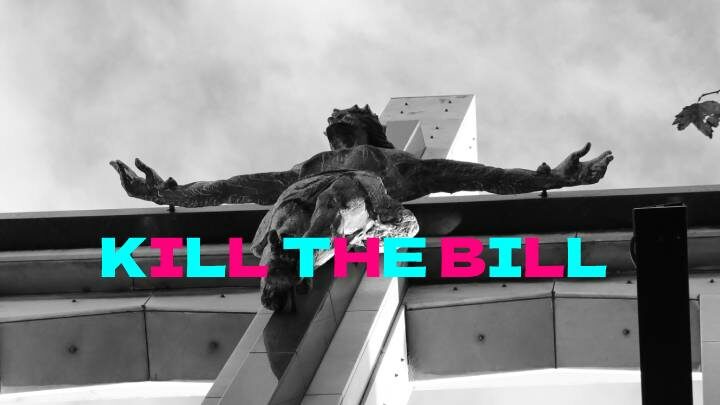 The exposure draft of the Religious Discrimination Bill 2021 (RD Bill) was released on Tuesday. And compared to its first two iterations, it's watered down.
Folau's clause has been dropped, and so too has the provision that permitted health practitioners to turn people away from treatment.
However, it's still a very nasty piece of legislation. As was the want of former attorney general George Brandis, the bill enshrines the "the right to be a bigot" in law, just as long as an individual is being discriminatory in line with their faith doctrine.
Antidiscrimination law experts agree that there is a need to protect people from discrimination based on religious belief at the federal level, and part 4 of this bill does this in terms of most areas of public life. But then it heads in another direction.
"Certain conduct is not discrimination at all, such as conduct by religious bodies in some circumstances," the text of the bill states early on. "Certain statements of belief also do not constitute discrimination for the purposes of specified legislation, including this Act."
And in order to facilitate certain behaviours – significantly "statements of belief" – that would otherwise constitute a form of discrimination under pre-existing laws, the RD Bill simply overrides all other protections in all other jurisdictions with the swift swing of a sword.
The laws that shield
The RD Bill is Scott Morrison's pet project. Just a fortnight after the legalisation of marriage equality, the then treasurer appeared in the Herald, stating that he'd be pushing for greater religious protections in law, as he was concerned about discrimination, especially in relation to Christians.
The current head of state appeared in the press at the same time as then PM Malcolm Turnbull appointed former attorney general Philip Ruddock to lead an inquiry into whether Australian laws protect religious freedoms. And the review recommended antidiscrimination laws be drafted.
Part 4 of the bill contains them. Like other antidiscrimination legislation, the laws cover many aspects of public life – employment, education, sport, accommodation – and they make it illegal to discriminate against another in these settings on the basis of their "religious belief or activity".
While section 16 of the RD Bill extends these protections, so they also apply to a person who has an "association with an individual who holds or engages in a religious belief or activity in the same way" as they apply "to a person who holds or engages in a religious belief or activity".
But, according to the Ruddock review, it "did not accept the argument, put by some, that religious freedom is in imminent peril" in this country.
Yet, the Pentecostal PM seems to have simply disregarded this understanding as other sections of the draft legislation reveal.
Carte blanche for the religious
The RD Bill defines a statement of belief as relating to either a religious person's belief that's genuinely considered to be in accordance with their religion or for the nonreligious this can consist of a statement arising out of their not holding a religious belief.
Such a belief must be held in good faith, and the statement of it can be spoken or written, as well as communicated in a way, other than one that entails physical contact.
Section 12 of the draft bill then stipulates that a statement of belief does not constitute discrimination as set out in all state and territory antidiscrimination acts, as well as the federal acts that outlaw discrimination based on race, age, disability, sex, sexuality and gender.
Although this provision doesn't apply if the statement of belief is malicious, or if "a reasonable person would consider" it a threat, intimidation, harassment or vilification, or if it constitutes a serious offence.
When discrimination is not discrimination
Section 7 of attorney general Michaelia Cash's draft of the RD Bill outlines "circumstances in which a religious body's conduct is not discrimination", which is, broadly speaking, when such a body engages in conduct that "a person of the same religion" would consider to follow its faith doctrine.
This includes preferencing someone of the same religion or "conduct to avoid injury to the religious susceptibilities of adherents of the same religion".
The section further stipulates that when it's a religious educational institution, it "must have a publicly available policy in relation to conduct in the context of employment", which would mean that religious schools can turn away LGBTIQ teachers, and likely dismiss them as well.
A later provision provides that if a religious educational institution chose to act in such a discriminatory manner, any state or territory laws that prohibit this conduct do not apply.
The section 7 provisions don't apply to religious hospitals, aged care facilities, accommodation providers or religious disability service providers, except in the areas of employment and business partnerships, and in those cases, an available policy must outline its discriminatory practices.
Legislating against the tide
Morrison and the rest of the Christian Right have pinpointed the need for those of faith to be protected against discrimination in general and are using it as a back door means to provide those of faith with the right to discriminate against others.
The understanding that these laws have been prioritised by the Coalition government as some sort of consultation to conservative Christians within politics and the wider establishment following the extension of the human right to marry to LGBTIQ people is well established.
These laws also come at a time when the major religion, the Christian Church, is increasingly losing its power as growing numbers of Australians indicate that they're not of faith in the census, as well as the multicultural nature of our society seeing many more locals as members of other religions.
Whilst some antidiscrimination laws may need updating, Australia has been building up an impressive framework of these protective measures since the 1970s, which were necessitated as certain people in society felt empowered to treat others different to them in a prejudicial manner.
And it's just those people – white Christian heterosexual men – who have come back to the table with laws attempting to reinstate this power, and, if passed, those people who were protected on the grounds of their sex, sexuality, gender, race, disability or age, will bear the brunt of them.
Receive all of our articles weekly