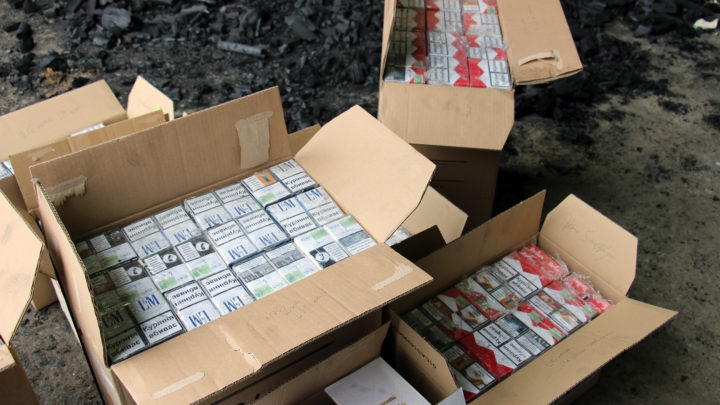 It was around March 2017 when ex-Australian Border Force (ABF) customs official Johayna Merhi and current ABF senior customs officer Craig Eakin agreed to assist the Jomaa crime syndicate with their illicit large-scale tobacco importation operation.
Unbeknownst to the pair helping the criminal network, there was already a covert police operation investigating it. Since 2016, NSW police uncover operatives had been surveilling Ali and Abbass Jomaa's tobacco tax avoidance smuggling operation.
Ms Merhi had formerly worked with Mr Eakin at the ABF over a fourteen year period, in a position that was senior to his at the time. Her role in the smuggling operation was to facilitate communications between the Jomaa family and her former colleague.
Insider trading
Then a multicultural liaison officer for the NSW Police Force, Merhi acted as the go between from 14 April through to 6 July 2017. Via unauthorised computer searches, Eakin was able to advise her on which shipping company should be used to avoid detection. And he also monitored the shipment.
In early July, the Jomaa syndicate collected and distributed the smuggled tobacco. If the operation had been successful, the single shipment would have avoided over $6 million in tax and duties. However, the offenders unwittingly supplied some of the illicit product to undercover operatives.
And both Merhi and Eakin were arrested on 8 August, which was after the NSW police civilian employee had received payment from the syndicate and knowingly handed over $100,000 in cash to her co-offender as payment for his part in the criminal operation.
The resulting convictions
Ms Merhi was charged with and pleaded guilty to three offences. The first being one count of bribery of a public official, contrary to section 141.1(1) of the Criminal Code Act 1995 (Cth). This crime carries a maximum penalty of 10 years imprisonment and/or a fine of $2.1 million.
The second offence was aiding and abetting the importation of tobacco with the intent to defraud the revenue, which breached section 233BABAD(1) of the Customs Act 1901 (Cth) in combination with section 11.2(1) of the Criminal Code.
Section 11.2(1) of the Code allows for those assisting a crime to be punished as if they'd committed it outright themselves. And the crime of illegally importing tobacco in such a manner carries a maximum punishment of 10 years behind bars.
Mehri's third charge was dealing in the proceeds of crime, which were greater than $100,000. This offence contravenes section 400.4(1) of the Criminal Code. And if convicted of this crime, an individual is liable to up to 20 years gaol time.
On 12 April this year, NSW District Court Judge Ian McClintock sentenced Mehri to 5 years and 6 months imprisonment, with a non-parole period of 3 years and 3 months. This sentence took into account a 25 percent discount due to the utilitarian value of her early plea of guilt.
Trust was clearly breached
However, on 1 November this year, Ms Mehri appealed her sentence in the NSW Court of Criminal Appeal (NSWCCA). She did so based on three grounds. The first being that it was wrong of the sentencing judge to consider her former ABF employment as "seriously aggravating" her offending.
Judge McClintock found that Mehri had committed a "very significant breach of trust and of office", even though she no longer held a position at the ABF, as she had "used her knowledge of her previous employment" to commit the crimes, and this was while she was employed by NSW police.
Mehri argued that the sentencing judge shouldn't have found that she'd committed any abuse of trust or position of authority, as she could have carried out a similar scenario had she never worked as a customs officer herself and merely knew Eakin on a personal basis.
According to NSWCCA Justice Richard Cavanagh, this certainly wasn't the case, as Judge McClintock had pointed to numerous occasions where Mehri had used her insider knowledge of how the ABF operates internally whilst facilitating the smuggling operation.
On one occasion, Mehri texted Eakin to check if he'd lodged certain documents, and then expressed her frustration that he hadn't seen to it as yet. Whilst another instance saw her take it upon herself to check in with Eakin as to whether there was any information on the ABF system.
Justice Cavanagh found that the sentencing judge was correct to consider this breach of trust a serious aggravating factor, as there are "ongoing obligations of confidentiality ordinarily imposed upon persons in a position of authority and trust even after the employment ceases".
Good character required
The second ground of appeal that Mehri raised was that the sentencing judge had made an error when considering her current employment with the NSW Police Force at the time of the offending "as a matter limiting the weight to be given to good character".
Justice Cavanagh pointed out that at the time of the offending Ms Mehri was 40 years old and had no prior convictions. And she asserted that it was a requirement under section 16A(2)(m) of the Crimes Act 1914 (Cth) that her prior good character be taken into account when sentencing.
His Honour found that this was correct. In his reckoning, Ms Mehri had worked for the ABF for many years, and prior to the current offending, she had "an unblemished record". And it was wrong for Judge McClintock to dismiss her good character from being a mitigating factor.
"The applicant's prior good character was a relevant factor in the sentencing process. To not have regard to it may be viewed as a form of double-counting," Justice Cavanagh reasoned. "In my view, the applicant has made out Ground 2."
The gift of a sentence slashing
The third ground argued by the offender was that her sentence was manifestly excessive. And his Honour said that he didn't find the prison term imposed "unjust" or "too severe". But, as the second ground was already made out, it was not necessary to consider the third ground any further.
In his findings released on Christmas Eve this year, Justice Cavanagh set out that he must resentence Mehri afresh, and giving consideration to each offence separately, he came to a new term of 4 years and 6 months prison time, with a non-parole period of 2 years and 6 months.
And both NSWCCA Justices Robert MacFarlan and Ian Harrison agreed with this festive season sentence reduction.
Receive all of our articles weekly