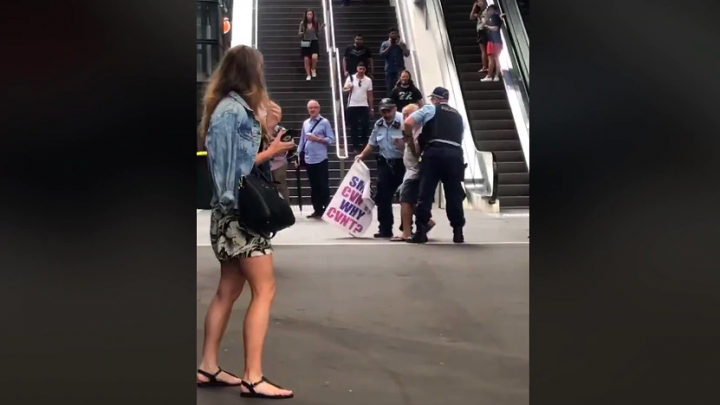 Iconic Sydney protester Danny Lim has been brightening the lives of city commuters for years now with his sandwich board signs emblazoned with colourful political messages designed to make a point as well as produce a smile from the passersby.
However, last Friday morning, several NSW police officers decided it was time to give the former Strathfield councillor a bit of a roughing up at Exchange Place in Barangaroo. The officers moved in and surrounded Danny. They tore his sign from his hands and forcefully handcuffed him.
The 74-year-old cried out for help and raised concerns about being separated from his dog Smarty. Onlooker Niki Anstiss, who filmed the incident, posted that it was the "most spiteful act of bullying I have ever seen, and NSW Police Force should be absolutely ashamed of themselves".
The video footage of the incident went viral as Sydneysiders decried the treatment the officers subjected Mr Lim to. The activist later shared a photo on Facebook that shows his bruised and bloodied arms following the manhandling.
The crime of offensive conduct
As around 30 people looked on in disbelief last Friday, the police arrested and charged Mr Lim with offensive conduct over the sign he was displaying, which read, "SMILE CVN'T! WHY CVN'T?"
Section 4 of the Summary Offences Act 1988 stipulates that "a person must not conduct himself or herself in an offensive manner in or near, or within view or hearing from, a public place or a school." It also explains that merely using of offensive language does not constitute this crime.
The maximum penalty for someone guilty of this offence is a $660 fine or 3 months behind bars. The legislation contains a defence to a charge of offensive behaviour, which is where the defendant has "reasonable excuse for conducting himself or herself in the manner".
The Summary Offences Act does not define what constitutes offensive conduct or specify acts which may lead to a charge.
It is therefore left to the courts to determine what behaviour is offensive, using the hypothetical "reasonable person" test as the measure.
Court already gave the green light
But, this isn't the first time NSW police has charged Mr Lim with this offence. On 24 August 2015, officers issued him with a $500 fine and a move-on order for offensive conduct at the intersection of New South Head Road and Ocean Street in Edgecliff.
At the time, Danny was wearing a sandwich board, the front of which read: "PEACE SMILE. PEOPLE CAN CHANGE. "TONY YOU CUN'T." LIAR, HEARTLESS, CRUEL." And the back read: "TRICKY LYING TONY YOU C∀N'T SCREW EDUCATION HEALTH, JOBS & THE ENVIRONMENT."
The obvious offence is the use of the upturned "A" in the word "can't", which can also be construed as referring to then PM Tony Abbott as a "cunt". And despite a crowdfunding page raising the $500 for the fine in 56 minutes, Mr Lim decided to fight it in the Waverley Local Court.
On the 9 February 2016, Magistrate Lisa Stapleton said it was a "straightforward case", as she asserted that any reasonable person would find the impugned words offensive when used as a reference to the prime minister. And she found Mr Lim guilty of the offence.
Mr Lim went on to appeal this decision to the NSW District Court. Judge Andrew Scotting stated on 29 August 2017 that "the language was clearly a play on words. And he further reasoned that, "If the appellant's conduct was offensive, contrary to my view, in my view it was only marginally so."
Judge Scotting said that he was not satisfied beyond a reasonable doubt that Mr Lim's behaviour warranted a crime under section 4. And he ordered that the appeal be allowed, Lim's conviction be quashed, and the fine be set aside.
The people speak up
Currently, there's a new GoFundMe campaign doing the rounds of the internet raising funds for Mr Lim's court costs. It has the goal of raising $500. But, by Monday afternoon, the campaign had already raised over $3,000.
And on Sunday, around 150 supporters of Mr Lim gathered outside Sydney police station to protest his brutal treatment at the hands of police. Those gathered made clear that officers had gone too far in roughing up the widely respected local figure.
Mr Lim wore a sandwich board to the event calling on politicians to act on chemical contaminations. He thanked the crowd for their support and also said he appreciated those onlookers who had filmed the incident on their phones as it was taking place.
Flexing its muscles
This incident of police brutality comes at a time when the behaviour of NSW police is increasingly being questioned in the community. Figures released last month revealed that the use of strip searches by police has grown by 47 percent over the last four years.
Not only is this invasive practice becoming routine, but there are reports its being carried out on Aboriginal children as young as 11. And the Law Enforcement Conduct Commission (LECC) has announced it is investigating allegations that officers are abusing these powers.
Indeed, the LECC 2016-17 report revealed that over the two years prior, 17 former and current NSW police officers had been prosecuted over misconduct and corruption charges. This included officers who were charged with lying about the shooting of a mentally ill man.
Round two
Mr Lim and his legal team announced at the Sunday protest that they will be challenging his new charge, as well as taking legal action against the officers involved in the incident. His lawyer said no respect had been shown to Lim, who was handcuffed and thrown in the back of a paddy wagon.
"The biggest injury which everyone must be able to take is when they try to break you, your mind, your heart," the much-loved activist told his supporters at the rally, "don't let them do it."
For now, Lim is waiting to find out when his court appearance will be. On Monday, a drawing was posted to his Facebook page that might just sum up how it should be expected that his legal challenge will go.
The picture depicts Lim wearing a sandwich board that reads: "CVNT KEEP A GOOD MAN DOWN."
Receive all of our articles weekly