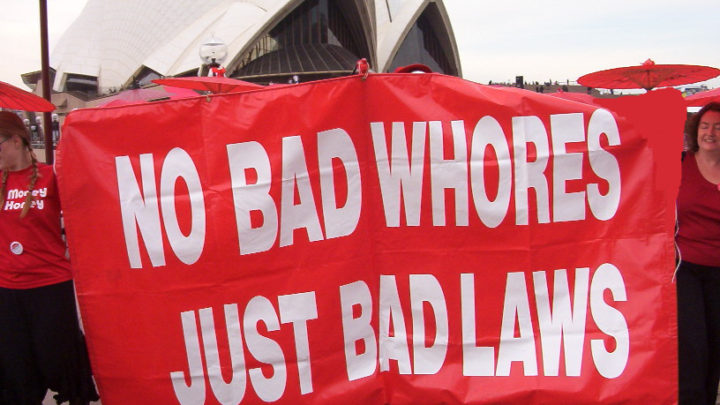 NSW was the first jurisdiction in the world to decriminalise adult sex work. And the outcomes have been lauded globally. Indeed, in a 2016 report, the NSW government stated that decriminalisation is the best way to ensure sex worker safety and maintain transparency within the industry.
The process of decriminalising adult sex work in this state began in 1979 with the removal of criminal sanctions around certain aspects of street-based work. But, it wasn't until 1995 that legislation was passed that saw most aspects of the NSW sex industry decriminalised.
At the time NSW moved to a decriminalisation model, the state was reeling from the fallout caused by the Wood Royal Commission into NSW Police, which found that there was "a clear nexus between police corruption and the operation of brothels".
Almost two decades following decriminalisation, the 2012 LASH report stated that the sex industry in NSW had not increased in size, there were no incidents of police corruption around it, and the mental and sexual health levels of sex workers were similar to that of the general population.
In 2003, the entire nation of New Zealand became the second jurisdiction in the world to decriminalise sex work. And Amnesty International has adopted a policy of sex work decriminalisation, which is supported by a growing number of civil society organisations.
An evidence-based model for the future
The legislation that established the NSW decriminalisation model was the Disorderly Houses Amendment Act 1995 (NSW). The laws removed criminal sanctions around the operation of brothels and living off the earnings of sex work for those involved in the running of such premises.
"The Disorderly Houses Amendment Act," Urban Realists principal Julie Bates AO told Sydney Criminal Lawyers, "has only been used once against a deemed rogue operator and the individual was thus legally prevented from running their own business and had to sell on."
The long-time sex workers rights advocate added that this "tells you that brothels are not in and of themselves disorderly – creating amenity impacts in their neighbourhoods – as some detractors would still have you believe".
The amendment bill was a response to "the Wood inquiry into corrupt coppers", the 1986 Rogan inquiry report and 1988's NSW Court of Criminal Appeal case Sibuse versus Shaw, which found that existing laws could lead to the widespread shut down of brothels and a surge in street work, which had been largely decriminalised.
When the now repealed Prostitution Act 1979 (NSW) was passed, it didn't include the former offence of soliciting in a public street. Although, a 1983 amendment bill reinstated the offence, when it's carried out "near a dwelling, school, church or hospital".
Amending disorderly houses
The Disorderly Houses Amendment Act altered the Restricted Premises Act 1943 – known in 1995 as the Disorderly Houses Act. It amended the standing legislation, so as to prevent the Supreme Court being able to order the shut down brothels solely based on them being sex work premises.
The Sibuse versus Shaw ruling found that in 1988 the Restricted Premises Act allowed for brothels to be closed simply because they were brothels, without any "disorderly" circumstances needed to be occurring on site in order to warrant the closure.
Shortly after Sibuse, it was found that NSW police had since applied for 40 of the state's estimated 260 brothels to be closed. And in 1992, then NSW attorney general Peter Collins asserted that these circumstances could force sex workers "back onto the streets".
The amendment legislation added section 17 to the Restricted Premises Act. It permits local councils to apply to the Land and Environment Court to have a brothel shut. However, this only applies after a council has received a sufficient number of complaints to warrant the application.
The new legislation also inserted section 580C into the Crimes Act 1900 (NSW), which abolished common law offences around running brothels. While a change to the Summary Offences Act 1988 (NSW) made living off the earnings of sex work no longer an offence for brothel owners, managers or employees.
Standing summary offences
There are a number of offences relating to sex work contained in part 3 of the Summary Offences Act that still apply today. When this act came into play in 1988, it repealed the Prostitution Act and incorporated the offences that were contained in it.
Section 15 of the Summary Act makes it a crime for a person over the age of 18 to live off the earnings of sex work carried out by another individual. And section 16 makes it illegal to solicit sex work in premises reserved for "massage, sauna baths, steam baths or facilities for physical exercise".
Section 15A is a recent addition made by the Disorderly Houses Amendment Act, which contains the offence of coercing or inducing another to commit an act of sex work. The legislation also outlaws the advertising of both sex workers and sex work premises.
And conducting sex work in public or in a vehicle within view of a school, church, hospital, public place or dwelling is also against the law, due to the provisions of the act.
Decriminalisation to broaden
"Down through the ages sex workers have enjoyed privilege and were revered without criminal sanctions," Ms Bates related. "In relatively modern times, around the end of the 19th century/early 20th century, we see criminalisation creeping in."
"But, we are now witnessing a growing international movement of sex worker rights organisations and allies challenging end demand tactics and restrictive legislative responses," she added.
Ms Bates was employed in 1986 as the first in-house manager of the Australian Prostitutes Collective NSW, now known as the Sex Workers Outreach Project (SWOP). The organisation was instrumental in the push for decriminalisation.
Last year, Mr Bates was awarded with an Order of Australia in recognition of her work in harm reduction, peer support and the empowerment of sex workers.
And she's recently been supporting her colleagues and allies in SA, where a sex work decriminalisation bill – which includes street-based sex workers and anti-discrimination protection for all – has just passed through the lower house of parliament.
"The move for decriminalisation is thankfully evidence-based and more evidence in support of decriminalisation emerges every year," Ms Bates concluded. "These are major steps forward for all sex workers everywhere and for sex work to be treated as legitimate and valued work.
Receive all of our articles weekly
Author
Paul Gregoire
Paul Gregoire is a Sydney-based journalist and writer. He has a focus on social justice issues and encroachments upon civil liberties. Prior to Sydney Criminal Lawyers®, he wrote for VICE and was the news editor at Sydney's City Hub.