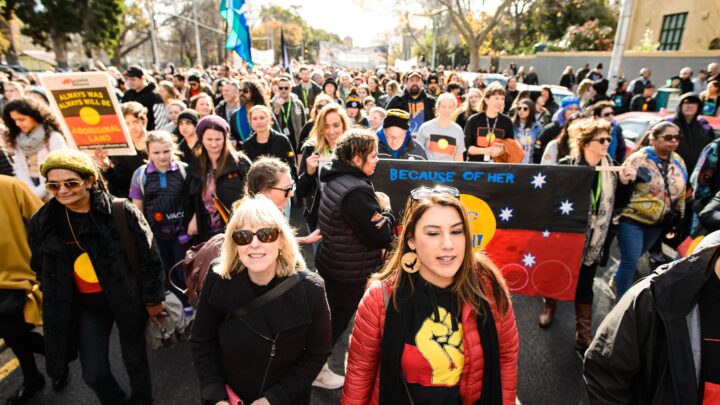 On the day that the Andrews government lifted its COVID-19 restrictions, it also sent in Victoria police to arrest and forcibly remove around 60 peaceful protesters at the site of the Djab Wurrung Heritage Protection Embassy.
And on the day prior, contractors were sent in to cut down a directions tree, which held great spiritual significance for the Djab Wurrung people.
This 350-year-old tree was felled to make way for a 12.5 kilometre stretch of road – part of the Western Highway Duplication Project.
The Andrews government moved in to continue construction at the Djab Wurrung sacred site, despite the fact that the traditional owners had a December court action pending to challenge federal environment minister Sussan Ley's greenlighting of the project.
So, while most of the people in Victoria were celebrating being able to leave their homes for the first time in months without requiring a reasonable excuse for police, local First Nations people were being reminded that the colonising project is alive and forging ahead.
The battle to save country
Since mid-2018, the Djab Wurrung Embassy and its supporters have been guarding the Directions Tree and a number of other sacred trees that have been threatened by the four lane strip of highway between the towns of Ararat and Buangor in southwestern Victoria.
The Andrews government announced in February last year that it would be partially rerouting the contentious strip of highway so that a number sacred trees wouldn't be destroyed.
Consultation had taken place with two Aboriginal registered bodies that signed off on the project and agreed to the amended route. These bodies were the since deregistered Martang Incorporated and the Eastern Maar Aboriginal Corporation.
But, as Australian Greens Senator Lidia Thorpe explains these bodies don't represent the entire community.
The Djab Wurrung woman further makes clear that the desecration of the Directions Tree jeopardises the treaty process the state government is currently undertaking with First Nations groups.
The state of play
For now, construction at the site has been brought to a standstill via a Victorian Supreme Court injunction that holds until 19 November, as questions are being raised as to why a cheaper alternative route for the strip of highway isn't being considered.
Since the tree felling, premier Andrews has defended the action, stating that the stretch of road being replaced is "deadly" and if the new strip isn't constructed, more people will die.
However, as Thorpe points out, the death toll narrative has recently been ramped up as a further justification for the project.
Sydney Criminal Lawyers spoke to Australian Greens Senator Lidia Thorpe about the sacredness of the site, the calculation behind last week's actions, and how the wider Australian community needs to embrace First Nations culture and ways of being.
Firstly, on 26 October, contractors moved in and cut down the Directions Tree. This was despite a court challenge to the project coming up in December.
Senator Thorpe, how do you account for the Andrews government having moved in like this?
I'm sceptical about what the government sees as an outcome, because the mediation that happened 12 months ago involved no heavy machinery coming onto the site.
They broke that promise the same week, when they started digging fence posts and bringing machinery on.
The whole Djab Wurrung saga has been miscommunicated. People are frustrated with the government because they haven't been talking to Djab Wurrung people.
They've been speaking to the corporations. First it was Martang Corporation – which was the original Aboriginal party – and then it was Eastern Maar. And the unfortunate part of this process is that it's pitting traditional owners against one another.
At the end of the day, we're all one family, and we're connected. It's the government process that divides us, as it seeks out this manufactured consent.
Throughout their legislative framework, they only need to get a certain amount of consent to destroy. That's what we're questioning in terms of free, prior and informed consent – that being available to all traditional owners.
This is particularly for Djab Wurrung traditional owners for that part of the country. That's never been taken into account, and that's why we're in the situation we're in.
The Djab Wurrung Heritage Protection Embassy has been set up since mid-2018. On Tuesday last week, around 60 protesters connected to it were arrested on site. What happened there?
The Andrews government decided to embark on the embassy on the day of the lifting of COVID-19 restrictions.
So, obviously, it was calculated and well thought through in terms of when to send in the armed police, the riot squad and private security to remove the peaceful protesters.
It was calculated and organised at a time when everyone was in lockdown, so it was difficult to get more bodies on the ground on Djab Wurrung country. It was the perfect opportunity for the government to remove protesters and hope no one noticed.
It was premeditated. And it's unfortunate that the Andrews government is now making this about a death toll on the Western Highway, while Djab Wurrung people support making the road safer.
But we also know there are alternatives that could protect the country and make the road safe.
There does seem to be a heavy focus on that death toll reasoning behind the project now, whereas 12 months ago there wasn't.
That's because the government knows they've done the wrong thing, and they're grasping at straws to bring about another new reason why they need to proceed with the road.
But if we look at the actual evidence of the deaths on that road and where they've occurred, you'll find that it's not near the embassy site at all.
It's just part of the government's spin on making land defenders look bad, and making it look like this whole cultural heritage protection site is okay to destroy because we've got to make the road safer.
It's just not accurate.
And why is the site so sacred?
It's been the home of Djab Wurrung people for thousands of generations. A number of ceremonial practices have happened on that part of country
There's a women's birthing site, with a culturally modified tree where Djab Wurrung women have given birth to thousands of babies over time.
There's also a Grandfather Tree, which might mean different things to different people, but to me, it's basically a living ancestor that we connect with.
It's like our church. It's the place we go to pray and connect with our country, our culture and our ancestors. It's a place where we can sit quietly and reconnect.
The Directions Tree is the one they, unfortunately, desecrated. It provided guidance and direction to our people. The markings on that tree are just incredible.
Whether you are Djab Wurrung or not, there's a spiritual connection that everyone has felt when they visited this place. And I'm talking about non-Aboriginal people having felt this presence.
There have been some pretty magical events that have taken place since we've been defending that part of country.
One example is a non-Aboriginal woman who was having problems with her pregnancy, as her baby wasn't able to turn. She sat in the Birthing Tree, and the baby turned in that tree.
This was a story that the woman shared with me whilst I was holding her baby. And it just proved to me that this is not just our cultural heritage.
This is every Australians' cultural heritage. And it should be protected because we all have a connection here. It's who we are and how we can move forward together as a nation.
You and other Djab Wurrung spokespeople have suggested that the desecration of the Directions Tree brings into question the plausibility of the treaty process the Victorian government is negotiating with local First Nations groups.
Can you talk on why that's the case?
It's just put any good faith, negotiations or dealings with this government in jeopardy. How can we sit down and negotiate and talk about a treaty, when number one, we're under assault?
That is not a fair negotiation, when we're putting our bodies on the line to protect country from the government that wants to treaty with us.
Secondly, this government is desecrating cultural heritage. And it's selling off Crown land like you wouldn't believe. That Crown land was meant to be part of the treaty negotiations.
The state government came around to all of our communities three years ago with a map of all the Crown land that could be available for a treaty negotiation. That's all pretty much gone.
Then we still have logging in the Central Highlands, where we're also putting bodies on the line to protect what's left of our beautiful forests.
I don't understand where the good faith from this government is coming from. We have called for reparations for Stolen Generations that still hasn't happened.
We've called for being drunk in a public place to be repealed, because Aboriginal people are most affected by that. And we see the story of Tanya Day losing her life as a result of that particular law.
These are all legislative processes that the government has announced that they will change but they actually haven't done it yet. So, where's the good faith from this government?
I'd like to know what Dan Andrew's interpretation of a treaty is, because the one that he's talking about is certainly not the one that we're talking about.
And lastly, on 6 October, you were sworn into federal parliament, which made you the first Aboriginal Victorian senator. You've remarked that this achievement took quite some time.
How would you say what's happening on Djab Wurrung country underscores why it's important to have an Aboriginal woman like yourself in federal parliament?
We need truth-tellers. We need real people in these parliaments who have lived experience, connection to country and want to unite this nation.
They're the three fundamental things that I can bring to that place.
We're such a divided nation. And we have the oldest continuing living culture in the world right here. We should celebrate that and embrace it.
We should connect with the way our people have been connecting with these lands for thousands of generations. That's what can bring this nation together.
The truth-telling around the inequality that continues to grow in this country is what these politicians need to be reminded of, as well as the racism in this country, and the need for continued protection of our environment.
These are fundamental values and principles that we need to protect if we want to survive as a nation going into the future.
Receive all of our articles weekly