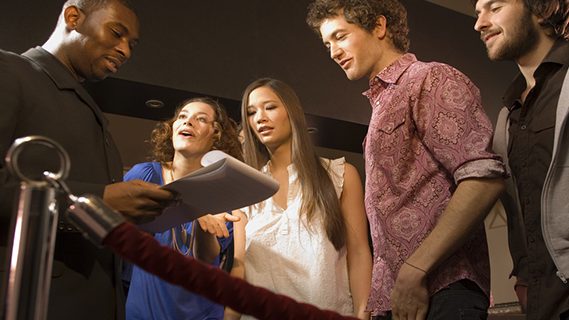 An inquest into the death of a man manhandled by bouncers at Crown Casino in Melbourne has given rise to the question of whether or not bouncers have enough training, and whether industry regulations are being adequately enforced.
Anthony Dunning and two of his friends were enjoying a night out at Crown after a day at the footy in July 2011 when a scuffle broke out.
Mr Dunning was tackled and restrained facedown on the ground for up to four minutes.
Bouncers used the prone restraint, applying pressure to his neck. Mr Dunning became unconscious and was later rushed to hospital and placed on life support, which was turned off four days later.
At the inquest into Mr Dunning's death last month, Victorian State Coroner Ian Gray found that he had died of a brain injury following cardiac arrest while being held around the neck for 70 seconds.
The coroner also found that the behaviour of the bouncers showed a "wilful disregard for training and procedures."
However, because the casino had improved its procedures since the incident, the coroner did not make any further recommendations. Two of the bouncers involved were previously acquitted of manslaughter in 2012, while a third was found not guilty of assault.
While this incident took place in Melbourne, there have been numerous cases of bouncers in NSW being implicated in deaths and serious assaults.
In one case, four bouncers were jailed after seriously injuring a patron at The Ivy nightclub in Sydney in 2011.
Incidents involving bouncers raise concerns about the level of training they receive, and how the industry is regulated.
So what are the requirements to work as a bouncer in NSW?
To work in NSW, bouncers must undergo security training in accordance with the Security Industry Act. The Act is administered by the Security Licensing and Enforcement Directorate (SLED), a division of the NSW Police.
Bouncers must hold a Class 1 licence, appropriate for crowd control. To hold a licence, applicants must:
Be a minimum of 18 years of age.
Successfully complete a training course provided by an approved training organisation.
Be eligible to work in Australia.
Have proper identification.
The police commissioner has the power to refuse to issue licences where applicants have been convicted of certain offences, found guilty with no conviction recorded for certain offences, or found not to be a fit and proper person to hold a licence.
Licences can be issued for one or five years, and can be suspended or revoked by the commissioner.
How much training do bouncers receive?
Before they can work as bouncers, NSW applicants are required to complete a training course that takes around 12 days. Courses cover topics such as:
First aid training.
Effective communication.
Workplace safety.
Security risk response.
Monitoring crowd control and behaviour.
Operation of basic security equipment.
Bouncer training is provided by organisations that are registered with the Australian Skills Quality Authority and that are approved by police.
Industry regulation and the issue of mutual recognition
Although there is some regulation of bouncers in NSW, there are problems created by mutual recognition legislation which allows a bouncer's training in another state or territory to be recognised in NSW. Mutual recognition occurs without any further training requirements or any checks of an applicant's competency to hold a security licence.
This has caused controversy in recent years, because some NSW bouncers have travelled to Queensland where the requirements are less strict to complete the training, and have then applied for licences in NSW under mutual recognition.
In 2012, the ABC reported that Queensland training organisations were in effect selling security licence qualifications. Some courses offered as little as two days of contact time, and some offered courses that were entirely online.
In exchange for payment of the course fee, some training organisations even provided the answers to the exam questions, so it was simply a matter of the applicant copying them onto the exam paper.
The problems associated with mutual recognition
Many issues arise from this.
Applicants have not needed to demonstrate adequate first aid knowledge, may not have had proper first aid training, and have not needed to demonstrate knowledge about how to properly restrain someone or deal with crowd control.
They may not even have a proper grasp of English, which carries enormous potential for very serious errors of communication to occur.
In 2010, a NSW man suffocated after being held down by two bouncers at a venue in Campbelltown in Sydney's south-west. Both bouncers had trained in Queensland and gained mutual recognition in NSW. The NSW Deputy Coroner, in finding that the bouncers contributed to the death, was highly critical of the security licence system.
Although NSW Police has a specialist unit to oversee training and monitor the industry, it seems police are powerless to do anything about bouncers who hold interstate licences that have been attained through substandard training.
Between 2010 and 2012, approximately 12,000 Queensland-trained applicants reportedly applied for mutual recognition of their licences in NSW.
NSW Police are so concerned about this issue that they are seeking changes to mutual recognition legislation so that there are more uniform requirements for bouncer training and licensing across Australia.
Do bouncers need better training?
Despite NSW's attempts to ensure that proper training is provided to bouncers, little will change while loopholes in mutual recognition legislation can be so easily exploited.
As well as closing the mutual recognition loophole, it might well be the case that bouncers should be required to complete more rigorous training – even in NSW.
12 days is not a lot of training given the responsibilities that bouncers have towards the public. Bouncers perform an important role in crowd control and public safety, and individuals can easily be put at grave risk if bouncers do not adequately perform their duties, or cannot understand English well enough to properly assess a situation or communicate with those involved.
If you are concerned about the way you have been treated by a bouncer in NSW, contact a criminal lawyer for advice.
Receive all of our articles weekly