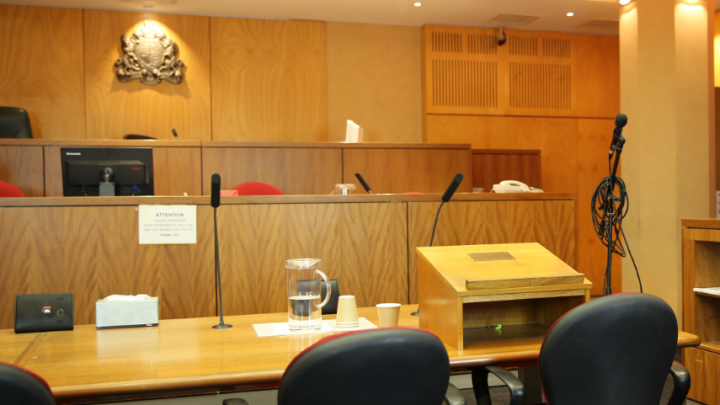 Corrective services in the US have come under fire for sending a female inmate to court with no pants and failing to provide her with sanitary products.
Judge Amber Wolf was presiding over a District Court in Louisville in the US, when it became apparent that an inmate in her courtroom was not wearing pants.
No pants, no shower
The judge became outraged when the defence lawyer pointed out that his client had not been given pants had no pants and had not been given feminine hygiene products by prison officials at Metro Corrections, despite asking for them for three days.
The lawyer also revealed her client had been denied a shower.
In a video tape of the proceedings, Judge Wolf can be heard saying: "Excuse me? This is outrageous. Is this for real?"
The Judge then picked up the phone to speak to the correction services director, Mark Bolton, asking "What the hell is going on?"
The Judge then demands an explanation, saying she will not let the woman leave court until she is dressed 'appropriately'.
The Judge also asks court staff to find something to cover the woman up.
"Anything, I don't care what it is," she says, shaking her head and asking, "Am I in the Twilight Zone?"
The Deputy Director of Metro Connections brings clothing to the woman, and tells the judge that she should have been given a prison jumpsuit. He promises to take necessary steps to correct the issue.
The judge also voices her displeasure with the criminal defence lawyer saying she should have addressed her client's issue before she was brought into the court to avoid humiliation.
Jail officials insist the woman was wearing athletic shorts, which were hidden by a long shirt. The woman leaves the court and returns wearing a jumpsuit. She had already been in prison for three days, and says she had been requesting pants for the entire time.
The prosecution wanted the judge to impose a 75-day prison sentence for a first-time shoplifting offence.
Judge Wolf called that request "ridiculous", ordering the woman's immediate release with time already served and a $100 fine.
'Inhumane and unacceptable'
The judge apologised to the woman for the way she had been treated saying, "This is completely inhumane and unacceptable. I'm sorry you had to go through this. This is not normal."
The inmate said that many others art Metro Corrections were in a similar situation, without proper clothing.
The spokesman for the jail, Steve Durham, said the "mix up" occurred because the woman had not been in custody long enough to be given a jail jumpsuit.
He also said the jail is looking into accusations that inmates are not being given hygiene products, and are being denied showers.
The treatment of inmates is always a contentious issue, but regardless of personal opinion they are entitled to dignity and basic care.
Going to Prison in NSW
Facing a custodial sentence can be a daunting prospect, for both the person being sentenced and their family.
However, it is important to be aware that inmates in NSW retain a range of rights and have the ability to contact their friends and loved-ones.
If you, or someone you know, is facing a prison sentence, feel free to have a read through our dedicated page or contact Corrective Services or a criminal lawyer for information on your rights and what to expect.
Receive all of our articles weekly
Author
Sydney Criminal Lawyers
Sydney Criminal Lawyers®
is Australia's Leading Criminal Defence firm, Delivering Outstanding Results in all Criminal and Driving cases. Going to Court? Call (02) 9261 8881 for a Free Consultation.