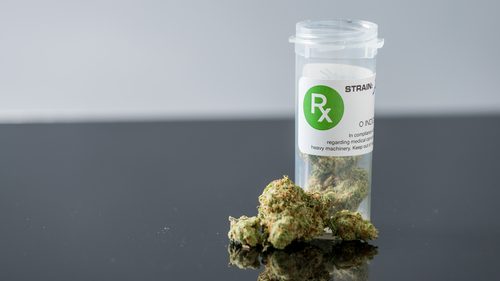 Australian health minister Greg Hunt announced last week that medical marijuana will be more readily available within the next eight weeks. He said the government will ensure the fast tracking of the importation of cannabis based medicines.
This relaxing of the laws will authorise an international company to export their medicine to Australia to fill the gap in the local market, while domestic production grows to meet the nation's demand.
The health minister outlined on ABC's AM that there'd be "a supply to meet all Australian demand," although this "wouldn't happen overnight."
However, this seems unlikely as medicinal cannabis experts put the number of patients using the medicine nationally at around 100,000, with close to 1,000 medical marijuana dispensaries supplying them.
An impossible prescription process
Access to the imported medicine will be limited to a very select group of patients. Only those who have an approved prescription will be able to obtain medicinal cannabis products.
It's difficult to actually get these prescriptions, as the Therapeutic Goods Administration (TGA) has not approved cannabis-based medicines as a registered product.
Patients either need to go to doctors that are "authorised prescribers," or a doctor needs to apply on their behalf through the "Special Access Scheme." In both cases, doctors need to convince the TGA that the drug would benefit for the patient.
Don't want it, or can't get it
It has been legal to import a synthetic cannabis medicine known as Marinol into Australia since the late 1990s. However the product is difficult to obtain and drug experts make it clear that synthetic products are inferior.
In 2012, the TGA approved a whole-plant product, known as Sativex, for treating one condition: intractable spasticity associated with multiple sclerosis. But although it has been approved, the product still seems to be unavailable.
The Victorian harvest
The day before Mr Hunt made his importation announcement, the Victorian state government advised that it had just harvested its first cannabis crop grown for medicinal purposes. Planted last April, the crop will be used to treat children with severe epilepsy.
The Andrews government told the federal health minister that they would be producing marijuana medicines by the middle of the year, and this would lead to Australian commercial providers supplying enough for the country's needs in the long-term.
A national framework
The federal government passed legislation in February last year allowing for the legal cultivation, manufacture and distribution of medical marijuana. Under the regime – which came into effect last October – businesses can apply for a licence to grow the plant for medicinal purpose.
But the Office of Drug Control only awarded the first federal government licence last Tuesday. The Melbourne-based Cann Group received it, which will allow them to legally cultivate marijuana, and conduct research on the plants.
Cann Group chairman Allan McCallum said he was confident the company – which has a background in low THC cannabis research – could secure a further licence allowing them to produce and sell medical marijuana products in Australia.
So it sounds like Australian patients could be waiting quite some time before they can go into their local pharmacy and obtain cannabis based medicine with the Cann Group Limited logo on the packet.
Smoke and mirrors
Secretary of the Australian HEMP Party Andrew Kavasilas explained that the federal government's importation initiative will allow one Canadian company to export its product to Australia. And while it sounds like it could be raw cannabis, he imagines it will be "some kind of processed product, very low in THC."
Tetrahydrocannabinol, or THC, is the psychoactive constituent of the cannabis plant. Mr Kavasilas, along with most medical marijuana advocates, explain that THC plays a key role in the medicinal benefits of the plant, and that low THC medicine is less beneficial to patients suffering chronic conditions.
Mr Kavasilas does not hold much hope for the Victorian government developing and producing a local supply of medicine by mid-year.
"This fast tracking is really just bending the rules to address some of the public pressure," Kavasilas told Sydney Criminal Lawyers®. "Certainly it's just one for government to say, 'Yeah, we're doing something.'"
Interim measures
According to Kavasilas, interim measures need to be implemented for Australia to facilitate a legalised medicinal cannabis regime. One of the major hurdles in making such a transition is that companies have no access to illegal cannabis seeds.
As part of these interim measures, the government needs to allow an amnesty for Australian companies to access black market seeds, Kavasilas explained. He noted that this is what the Canadian government allowed its producers to do, and also how GW Pharmaceuticals obtained its seeds in the UK.
Grassroots medical marijuana
Mr Kavasilas said that the initiation of a medical marijuana program would be a global first, as "no government in the world has willingly introduced a meaningful medicinal cannabis regime."
Kavasilas points out that in the US states, where cannabis based medicines are available, availability has always been brought about by "citizen initiated referendums… because it's all still illegal federally."
In Canada, the government began to initiate a medicinal cannabis regime as a result of a 2002 High Court decision that compelled it to do so. But successive Canadian governments have mounted a total of ten High Court challenges, which have halted the progress of a government-led regime.
Despite the obstacles, medical marijuana remains legal throughout Canada with a prescription. The 80,000 prescription holders must receive their medicine from one of the 33 licenced producers via mail order.
The problem with police drug driving tests
Then there's the other major hurdle in implementing a legalised medical marijuana regime in Australia, which is the current regime of mobile drug testing.
Police test for THC in every state and territory, along with MDMA and amphetamines. The current testing devices do not ascertain the level of drugs in a person's bloodstream. Rather, a positive reading can be registered if minute traces of the substance are detected in a driver's system. Even the smallest concentration constitutes a criminal offence.
This means drivers who've taken cannabis based medicine could be charged with drug driving, even if the medicine was taken several days beforehand.
As Kavasilas put it, "They're certainly not going to sit back and watch people taking prescribed medications," and driving, like they do with opioid-based medicines. "They won't be doing that with cannabis, that's for sure," he warned.
Receive all of our articles weekly