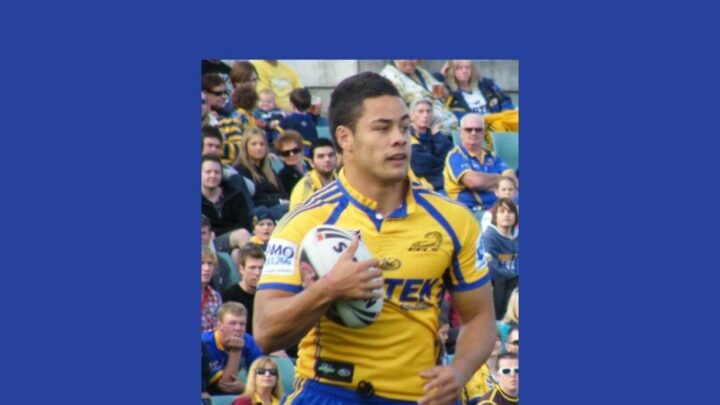 Jarryd Hayne has been sentenced to serve a minimum term of three years and eight months behind bars after being found guilty of sexually assaulting a woman at her Newcastle home.
The once two-time Player of the Year and golden boy of the NRL was found guilty by a jury in March 2021 of two counts of sexual assault. He was found not guilty of the more serious charge of aggravated sexual assault.
At the time, Hayne was refused bail by Judge Helen Syme, who said that a prison term was "inevitable".
However, the footballer was released from custody after his agent put up a $50,000 security for bail.
Today, Mr Hayne was sentenced in Newcastle District Court to a full prison term of five years and nine months behind bars.
He will be eligible for release at the expiry of his minimum term, on 5 January 2025.
'An extreme form of violence'
In handing down her sentence, Judge Syme said the only conclusion was that Mr Hayne knew his victim did not consent.
She determined that the former star had to be imprisoned because non-consensual sexual intercourse was an extreme form of violence which the community expected courts to take very seriously.
"The offender was fully aware that the victim had not consented and went ahead anyway and forced a sexual act on her," her Honour remarked.
She added that the woman's express refusal increased the seriousness of the crime.
'Her reliability was not in doubt'
"The reliability and honesty of the victim's evidence was tested at length and in my view, her reliability was not in doubt. She said 'no' several times," Judge Syme stated.
"The use of force was such that the victim had no prospect of stopping him physically."
"He was at least twice her weight at 100 kilograms and an athlete at the top of his form."
The judge noted that Mr Hayne only stopped the attack when the woman started to bleed, not when she was telling him 'no' and 'stop'.
In a victim impact statement, the woman, who cannot be named for legal reasons, said she had spent hours crying and days being too depressed to get out of bed, since the incident in 2018.
"What I experienced was horrible. Nobody should have to feel that way. I'm destroyed and damaged but I'm still standing", she stated.
Judge Syme took into account Mr Hayne's continued denial of responsibility, leading her Honour to the conclusion that his prospects of rehabilitation were only "hopeful".
Jarryd Hayne has steadfastly maintained his innocence, telling the court today that he "didn't do it", and that he was never afforded the presumption of innocence.
After the guilty verdict was delivered at the end of March this year, Mr Hayne's criminal defence lawyers indicated their intention to appeal.
It is expected the notice of intention to appeal will be filed shortly, which could be followed by a further application for bail.
Brawl at courthouse
It's reported that after the sentencing hearing, one of Mr Hayne's supporters spat towards the victim as she was leaving the courthouse and that a brawl also broke out between journalists and Hayne supporters, but no arrests were made.
New South Wales Police described the outbursts as 'disgraceful' and a 'reflection on them' (Hayne's supporters).
Police praised the victim's bravery.
End of an illustrious career
Mr Hayne had agreed to a $500,000, one-year contract with St George Illawarra, although the deal fell through when he was charged in November 2018.
This is not the first time Mr Hayne has been accused of sexual assault.
In 2015, a woman in the United States claimed the footballer had forced himself on her during an incident while he was playing for the San Francisco 49ers.
Hayne was never charged over the claim, as US police determined there was insufficient evidence to support criminal charges.
In 2017, the woman commenced civil proceedings against Hayne for sexual battery, battery, gender violence, intentional infliction of emotional distress and negligence.
The matter was eventually settled out of court for an undisclosed financial sum.
Receive all of our articles weekly