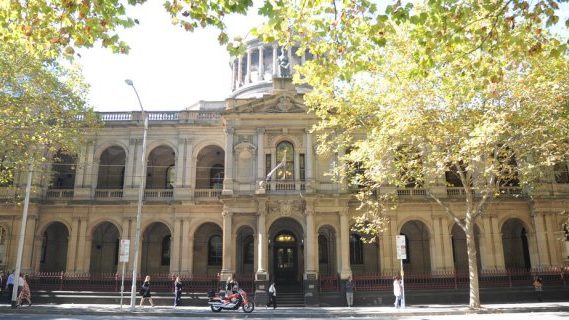 A Victorian judge has broken down in court while sentencing a man who killed his violent brother.
Victorian Supreme Court Justice, Michael Croucher, couldn't hold back the tears as he sentenced 33-year old Shane Brown, who stabbed his 38-year ice-addicted brother to protect the rest of his family.
Shane Brown killed his older brother Wayne at their parents' home last year, after Wayne went on a violent rampage threatening family members including his parents, his daughter and partner.
The court heard that Wayne Brown yelled abuse, threatened to smash his partner in the face, called his father a dog, and  threatened to kill other family members, while he was high on a cocktail of alcohol, ice, cannabis and methadone.
Excessive self defence
Shane Brown testified that as a result of his brother's threats, he retrieved a knife and stabbed Wayne in the heart. Shane said that as his older sibling lay dying on the floor, he considered taking his own life too.
Instead, he called police and confessed to the tragedy.
Shane was prosecuted for manslaughter on the basis of what is commonly known as "excessive self defence or excessive defence of others", as despite Wayne's abusive conduct Shane's actions went beyond what is considered reasonable in the circumstances.
Wayne Brown had been released from prison only three weeks before the rampage. He had been serving time for family violence offences.
Family torn apart by addiction
The boys' father says that prisons need to do more to rehabilitate offenders.
"There is no counselling, they don't see people who can help them, there is just a little paperwork like in a school classroom or something," said Colin Brown.
"I tried to convince him [Wayne] to give up drugs and alcohol but he said, 'I just can't do it, it's too hard."
Colin Brown said the two boys were very close as children, but as they got older Wayne developed addictions to alcohol and drugs that tore the family apart.  He says Shane also struggles with substance abuse, but that he is determined to beat his addiction.
Ice addiction has become a significant issue in many parts of Australia
Research recently facilitated by the Australian Criminal Intelligence Commission (ACIC) suggests that the use of 'ice' is on the rise.
The research is based on data obtained from sampling wastewater at 51 sewage treatment plants — which service 14 million Australians — in both city and regional areas. The sampling study found a high prevalence of cocaine use in Sydney, and increases in the use of ice in many regional areas.
The effects of ice can last around 6 hours, and the drug has been linked to extreme agitation. High doses or frequent use can cause 'ice psychosis' – paranoid delusions, hallucinations and bizarre, aggressive and violent behaviour.
The sentencing hearing
Justice Croucher described the case as "disturbing" and openly broke down in tears several times during Brown's sentencing, saying "Shane did not go looking for trouble, rather trouble came to him".
Shane Brown was sentenced to six years and three months prison with a minimum of three years and three months.
Receive all of our articles weekly