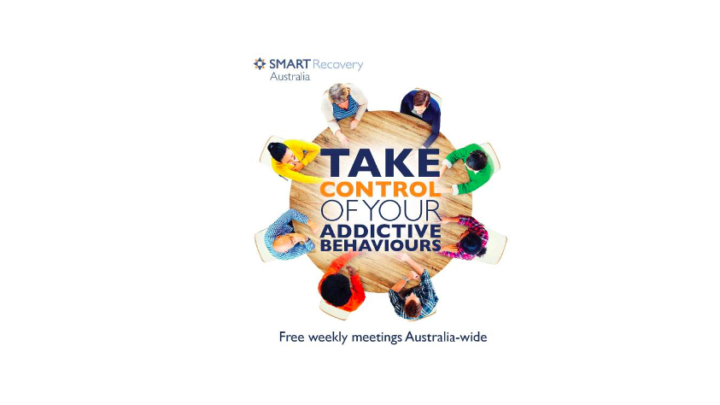 As it's often said, the first step to recovery is admitting to yourself that you have a problem, while the second step is reaching out. And for many people, what springs to mind initially is 12 step recovery programs, such as Alcoholics Anonymous.
However, rather than seeing this as an opportunity to reach out for help, the idea of a 12 step program doesn't work for some people. This is often due to the program involving belief in a higher power and an admission of powerlessness over the behaviour that's become problematic.
And that's where Smart Recovery comes in. Smart Recovery is a secular and scientific-based harm reduction approach that allows a person to bring their problematic behaviour under control, and that doesn't necessarily mean obtaining abstinence.
Smart Recovery involves a series of group meetings headed by a trained facilitator. Course attendance can be in person or online. It's free. And participation can be cited in court to provide evidence that an attempt has been made to curb problematic behaviour that's led to offending.
Negotiating a path to recovery
The program involves mutual aid, which is a process that sees meetings of participants not only sharing their experiences of problematic behaviour, but also providing suggestions of solutions that can work, and in that way participating in one another's recovery.
Courses utilise a number of cognitive-behavioural therapy techniques and motivational interviewing to help an individual understand their behaviour and track out their own recovery path.
Smart Recovery can involve participants with a wide range of problematic behaviours. This can be alcohol or drug use, as well as gambling or overeating. And a meeting can bring together all these differing problematic behaviours, as it seeks to deal with their underlying causes.
Participation in the program has often been taken into account by magistrates when sentencing individuals whose drug use is involved in their offending.
But Smart Recovery stresses that its approach needs a commitment to attending multiple meetings, as the process takes time.
Evidence-based harm reduction
Smart Recovery was initially established in the US in 1994. In Australia, the program was first trialled at Sydney's St Vincent's Hospital for a number of years. And in 2007, Smart Recovery Australia was launched as an independent non-profit.
Josette Freeman is Smart Recovery Australia's senior national program manager. Freeman has been a part of the organisation for over a decade, and while most of her time these days is taken up with running it, she continues to facilitate one online meeting a week.
Sydney Criminal Lawyers spoke to Josette Freeman about some of the differences between the Smart Recovery approach and more traditional methods, the underlying causes of problematic behaviour, and where harm minimisation differs from the abstinence model.
First off, Smart Recovery Australia is a program accessed online or in person that assists people struggling with problematic behaviours, and it can involve a range of such issues.
Josette, broadly speaking, how does Smart Recovery work? And what should participants expect?
It's a free program that's either done through face-to-face meetings, or since COVID, online.
They're 90 minute meetings, where everybody comes with their issue, and it's a client-driven agenda. You tell me what you want to discuss, rather than me telling you what you should discuss.
The group discussion happens, and this is where the mutual aid comes in. Other participants in a group will share what's worked for them, or what hasn't worked for them. And it's up to the individual to take that solution with them or not.
There are tools of the program. It's based on cognitive behavioural therapy. We use tools such as cross-benefit analysis, the ABCs of thinking, Urge Log, Lifestyle Balance and Areas of Importance. Those things underpin a group.
The most important thing that we use is motivational interviewing. It's really about finding out what people's motivating factor is to make a change.
Smart Recovery differs from some of the more traditional paradigms used to deal with problematic behaviours, such as the Alcoholic Anonymous model.
How is the Smart Recovery approach different? And why is it preferable?
I can't say it's preferable, because some people use both. They use 12 step programs, like Narcotics Anonymous or Gamblers Anonymous. It's another option for people.
The biggest difference though is that we don't follow the disease model. We don't believe people have a disease.
We don't believe people are powerless over their addiction. People do have the power to make changes. It's just finding the motivation for them to change.
We're not an abstinence-based program, while the 12 steps are. We work within the harm minimisation framework.
By working within that framework, it also takes away some of the stigma with addictive behaviours. And stigma is a big thing.
So, if you take the harm minimisation approach, rather than abstinence, does that mean a person slowly winds down their behaviour?
You manage it. Harm minimisation is really from making small changes to abstinence, and everything in between.
Some people may not choose abstinence, they may choose to try to control whatever it is. And if they can't control it, then they may think that abstinence is the way for them. But it's up to that person to come to that decision themselves.
We basically work with where people are at in their recovery.
You've mentioned participation in Smart Recovery is free. How does the program sustain itself?
The facilitators are volunteers unless they work within an organisation. Smart Recovery is embedded in quite a few organisations now, so then it would become part of their workday.
In certain circumstances, participation in a course can be taken into consideration by a magistrate when sentencing someone for a crime that's related to their problematic drug use.
What does this involve?
Lawyers have sent their clients to Smart Recovery because it shows they've been doing something.
It's a requirement with face-to-face that people come five times before they're signed off. The reason for that is people would just come as a one-off, but recovery is a process.
Lawyers need to know exactly how the program works. Coming once or twice is not going to change someone's behaviour overnight.
Once their court case is over, it needs to be an ongoing thing. If they do have a problem with drugs, then they need to address that further than just one or two meetings, go to court and then be back to normal.
I will say, a lot of people are getting caught up in the legal system at the moment because they get caught for cocaine. But usually alcohol precedes the cocaine.
People look at this like it's a cocaine issue, where it's actually an alcohol issue because they wouldn't use the cocaine if they hadn't been drinking.
Smart Recovery started operating in the US back in 1994. In Australia, the organisation was established in 2004. What sort of impact has the program been having?
It's been having a great impact. In a group, you can have all addictive behaviours. So, you can have a heroin user, an ice user, a gambler, someone who overeats and someone who uses porn.
We don't focus on the actual behaviour, but rather what underlies it, without going into therapy.
For most people, what underpins a person being at Smart Recovery is stress, anxiety, depression, loneliness, boredom or anger.
What sort of success rate would you say it has?
You can't say success. If you're going to look at success as someone being abstinent, that's a very hard thing to gauge.
You can come to a group and tell me that you're not drinking, but I don't know what happens when you go home at night.
How we view success is when we see people making change. Now it could be a tiny change. So, it might be that they don't drink one day of the week, when they're used to drinking seven days of the week.
It might be that they're suddenly realising that their drug use is actually affecting their family and friends.
So, coming to that realisation. Then seeing some change. For us, that's success.
And lastly, Josette, if someone is thinking about taking part in Smart Recovery, how do they go about arranging it?
They can just go onto the website and join a meeting.
Receive all of our articles weekly