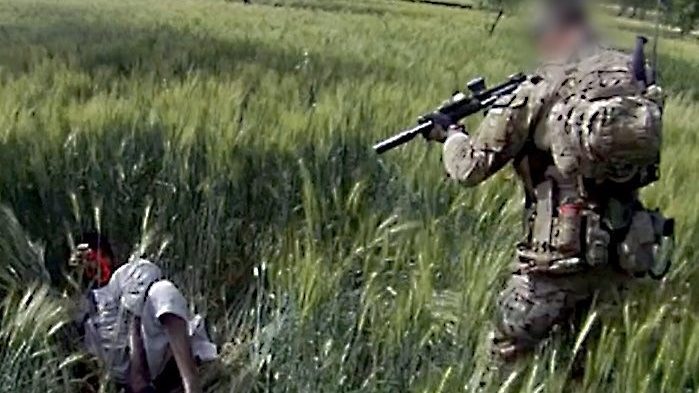 Only days after the release of the Brereton Report into alleged war crimes committed by Australian Special Forces in Afghanistan, a sickening photo has emerged of an Australian soldier drinking from a prosthetic leg, believed to have come from a dead Taliban fighter.
The images, published in the Guardian newspaper show a senior Australian special forces soldier who continues to be enlisted in the Australian Defence Force, drinking beer from the prosthetic leg in an 'unofficial' bar on a base in Tarin Kowt.
Other pictures show soldiers appearing to dance with the leg. It's understood the leg was taken from a suspected Taliban fighter killed in a raid.
The images are distressing to say the least, and do nothing to repair the Australian Defence Force's battered reputation on the international stage, or here at home.
Savage acts and war crimes committed by Australian troops
The Brereton report, compiled after a 4-year investigation into SAS troops in Afghanistan, details reports by Australian soldier of disgraceful acts by their colleagues, including unlawful killings and coverups.
The report covers 39 alleged murdered during 23 separate incidents.
It also goes into allegations of the sadistic treatment of Afghan civilians and prisoners, making clear that none of the actions were 'in the heat of battle' or in circumstances where the soldiers could reasonable have perceived they were under any threat.
In relation to the alleged unlawful killings, the report makes clear that none of the victims were 'combatants' under international law.
The report also reveals allegations of a disgusting initiation practices for young soldiers known as 'blooding', whereby their patrol commanders would instruct them to kill civilians in order to get the 'taste of blood' and condition them to kill.
Meanwhile, the original whistleblower is still facing charges
Several such incidents have been published by mainstream media in recent months, and yet the original whistleblower, former Australian Defence Force lawyer David McBride, is still facing five national security-related charges – that carry up to life imprisonment – for exposing the behaviour of SAS troops in Afghanistan.
This is despite the fact that various media reports and now the Brereton Report, which was ordered by the Federal Government, have all but exonerated his actions to bring these matters to light, by providing information to ABC journalists three years before the investigation into SAS forces began.
Australian Defence Force chief General Angust Campbell, to his credit, has faced the damning allegations in the Brereton Report head on and acted swiftly upon several of the report's recommendations.
He has publicly apologised to the leaders and people of Afghanistan, and the ADF is now exploring compensation for the families of victims.
Recommendations for change
It has been announced that a special investigator's office will be set up to prosecute the alleged crimes detailed in the report, and General Campbell has foreshadowed major changes, and also administrative punishment for some officers, including possible demotions, stripping of medals or discharge.
Thirty six matters have been handed to the Australian Federal Police, with a view to potential prosecutions in civilian criminal courts.
But none of that will bring back the lives that have been lost because the culture within the Australian Special Forces officers serving in Afghanistan not only supported cruel, ruthless behaviour but perpetuated and, to some extent, celebrated it.
Accountability must extend along the entire chain of command
And what does appear to be lacking, so far, is accountability for those in positions of leadership.
To date General Angus Campbell, has remained vague on this particular matter, saying that commanding officers would be dealt with on a "case-by-case basis".
However, if the ADF is serious about 'moving forward' from the Brereton report, and making significant change, then full responsibility for these atrocities must extend along the entire chain of command.
International war crimes
The Criminal Code Act 1995 (Cth) lists 45 separate offences that are considered to be international war crimes, and can be prosecuted in Australia regardless of where they were committed overseas.
The offences span from section 268.24 to 268.68 of the Act and include:
To establish the offences, the acts must have been committed in the context of international armed conflict.
Only time will tell whether the Australian government takes adequate action to bring alleged offenders before the courts, implement accountability mechanisms and salvage our tarnished international reputation.
Receive all of our articles weekly
Authors
Sonia Hickey
Sonia Hickey
is a freelance writer, magazine journalist, and owner of 'Woman with Words'. She has a strong interest in social justice and is a member of the
Sydney Criminal Lawyers®
content team. Sonia is the winner of the Mondaq Thought Leadership Awards, Spring 2022.