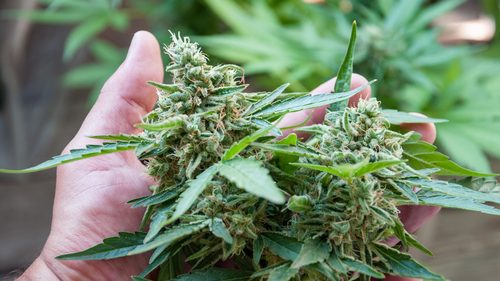 Veteran medicinal cannabis producer Tony Bower escaped prison time when he was sentenced for commercial drug cultivation, along with other serious drug offences, at Port Macquarie District Court last Monday.
Known locally as the Medicine Man, Mr Bower turned himself in after his Crescent Head property was raided by police and 280 cannabis plants were seized on 28 March last year. This left around 150 patients Bower was supplying cannabis tinctures to free of charge without their needed medicine.
Mr Bower subsequently plead guilty to one count of cultivating a prohibited plant, contrary to section 23 of the Drug Misuse and Trafficking Act 1985. This offence carries a maximum penalty of 15 years inside. And he also plead guilty to other offences, including drug supply and possession.
NSW District Court Judge Leonie Flannery noted that Mr Bower was cultivating the plants for altruistic reasons, as she imposed an 18 month Intensive Corrections Order, the terms of which will be set on 1 April. And it's currently being determined whether home detention will be suitable.
And while Mr Bower avoiding real prison time is another example that reveals the sympathetic stance the NSW judiciary is taking towards cannabis medicine producers, it does seem strange that authorities continue to pull them up before the courts to threaten them with hefty penalties.
Legal, but inaccessible
"Thank God, he didn't go to gaol," declared Australian HEMP Party and Nimbin HEMP Embassy president Michael Balderstone, "because the judges are locked into the legislation and the politicians are stagnant. They're not moving."
"We all agree it's a fantastic medicine," the long-term cannabis advocate added. "But, people are still being hunted like ordinary criminals. Our arrest rates have gone up."
Three years ago, last month, the Turnbull government passed legislation that effectively legalised the cultivation and production of cannabis medicines. However, over that time, only 61 cannabis-related licences have been issued and the first homegrown product just hit the market last August.
The TGA has approved over 3,500 medicinal cannabis applications, which reflects a recent spike. But, this is against a backdrop of an estimated 100,000 medicinal cannabis patients around the country that are still having to source their medicine from artisanal producers like Mr Bower.
Balderstone raised concerns about what the terms of the Intensive Corrections Order will entail. "It really upsets me that he may not be allowed to use medicine," he told Sydney Criminal Lawyers. "He has intense chronic pain. That's how he learnt so much about cannabis through treating himself."
The Medicine Man
As the director of federally-registered company Mullaways Medical Cannabis, Bower was producing a non-psychotropic cannabis tincture, meaning his cannabis medicines were low in THC, which is the part of the plant that when activated can get a person high.
Mr Bower's medicines have been used to treat sufferers of cancer, epilepsy, and many other conditions. He gives his products away without charge. And at the time of the raid, he was helping around 150 patients, many of whom were children suffering seizures due to Dravet syndrome.
Sympathetic towards cannabis healers
Bower is not alone as a producer of cannabis medicine who was facing serious prison time and then received a lighter penalty. And Balderstone agrees that the outcomes of some recent cases reflect that the NSW judiciary is sympathetic to the medicinal cannabis cause.
In November last year, renowned practitioner Dr Andrew Katelaris was found not guilty of supply and manufacture of a large commercial quantity of cannabis oil. He argued a defence of medical necessity, meaning that his patients' needs were so dire it was necessary for him to break the law.
While Church of Ubuntu president Barry John Futter was sentenced to a 12 month good behaviour bond in October last year, after police seized 215 plants in December 2016 that he was growing for the church's patients.
In summing up, Judge Roy Ellis said that currently the legislation doesn't recognise the difference between growing recreational cannabis to turn a profit and non-profit cultivation for the sick. And while this distinction isn't reflected in the law, there's no reason why it shouldn't be.
"Everybody has gotten impatient with the legislation," Mr Balderstone made clear. "And the pharmaceutical industry is holding us all to ransom. You've got to import it from overseas at massive prices. And there's no sign of people being able to grow their own and treat themselves."
Legalisation is coming to NSW
"The Greens have got a pretty good cannabis policy," Mr Balderstone said, referring to an announcement this week that the Greens' state election platform includes legalising cannabis. "The idea is to get Labor to pick it up. And hopefully they will. That's what has to happen."
The NSW Greens announced this week that the party will be introducing a private member's bill within 100 days following the state election. And what it's proposing sounds like some of the most progressive cannabis legislation to have been drafted in this country.
The bill would set up a legalised and regulated cannabis market, which would see the plant sold in retail outlets. Individuals would be able to grow up to six plants at home. And the smoking of the herb would be allowed in areas where the public can currently smoke tobacco.
Denying the sick their medicine
"I feel for the police. The police are in an extremely awkward situation. They're using discretion, but it's a hell of a hard call to put it on them," Mr Balderstone continued. "The police are having to use their discretion, but they're not the drug experts.
Indeed, many would question why the SA police decided to raid the house of well-known cannabis healer Jenny Hallam back in 2017. After recently pleading guilty to charges of supply and manufacture, she's now waiting to be sentenced on 12 April. And the nation's fingers are crossed.
"They're not the experts to choose who to bust and not bust. They don't bust some medicine producers, but they do bust others. There's too much put on the police's shoulders," Mr Balderstone concluded.
"It needs to be separated from the other drugs and treated as a medicine."
Receive all of our articles weekly