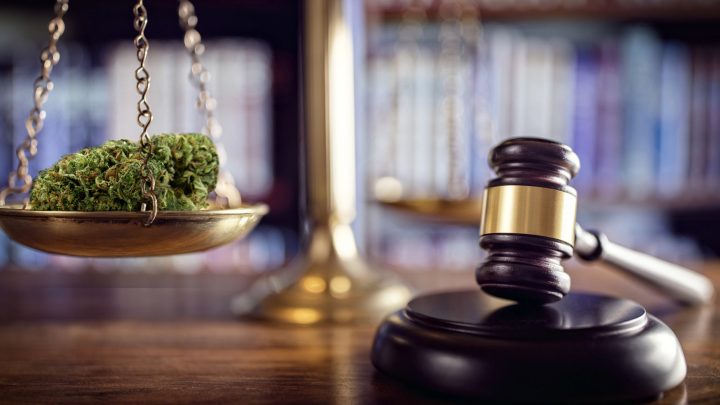 The benefits of cannabis medicine are becoming widely accepted within the Australian community. However, laws around the non-profit cultivation of the plant to help the sick continue to carry the same level of criminality as the laws for those who grow it for profit.
But, it appears some magistrates and judges are beginning to make the distinction between an individual who's making cannabis medicines and those whose suburban hydroponic setup is aimed at profiting from recreational use.
This new understanding was evident as Judge Roy Ellis handed down a sentence to Barry John "BJ" Futter in the Newcastle District Court on 24 October.
Mr Futter was before the court after pleading guilty to one count of cultivating a large commercial quantity of a prohibited plant by enhanced indoor means and one count of drug supply.
The charges arose after a raid was carried out by NSW police at Mr Futter's Newcastle residence on 1 December 2016, which resulted in the seizure of 215 cannabis plants. The plants were being grown to be distributed without charge to patients registered with the Church of Ubuntu.
The large commercial cultivation charge could have landed Mr Futter – who's the president of Ubuntu – in prison for up to 20 years. However, the judge saw fit to impose a conditional release order without recording a conviction against Futter's name, on condition the cannabis medicine advocate enters into a 12 month good behaviour bond.
A global shift in attitude
"It's nice to know the cannabis truth is finally hitting home at the level of judiciary," said Mr Futter. "And that when presented with facts and truths people with humanity and understanding about them come up with conclusions like this one."
According to Futter, his case reveals that politicians are putting corporate interests before the welfare of patients, as it's illegal for him to cultivate cannabis and produce medicine, while today in Australia, it's legal for licensed companies to produce medicine using the same plant.
And there's also a glimmering of other global developments about his case. "South Africa is an example of where the judiciary there made cannabis legal to smoke at home," Mr Futter told Sydney Criminal Lawyers®. "The judiciary made it legal. Not the politicians."
In September, South Africa's highest court upheld a lower court ruling that found the criminalisation of cannabis was unconstitutional, which effectively legalised the home use and cultivation of cannabis in that country.
A ruling for the future
In handing down the sentence, Judge Ellis said that it was clear that Mr Futter had been cultivating the plants for non-profit medicinal purposes. And his Honour acknowledged that there is a rising awareness in the community of the "potential medicinal benefits of cannabis".
The judge also lamented the state of NSW laws that don't recognise a distinction between growing recreational cannabis so as to turn a profit and cultivating the plant for the benefit of those in medical need.
Judge Ellis told the court that while this distinction can't be found in the law, there's no reason why it shouldn't appear there, and in the meantime, this distinction "should be found in the sentencing principles applied by a sentencing court when dealing with such offences".
And this isn't the first time the District Court judge has accepted that people in the community are genuinely helping others by producing cannabis oil. In October 2015, Judge Ellis imposed a two year good behaviour bond on Malcolm Ronald Lee in a similar case involving cannabis used as medicine.
The work of Ubuntu
The Church of Ubuntu is a multi-faith group based in Newcastle. At the time of the raid, the church had around 2,000 clients. Its work is not solely based on the use of cannabis medicines, as the majority of it revolves around diet.
Mr Futter makes clear that Ubuntu wasn't actually supplying medicinal cannabis, which, he explains, is what pharmaceutical companies produce using parts of the plant. The cannabis plants he was growing at the time of the raid were to be used to produce whole plant cannabis concentrates.
"We consider cannabis a food," Mr Futter explained. And he stressed that when "the plant is used as a vegetable, the THC factor" – the psychoactive component of cannabis – "doesn't necessary have an effect at all".
And at the time of the raid, Ubuntu were very open about what they were doing in regard to producing and distributing cannabis medicine to those in need. Mr Futter had personally discussed their operations with local senior police officers.
"Mike Baird was quite aware," he continued, adding that the then NSW premier was informed of the church's setup at the funeral of cannabis medicine advocate Dan Haslam. And Mr Baird was also sent an email inviting him to visit the Ubuntu centre and observe what they were doing.
Another advocate on trial
Well-known cannabis activist Dr Andrew Katelaris is an external consultant at Ubuntu. The doctor is also facing some serious charges following a raid on his home in May last year that resulted in the seizure of a large commercial quantity of cannabis oil.
At a bail hearing in September, a panel of NSW Supreme Court Justices found that Dr Katelaris doesn't present like a typical dealer. But rather, he's a legitimate "crusader for the cause of legalisation of cannabis for medical use", and his actions aren't in the pursuit of financial gain.
Dr Katelaris' trial begins in the Downing Centre District Court on 5 November. Last month, the doctor said he's feeling confident about the trial and he'll be arguing a defence of medicinal necessity.
In the service of others
Mr Futter asserts that attitudes have changed in regard to cannabis medicines since the raid. "There is a lot more understanding in the judiciary," he said. "They're a lot more understanding of the medicinal side of things."
The ramifications of the raid for the patients using the cannabis he was producing was that many of them feared that they'd no longer be able to obtain medicine. And another unexpected result was that many more patients contacted Ubuntu inquiring about where they could source medicine.
"We just fearlessly went on," Mr Futter concluded. "And I'm not owning up to anything there. We just got onto helping people as best as we could."
Receive all of our articles weekly