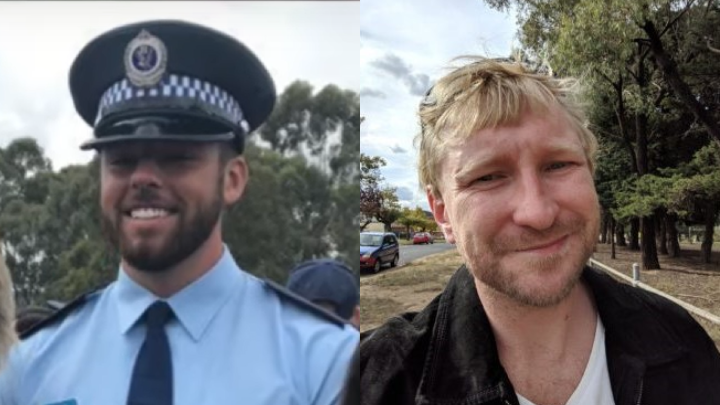 When NSW police constable Daniel Keneally answered the phone at Newtown Police Station on 24 February 2021 to speak to the caller, Luke Brett Moore, neither man knew the other.
Wanting to discuss this state's police misuse of strip searches, Moore was happy to talk with whichever officer happened to be on phone duty that day, as he'd been the subject of an illegal strip search in 2017.
Recent years have seen the misuse and overuse of these searches the focus of a campaign led by former NSW Greens MLC David Shoebridge and the Redfern Legal Centre, as well as the invasive practice having been the subject of a Law Enforcement Conduct Commission (LECC) inquiry.
Perhaps the call annoyed Keneally. Who knows? But it did lead the then 23-year-old constable to write an official statement in which he fabricated a version of events that had Moore threatening the lives of then NSW police commissioner Mick Fuller and Goulburn police officer Ed Taylor.
Regardless of why the son of the well-known former Labor senator, Kristina, blatantly lied, it led detectives from the Fixated Persons Investigations Unit to arrest Moore the following day, and the innocent man then spent 21 nights in solitary confinement at the South Coast Correctional Centre.
And on Tuesday, the LECC announced that the NSW Director of Public Prosecutions has laid charges against Keneally over the fraud allegations, which were the subject of a "belated" investigation by the state's police watchdog, which occurred only after the matter had been raised in parliament.
But, according to Moore, the story goes much further, and it raises serious questions, as per usual, about the culture that prevails within this state's law enforcement agency.
Questions remain
"I'm relieved that they finally charged him. But it's crazy it took this long for them to do something," Moore said straight after he'd heard the news on Tuesday. "It has been mentioned in parliament three times. They know I am suing them. It has been reported in the media for 18 months."
"They tried to cover it up from the moment it started happening," the law graduate, who is waiting to be admitted until after this matter is finalised, told Sydney Criminal Lawyers. "They all just happened to get busted because I wouldn't leave it alone."
Kenneally has been charged with fabricating false evidence, contrary to section 317(b) of the Crimes Act 1900 (NSW). And if he's found guilty, he faces up to 10 years behind bars.
The reason why Moore isn't still up on the three offences he'd been charged with, including using a carriage service to threaten to kill, is that he'd recorded the call he made, which clearly shows he didn't threaten anyone's life, as well as conveying the level of deceit Keneally stooped to.
"I'm grateful that they've finally taken action against Daniel Keneally," Moore reiterated. "But what I would like to know is what's happening with the other officers that attempted to cover it up."
Protecting their own
Fixated Persons Unit detective Malcolm Felgate charged Moore with the three federal offences on arrest. However, the law graduate claims that the detective was aware of the recording of the Keneally conversation stored on his phone within days of his being remanded for three weeks.
"The detective that charged me knew I was innocent within two or three days of me being in gaol, and not only let me rot there, but continued with the prosecution for two or three months," said Moore, adding that Felgate "dropped off the brief of evidence to me that included the recording".
After 21 nights spent in solitary confinement based on the lies of a young constable, who seemed comfortable to contemplate an innocent man he didn't know facing multiple charges, which together carried up to 16 years imprisonment, Moore was released on his second attempt at bail.
"The case was only dropped when it went to the Director of Public Prosecutions and they just withdrew it without any explanation," Moore said, hinting that the obvious reason was there was clear evidence that he had not threatened the now retired police commissioner.
Moore then took the matter to the LECC, which stated it was beyond its mandate, and referred it back to NSW police. Keneally's superior, superintendent Sam Crisafulli then informed Moore that it had been found the constable had not acted with due diligence and that was the end of the matter.
Lies upon lies
On Tuesday, the NSW Police Force released a statement in relation to the case, outlining a serving officer, "attached to the Central Metropolitan Region", had been charged, following a subsequent LECC investigation, which resulted in the police watchdog referring the matter to the NSW DPP.
"The constable… is due to appear at Downing Centre Local Court on Thursday 17 November 2022, for the offence of fabricate false evidence with intent to mislead judicial tribunal," the statement reads. "The officer's employment status is under review."
Indeed, during a 31 August budget estimates hearing, NSW MLC Rod Roberts queried incumbent NSW police commissioner Karen Webb on constable Keneally's "current employments status", to which she replied, "he was originally suspended and he's now back in the workplace".
However, Roberts put supplementary questions to NSW police minister Paul Toole regarding Keneally's alleged suspension, to which he replied on 27 September, "Constable Keneally was never suspended from the NSW Police Force and is a current serving police officer".
A law unto itself
Moore was offered a compensatory settlement of $170,000 that came with a confidentiality clause, which he declined last December. The Nowra man, who runs legal service ISUEPOLICE.COM, has since lodged civil proceedings against the state police force with the NSW Supreme Court.
"It's effectively ruined my life," he underscored. "I was just about to finish my law degree when all this happened. I'd just begun my business. And when it came out and people thought it was all true, it was really difficult for me to get along in the legal profession."
Of course, this matter raises further serious questions about how the NSW Police Force is operating, as this young officer obviously thought there was no issue with getting away with such a crime, other officers then tried to cover it up, and when it was exposed, there was no initial action taken.
During an interview on strip search misuse in August, Redfern Legal Centre senior police accountability solicitor Samantha Lee suggested it's time for another Royal Commission into NSW police, in terms of how its operating "beyond the legislative framework" and its "cultural demise".
"There is obviously a culture of corruption and coverup," Moore said in conclusion. "They tried to cover it up from the moment it started happening."
"If it's so hard for me to get justice in this situation, where I'm a qualified legal professional, how on Earth an ordinary person could try to get justice is beyond me."
Receive all of our articles weekly