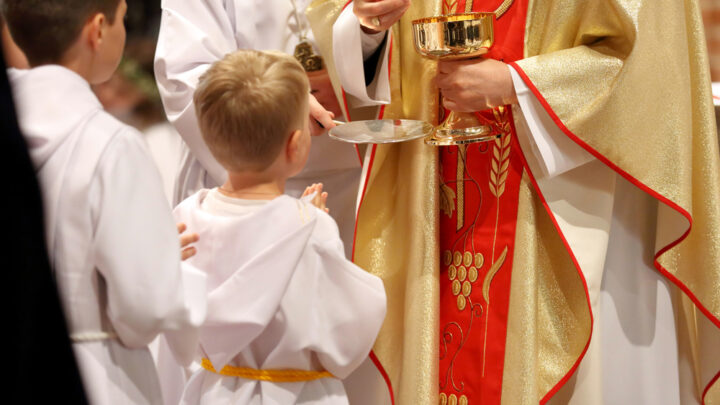 Catholic Church Priest Vincent Ryan has been released after serving 14 months in prison for the historical sexual abuse of two altar boys.
Unfortunately, it's another case of historic child sexual abuse where the perpetrator barely suffers consequences, while the victims spend years trying to rebuild their lives after a childhood that's been shattered.
Long history of child sexual abuse
Vincent Ryan, who has been nicknamed the 'Paedophile Priest', already served 14 years behind bars for the sexual abuse of 35 boys, aged six to 14, between 1972 and 1991.
One of his victims committed suicide. Others have testified that his abuse included anal and oral penetration as well as masturbation, and that he gave his victims wine and pornographic material with a view to sexually stimulating them.
In 2016, he was given a 15-month suspended sentence after pleading guilty to sexual offences in the New South Wales Hunter region from the 1980s.
Parole granted
In 2019, 78-year old Mr Ryan was charged with three counts of attempted sexual intercourse with a child, three of indecently assaulting a child and three of gross indecency against a child in relation to two altar boys aged 13 to 15 in the Newcastle region in the 1970s and 1980s.
Upon pleading guilty to one count of each of the charges in Downing Centre District Court in Sydney, the remaining six charges were withdrawn and Mr Ryan was sentenced to three years and three months in prison.
However, he was granted parole after 14 months behind bars, at least in part because a pre-release report stated that, "the offender has demonstrated excellent prison performance" and had "positive prospects of rehabilitation" upon his release.
Questions about remorse
But there have long been questions about whether Mr Ryan is genuinely remorseful for his conduct.
In a television interview with the ABC 'Revelation' series prior to his 2019 sentencing, the priest declared that God would absolve him of any wrongdoing.
He also blamed his superiors within the Catholic Church for not monitoring him closely once they learnt in the early 1970s that he had abused children.
Dangers of confessional secrecy
Mr Ryan enjoyed the protection of the church over decades of offending, including taking advantage of confessional secrecy.
After its extensive investigation into sexual abuse within the Catholic Church, which detailed 4,444 allegations of abuse involving more than 1,800 Church figures, The Royal Commission into Institutional Responses to Child Sexual Abuse strongly recommended law reform to lift the protection of confessional privilege for reports of child sexual abuse.
All states and territories have committed to implementing this recommendation, although Australia's Catholic Church leaders insist the sanctity of confessions must be upheld even if it means protecting priests who are breaking the law.
But the case of Vincent Ryan is a perfect example of why priests should not be above the law when it comes to reporting child sexual abuse, or given the power to absolve their fellow priests of wrongdoing and thereby giving them free reign to commit further crimes.
Church cover-up
During investigations in the 1980s, police detectives discovered the Church's cover-up of Ryan's abuse.
And he is not the only one. Notorious child sex offender Gerard Risdale, also a former Catholic Priest, was convicted between 1993 and 2017 of child sexual assault and indecent assault charges against 65 children, aged as young as four years.
Evidence presented in court suggested that the church knew about Ryan's crimes and covered them up, either by moving him to another parish, giving him a promotion, or ostracising and threatening the families of children who spoke out, sometimes even offering 'hush' money to victims so they would keep the abuse a secret.
Many victims have never spoken out, for fear of not being believed, and because they felt that it was simply not possible for them to say 'no' to a Church priest – someone they were taught to respect, and who held high regard within the community. They have simply suffered in silence.
There's also widespread anger at the Catholic Church for supporting priests that sexually abuse children even after they have been convicted of them. After Mr Ryan's release from a 14 year prison term in 2010, he was still 'technically a priest' and was provided accommodation by the diocese.
While child-sex abuse allegations continue to rock the Catholic Church globally, the Church itself has been slow to acknowledge and redress victims.
Following another recommendation by the Child Abuse Royal Commission, the Federal Government set up the National Redress Scheme to provides support to people who have experienced institutional child sexual abuse.
The Scheme started on 1 July 2018, and will run for 10 years.
Receive all of our articles weekly