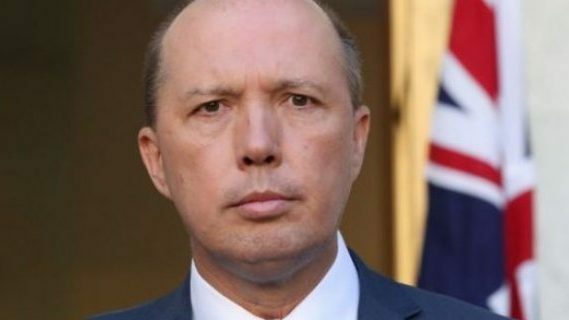 For many Australians, Peter Dutton's campaign to 'soften' his image are a hard pill to swallow.
This is particularly the case given that, as his public relations machine went into overdrive this past week, the Margaruppans – who are the Tamil family from Biloela in Queensland – were finally allowed, on an election promise by new PM Anthony Albanese, to return to their community.
The family, who were removed from their community during a 2018 dawn raid, are currently on bridging visas, but many are hopeful their return will become permanent. 
Return to Biloela 
The family has spent four years in detention, most of which has been as the only inhabitants of Christmas Island, under security 24 hours a day, seven days a week at exorbitant cost to Australian taxpayers and significant cost to their mental well-being.
The family's legal battle with the Australian Federal Government is ongoing, but in 2020 they were awarded $200,000 in costs by the Federal Court after it found that the family had been denied due process.
It's impossible to forget that this all occurred under Peter Dutton's reign as Home Affairs Minister, even when he pledged publicly last week that "[The Liberal Party believes] in families – whatever their composition," Dutton said.
Not only was he instrumental in the decision by the previous Federal Government to put this family in detention, rather than letting them stay in the community while their Visa issues are resolved, on several occasions Mr Dutton was disparaging of their plight. 
In 2020 Priya Margaruppan had to be flown to Perth from Christmas Island, suffering severe abdominal pain. 
At the time, Peter Dutton bemoaned to media that the Federal Government had to charter a flight for her, even despite the fact that he was one of the main instigators behind the revocation of the Medevac Laws in 2019 which then put him in the position of making decisions about which asylum seekers in detention were sick enough to be transferred to mainland Australia for medical treatment. 
'Arrogant about the family's plight' 
In the same interview he suggested that the family was 'taking advantage' of the system – yet prior to being detained, Nades Margaruppan had a job in the Biolea meatworks and financially supported his family. The family only became 'reliant' upon the system once they were detained.  
In 2020, news emerged that a blind mentally ill man has been detained for a decade under immigration laws. A Federal Court decision over the man's refugee status was scathing of the decisions made in this particular case, decisions which not only ignored his health status, but which kept him in an endless loop of bureaucracy. 
These might be isolated stories, but there is little doubt that under his reign as Minister for Home Affairs Peter Dutton was responsible for enforcing Australia's tough offshore detention policy, regularly clashing with refugee advocates and international Human Rights groups over conditions on Nauru and Manus Island and his refusal to allow asylum seekers access to medical care on mainland Australia. 
Double standards – the 'au pair' affair 
For many years, there have been concerns about the arbitrary power that the Home Affairs Minister has to either grant or deny visas at whim, powers which were instilled by the Morrison Government. 
The issue with regard to Mr Dutton having those powers was that apparently he saw fit to use them when intervening in the visa status of two au pairs, yet ignored other important cases. 
Leaked emails suggest that Peter Dutton went out of his way to prevent the deportation of a French woman in 2015 and an Italian woman around the same time, leading many to question both his integrity, and call him out over what appeared to be 'double-standards'. 
Despite claiming not to know their employers, it was later revealed that one nanny who had been detained at Brisbane Airport when his office demanded that she be urgently considered for a Visa was employed by a former colleague of Mr Dutton's, from his time as a Queensland Police officer. The other au pair, who had been detained in Adelaide was linked to a relative of AFL boss, Gillon McLachlan.
I'll say what I want, but don't dare call me out
In addition to the baseless tirade against the Biloela family, Mr Dutton has made numerous offensive remarks about asylum seekers, including his public assertion in early 2021 that female refugees in offshore detention centres were "trying it on" by making claims they had been raped in order to come to Australia for abortions.
In response to such disgraceful victim blaming, refugee advocate Shane Bazzi posted a tweet on 25 February 2021 stating that "Peter Dutton is a rape apologist.". But despite his repeated, debunked defaming of those in vulnerable and powerless situations, Mr Dutton took such offence to being 'called out' that he commenced defamation proceedings against Mr Bazzi in the Federal Court of Australia.
Those proceedings were initially decided in Mr Dutton's favour by a single judge, with Mr Bazzi being ordered to pay Dutton $35,000 in damages.
However, this decision was overturned by the Full Bench of the Court on the basis that Mr Bazzi hadn't implied anything that was untrue.
So, while Dutton is more than happy to sling insults at the powerless, he seems to be too thin-skinned to take being called-out over them.
Appalling treatment of asylum seekers 
In September 2020, Mr Dutton ordered that Australia begin cutting off the welfare payments to vulnerable asylum seekers living here, giving these people three weeks to vacate their government-supported accommodation.
It was also under his reign as Imiigration Minister that Australia toughened the "character test" and introduced the laws that have seen many New Zealanders have to break life-long family and community ties, forced to leave Australia because of petty crimes committed years ago. This is a law which has decimated some families, and strained relations with our Kiwi neighbours.   
No apology 
It also shouldn't be forgotten that when then-prime minister Kevin Rudd apologised to the Stolen Generations in 2008, Peter Dutton was the only member of the Coalition frontbench not present, although he has since said that he regrets the decision. 
Strong leaders need compassion 
In recent days, since his elevation to the head of the opposition, Mr Dutton has made it obvious that he wants to engender the trust of all Australians. 
But the question we should ask is whether or not he deserves that trusting light of the fact that historically, he has not acted in a compassionate way on important humanitarian issues.  
Receive all of our articles weekly