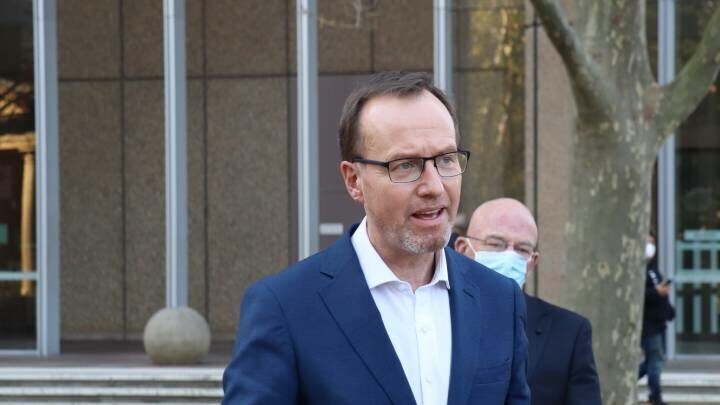 Over their current terms in office, the federal and NSW Liberal Nationals governments have been rocked by one grants scandal after another.
At the state level, NSW premier Gladys Berejiklian resigned, while federally, Senator Bridget McKenzie was provided with a new ministerial role after a short pause.
Establishing an independent anticorruption commission was a priority for the Australian constituency prior to the last federal election, at which time Morrison promised that if it voted him back in to the top ministerial role, he'd deliver on an integrity watchdog.
After regaining prime ministership, Morrison stalled on the promise, delivered a bill for a toothless watchdog, described the NSW ICAC as a "kangaroo court" attacking Berejiklian over her boyfriend, and more recently, he's made statements basically asserting he'll never establish such a body.
The fact that the leader of the country is digging his heels in further on this key issue during an election campaign in which he's floundering prompts the question as to what have Scott Morrison and the Liberal Nationals got to hide in terms of seeing a federal ICAC coming to fruition.
Greener on the other side
Greens NSW Senate candidate David Shoebridge launched his party's campaign to establish a national integrity commission with teeth – extremely sharp ones – in Sydney on 5 May, with the assurance that the bill will be introduced within the first two weeks of the new parliament.
The reason why this is such a significant commitment is that it's likely the Greens will be holding a record number of seats in the Senate, along with a swag of progressive independents, in conjunction with a predicted minority Labor government that's already committed itself to an ICAC.
And the Australians Greens aren't tinkering away with a model of a national integrity commission for the first time, as then attorney general Christian Porter seemed to be when he introduced his flawed version in 2020. The Greens have introduced five separate bills to establish such a body since 2010.
Indeed, the Greens passed the National Integrity Commission Bill 2018 (No. 2) in the Senate in late 2019. That legislation provides a watchdog that promotes integrity and accountability, prevents, investigates and exposes corruption, and further ensures the protection of whistleblowers.
Cleaning up federal politics
David Shoebridge has made an indelible mark on NSW politics over his eleven years in the NSW Legislative Council, with anticorruption being one of his chief concerns. As chair of the Public Accountability Committee, he uncovered multiple incidents of NSW Coalition pork barrelling.
As was discussed at the launch of the Greens ICAC commitment campaign last week, the Greens NSW Senate seat is key to that party gaining a balance of power in collaboration with progressive independents that can not only clean up politics but also bring necessary legislated climate action.
Sydney Criminal Lawyers spoke to Australian Greens Senate candidate for NSW David Shoebridge about Morrison's betrayal of the constituency on this matter, what's behind it, and why a minority Labor government with a progressive crossbench is key to establishing a federal ICAC.
Over the last term of government in NSW and at the federal level, there have been multiple revelations around pork barrelling.
In NSW, premier Berejiklian resigned over the ICAC investigating her. That inquiry is still underway.
But, as we know, at the federal level, there's no anticorruption commission. So, what sort of difference do you think we might have seen at the federal level over the last term if some form of corruption watchdog was in place?
Having a standing royal commission focused on political corruption ensures that not only do you have a political scandal when public money has been abused and misused, but you also take it that step further, and you get political accountability.
In NSW, we've used the parliaments, and especially upper house committees, to expose corruption, to uncover documents, and then, refer that to the Independent Commission Against Corruption.
The benefit of an Independent Commission Against Corruption is that once they see the evidence uncovered through parliament, they take the investigation further, they find additional evidence, and then they make a politically neutral finding, which can be far, far more damaging than any political attack.
That's why we see corruption scandals leading to actual accountability in NSW. Yet, at a federal level, they seem to shrug off scandal after scandal.
Last Thursday night, 5 May, as NSW Greens Senate candidate, you launched the Australian Greens commitment to a federal ICAC following the next election.
What does that consist of? And what sort of model is your party proposing?
The federal ICAC that the Greens will be introducing into federal parliament has been given an A-plus rating by the Centre for Public Integrity.
That means it's statutorily independent of the government. It has an independent funding stream. It has full retrospective powers, and it has all the powers of a standing royal commission with a focus on political corruption.
The good news is that we don't have to draft that legislation afresh, the Greens have already passed laws that would create that fully empowered federal ICAC, with additional whistleblower protections, through the Senate in 2019.
Unlike Labor, we don't have to wait till Christmas to come up with our plan. We'll be ready to introduce it and legislate it within the first two weeks of a new parliament.
Morrison promised a federal watchdog prior to the last election. His government stalled on it until Porter delivered a bill that aimed to establish an outrageously high bar for such investigations to proceed.
The PM has since claimed in parliament that the NSW ICAC was investigating Berejiklian over her boyfriend and called it a kangaroo court. And lately, it's gotten to the point that he's saying he'll never deliver such a body.
What does this show of leadership mean for the Australian public and indeed, the nation's democracy?
Firstly, it shows you cannot trust Scott Morrison and the Liberal Party with putting in integrity measures at the federal level.
Even the NSW Liberal premier Dominic Perrottet has distanced himself from that aggressive anti-ICAC position of Scott Morrison, because he realises the public love ICAC a great deal more than they love politicians.
But what it does show is that a promise about accountability, freedom of information and a federal ICAC that's made in an election campaign often goes to water once one of the major parties has a majority in parliament.
I firmly believe the only way that we'll get a federal ICAC, with the independence and the powers necessary to tackle corruption at the federal level, is with a minority Labor government with a powerful and progressive crossbench made up of Greens and independents.
That is the only guarantee for the kind of ICAC that Australia needs.
Further on this same point, this is a high priority issue for voters, Morrison is drowning during this election campaign, and yet he's desperately holding onto this stance.
So, what can we imply from this, in terms of Morrison himself and the party he leads?
One of the things that Morrison is most frightened of is the retrospective powers that the Greens and others are proposing to give to a newly established ICAC.
It's important that it has those powers and that it can look at grant scandal after grant scandal and the misuse of public money by the Morrison government.
However, it's also essential that we have an ICAC in place before the next government starts rolling out its own version of pork barrelling and politicised grants.
I personally think that a national ICAC is one of the founding pillars that we're going to need to clean up not just what happened in the past but clean up federal politics going forward.
NSW Liberal premier Nick Greiner established his state's ICAC in 1988. At that time, there was a federal Labor government in power.
Since the NSW watchdog has been in place, federal Labor has been in government at different stages for what amounts to over a decade, which has been ample time to follow suit on establishing a federal anticorruption protective mechanism.
So, can we simply rely on an Albanese government to deliver on its promise to establish such a body, especially when Morrison's proven how easy it is to renege on this specific commitment?
Having observed state politics up close for the last eleven years, and now being deep in the federal election campaign, I can see how easy it is for the opposition to make promises during a campaign, when it comes to fighting corruption and putting in integrity measures.
However, the last decade has proven how those promises made in election campaigns, whether they come from the opposition or the government, suddenly begin to lose their appeal once one of the major parties gets their hands on Treasury.
It's an inescapable fact that there's a conflict of interest between a political party that's in charge of public funds and the establishment of a fully empowered national ICAC.
The only way we got an ICAC in NSW was when we had a minority government and a progressive crossbench that forced it upon the Liberal party.
I'm quite certain that we'll only get the federal ICAC that Australia needs and deserves with a minority Labor government and a progressive crossbench of Greens and independents.
And lastly, David, the other issue you and Greens leader Adam Bandt discussed at the ICAC policy launch last week, is why obtaining the NSW Greens seat is so important to gaining balance of power and further delivering on a federal ICAC.
Can you talk on why this is the case?
The numbers in the federal Senate will be very close following this election campaign.
It may well come down to just one or two seats, determining whether or not we have a progressive majority made up of Labor and Greens, or we continue to have that blocking conservative grouping of right-wing micros and the Liberal National Party.
The Greens are aiming to have 12 senators across the country at the end of this election campaign, which would be a record number for any third party in the federal parliament.
In NSW, it's likely to come down to a race between the Greens and a right-wing micro. It's one of the reasons I put my hand up to run for the Greens here, to ensure that we can have that progressive majority in the Senate, and we can pass the laws necessary to clean up politics.
Receive all of our articles weekly