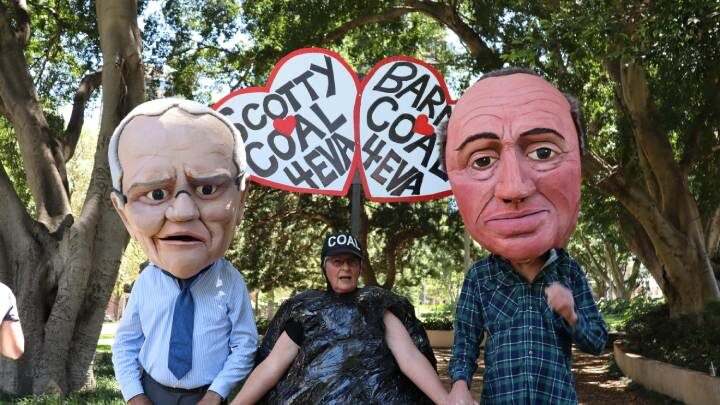 Australia is an international pariah when it comes to climate inaction. But that's not of real concern to the majors in relation to the 21 May election.
The main issue for the Coalition and Labor is putting across a domestic policy stance that garners votes, which is difficult at present, as that seems to require promising to combat the climate crisis, whilst, at the same time, ensuring the fossil fuel industry and its profits are propped up.
Morrison has long been a fossil fuel junkie, as evidenced by his wink-wink COP26 net-zero policy, which guarantees lower carbon emissions via the use of not-yet-existing technologies.
Although the Liberal PM is now trying to kick coal, as he's started using gas instead in an attempt to gain that same profit-driven buzz.
With fossil fuels coursing through his veins, Nationals Senator Matt Canavan a fortnight ago called the Coalition's net-zero policy for what it is: dead.
Flynn Nationals candidate Colin Boyce stepped up to say there would be "wiggle room" for more coal use, and Barnaby slapped him on the back knowingly.
The Labor challengers have committed to 43 percent emissions cuts by 2030 and net-zero by 2050. So, on the surface, leader Anthony Albanese doesn't appear to be such a heavy user, yet, he blew his cover last month, when he pledged to support new coal mines "if they stack up environmentally".
The fact is the Liberals, the Nationals and Labor are so addicted to fossil fuels, and the enormous donations resource corporations provide them with to keep up their habits that they're just lying to the public and themselves about their pro-climate policies, like any heavy user is prone to do.
Changing climate consciousness
"Governments know we know they're lying. Still, they continue to lie," said Social Justice Independents Senate candidate Gerry Georgatos. "Governments lie, religiously. So, it means contextually they don't care we know. What they care about is we cannot do anything about this."
"Our parliaments fail us. There is no science-based leadership. There is slagging and slogans but there are no proposed bills to address excess dangerous emissions," he told Sydney Criminal Lawyers. "We must protect by legislation and not walk in minefields of pledges and promises."
Inconveniently, for the majors though, the nation's massive fossil fuel extraction and climate inaction that was once only a pesky problem lapping at the door of our Pacific island neighbours, has now torn through the continent via megafires and unprecedented floods.
Most of this climate damage has been regional too, which is the heartland of the Nationals and its climate denial propaganda. And this has not only broadened the understanding that the climate crisis is real, but that politicians are lying about it too.
Although, frankly, the pollies don't seem too fazed about it.
"In the 1970s, there was the shock of understanding forged that our planet was heating up. There was as much baseline understanding of this then, as there is today," explained Georgatos, adding that rather than act, disinformation reigned, and now the temperature has risen by at least 1°C.
Green collar criminals
Georgatos also pointed to the most overlooked aspect of the climate crisis: "exploitive animal agribusiness". It produces over 7 gigatonnes of carbon emissions annually, accounting for almost 15 percent of greenhouse gas emissions, more than the combined exhaust from all transportation.
"If not challenged, animal agribusiness generated emissions in the decades ahead, is projected to produce half the world's greenhouse gases," the Social Justice Independent WA candidate continued. "We're heading into an abyss, fast."
But the knowledge that animal agribusiness is such a heavy contributor to the climate crisis has been completely erased from the public sphere.
Governments nationwide have been silencing animal rights activists, who, while primarily warning of the devastating effects this industry is having upon animals, are also including a clear message of the destruction it's having on the environment, climate and people's health.
In April 2019, vegan protesters staged nationwide nonviolent protests. Morrison labelled them "green-collared criminals" and pork barrelling Nationals Senator Bridget McKenzie oversaw the passing of ag-gag laws to ban posting information that might incite trespass on agricultural land.
Meanwhile, late that same year, the NSW Nats passed some of the most draconian anti-animal activist penalties around, taking the Baird government's 2016 aggravated trespass offence and adding 12 months prison time for trespass on agricultural land, or 3 years for a subsequent offence.
Back when DDT was mouthwash
Georgatos likens the disinformation around climate and the inaction of the majors to the early 60s when US environmental scientist Rachel Carson exposed the "adverse effects to the environment and to humans from the use of synthetic pesticides".
As he tells it, the scientist took a sustained beating in the press from the companies producing these chemicals.
Carson didn't live to see her nation ban the use of DDT, but if she had, she would have also witnessed, those same corporations continue to sell the deadly insecticide to other nations where it was still legal.
"Disinformation was the dangerous marketing tool to make massive profits for chemical companies. I argue the ability to discover the truth is outstripped by the capacity to manifest deceit," Georgatos said, further adding that Carson inspired the creation of the US Environmental Protection Agency.
The time has come
"The Senate should be ashamed of itself at the decades of absence of proposed bills to scale back emissions," the SJI candidate continued. "There should have been bill after bill, categorical to the half score emission types heading our unborn and all life on this planet to the darkest catastrophes."
But there is a growing hope that in two weeks' time, when Australians hit the ballot box, that the plethora of progressive independents, like Georgatos, and the minor party candidates with vision, like the Greens, will be garnering a much greater portion of the votes than ever before.
"We need independents to score their way into the Senate – and into the House of Representatives – and introduce bill after bill and erode monopoly politics," Georgatos said in conclusion.
"Our children and the unborn deserve a better inheritance than this dud deadlock of a cyclical duopoly."
Receive all of our articles weekly