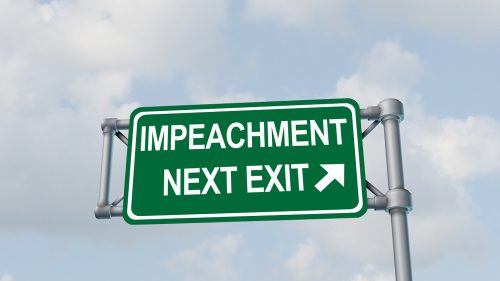 Donald Trump's former attorney and fixer Michael Cohen has pleaded guilty to eight charges in the United States Federal Court, and in doing so has implicated the president in a criminal conspiracy.
Mr Cohen pleaded guilty to making false statements, making an unlawful corporate contribution, making an excessive campaign contribution and five counts of tax evasion.
As part of his plea deal, Cohen agreed not to challenge a prison sentence of between 46 and 63 months.
The details of Cohen's plea deal with Special Counsel Robert Mueller are under wraps, although legal experts say the charges spell serious trouble for the president.
What it means for Trump
Mr Cohen admitted hiding $4.3 million of income over a five-year period, including interest from loans, brokerage commissions and income from his taxi business.
Commentators explain that the campaign violations are particularly problematic for the president, as well as payments of $130,000 and $150,000 allegedly paid at Trump's direction "with the purpose of influencing the election" through silencing two women who claimed to have had affairs with him.
Although Mr Cohen did not name either of the women, he acknowledged paying money to "individual-1… [and] individual-2… at the direction of a candidate for federal office".
Commentators have taken this as referring to porn actor Stormy Daniels and former Playboy model Karen McDougal.
Mr Cohen's criminal defence lawyer, Lanny Davis, expressed matters with greater clarity:
"Today he [Cohen] stood up and testified under oath that Donald Trump directed him to commit a crime by making payments to two women for the principal purpose of influencing an election", Mr Davis stated.
"If those payments were a crime for Michael Cohen, then why wouldn't they be a crime for Donald Trump?"
Former Watergate prosecutor, Nik Akerman, explained that such acts, if proven, would amount to a felony attracting up to five years in prison.
There may be more…
It is understood that Mr Cohen is yet to agree to testify in other matters, including the investigation into alleged collusion between the Trump campaign and the Russian government to influence the election.
Mr Davis did make it clear, however, that his client open to talking to Mr Mueller further.
"Mr Cohen has knowledge on certain subjects that should be of interest to the special counsel and is more than happy to tell the special counsel all that he knows", the lawyer stated, adding the information may include:
"the obvious possibility of a conspiracy to collude and corrupt the American democracy system in the 2016 election" as well as "knowledge about the computer crime of hacking and whether or not Mr Trump knew ahead of time about that crime."
Protecting the president
There is no explicit prohibition in the US Constitution against indicting a president.
Nevertheless, there are reports the Justice Department and Special Counsel Mueller are extremely unlikely to indict a sitting president, likely preferring to defer any proceedings until after Trump is out of office.
CNN legal analyst Jeffrey Toobin expressed the view that Trump would likely have already been indicted if he were not president.
"Michael Cohen implicated Donald Trump in a federal crime," he stated. "That means that, according to this guilty plea, he (Mr Trump) is a unindicted co-conspirator."
The term 'unindicted co-conspirator' was used by the Watergate grand jury to describe Richard Nixon's role in the scandal, which ultimately led to his resignation.
Articles of impeachment
House Democrats have already introduced articles of impeachment against Mr Trump.
However, these would need to be approved by a House Judiciary Committee, and a majority of Congress would thereafter need to vote in favour of impeachment.
In that event, Mr Trump would be forced to defend himself in a trial by the Senate, where two-thirds of the 100 Senators would need to vote for impeachment.
Both the House of Representatives and the Senate are currently controlled by Republicans, but this could change at the November midterm elections, in which case impeachment may be more likely.
What about Australia?
There is no such impeachment process in Australian politics.
The Australian prime minister is, by convention, the leader of the majority party in the House of Representatives and continues to hold office until the ensuing election, provided that he or she continues to command the confidence of the House.
It is immaterial whether the prime minister commits a criminal offence while in office, or at any other time.
However, some legal commentators argue that the Governor-General may also dismiss a Prime Minister who is unable to pass the government's supply bill through both houses of parliament – which for all intents and purposes occurred during Australia's 'Constitutional Crisis' of 1975.
No Australian prime minister has been defeated in the House of Representatives by an explicit motion of no confidence.
However, several have resigned for a variety of reasons – including failing to pass legislation to facilitate supply or otherwise failing to pass important policy-related legislation.
Malcolm Turnbull was the most recent prime minister to step down from office after a vote in the party room last week, succeeded by current leader Scott Morrison.
Receive all of our articles weekly