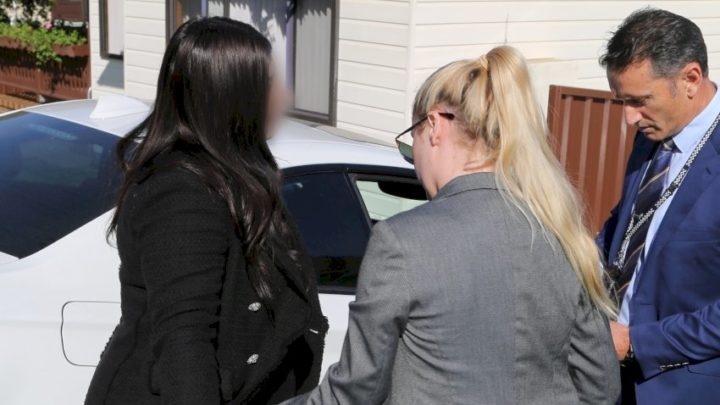 A criminal lawyer has been arrested and charged in relation to the murder of Craig Anderson, who was shot and killed at Doonside in Western Sydney earlier this year.
The lawyer, Ms Alev Oncu, has been charged with accessory after the fact to murder and tampering with evidence with intent to mislead a judicial tribunal, offences which respectively carry maximum penalties of 25 and 10 years in prison.
Ms Oncu's husband, Ali Cevik, was charged in May over his alleged role in Craig Anderson's death. He was refused bail and remains behind bars. Five other men including a member of the Comancheros motorcycle club have also been arrested and charged over the killing.
Mr Anderson was shot multiple times outside his home in Doonside and died at the scene from gunshot wounds to the chest.
Destroyed evidence
Police now allege that Ms Oncu hired a technician to destroy CCTV footage that may have implicated her husband and a co-accused in the murder. Police have described the evidence as "critical" to their investigations.
Yesterday, Blacktown Local Court heard that Ms Oncu "diligently lied" about her role in Mr Anderson's murder, including what she was doing on the day of the fatal shooting, and that she failed to provide "adequate information" about the murder to investigators.
Strict bail conditions
Ms Oncu was released on strict conditional bail, after a $15,000 security was paid by her family.
Her bail conditions prohibit her from speaking with her husband or any co-accused, and from going to work at the law firm where she is employed, a recently created Parramatta-based firm by the name of National Criminal Lawyers. This is because the principal of that firm, solicitor Michael Moussa, provided her husband with legal advice. The nature of that advice is not known.
The firm has now deleted Mr Oncu's profile from its website, but had described her as a "criminal law specialist" with "a standard that is second to none" for whom "no matter is too difficult".
Accessory after the fact to murder
An accessory is somebody who encourages or assists in the commission of the crime, either before, during or after it has been committed.
Section 349 of the Crimes Act 1900 prescribes a maximum penalty of 25 years in prison for being an accessory after the fact to murder.
Tampering with evidence
Section 317 of the Crimes Act sets down a maximum penalty of 10 years in prison for tampering with evidence, which includes:
Suppressing, concealing, destroying, altering or falsifying evidence required in a judicial proceeding,
Fabricating false evidence,
Knowingly making use of fabricated false evidence, and
The prosecution must prove the defendant intended to mislead a judicial tribunal in judicial proceedings by their actions.
Not the first criminal lawyer charged with being an accessory
About this time last year, 38-year old Sydney criminal defence lawyer Ali Abbas was also charged with being an accessory after the fact of the murder of 15-year old Braydon Dillon on Good Friday in 2017.
Police allege Mr Abbas was involved in the provision of false affidavits on behalf of others in relation to the murder, that he conveyed information about the crime between participants, and that he illegally took a mobile phone into a correctional centre in order for one of those involved to use it. He is currently awaiting trial.
Ms Oncu is due to return to court in November.
Receive all of our articles weekly