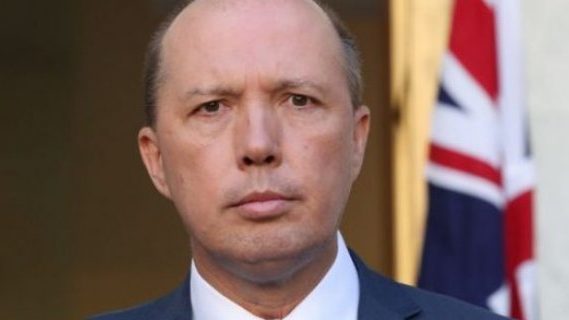 The Liberal Nationals re-election has gone down as Morrison's "miracle" win. Likened to the triumph of Trump and the success of the Brexit campaign, the May federal election is another example of an unexpected rise in reactionary sentiment that on the surface didn't seem apparent.
Nowhere is this more typified than with Peter Dutton's return to the Queensland seat of Dickson. A man who's never done much to endear himself to the public, Dutton's politicking entails making divisive statements about disadvantaged people of colour and chipping away at civil liberties.
Following his defeat in last August's Liberal leadership spill, the home affairs minister seemed to shy away from the spotlight. It wasn't just the defeat. He was also ducking to avoid the fallout around his conflicting interests in childcare centres, along with the European au pairs scandal.
Although, for a brief moment, just a month out from the election, he again revealed his true colours, when he claimed that his Labor challenger Ali France was using her disability as an excuse for not having moved to the electorate. Ms France had her leg amputated after being hit by a car in 2011.
At the time, it seemed this would be Dutton's swan song: the last piece of nastiness he could conjure on his way out of office, as defeat was imminent. However, on election night, there he was at the podium, quoting former Labor PM Paul Keating, as he said, "This is the sweetest victory of all."
A proponent of rape culture
In a little over a month on from the election, Dutton came out swinging. He announced that there were some women in offshore detention guilty of "trying it on", when they claim they've been raped and need to come to Australia to receive an abortion.
Once these women make it to Australia on a medical transfer, as the home affairs minister tells it, they decide they're no longer going to undergo the procedure. They then have the baby and get their lawyers to step in and lodge papers in the Federal Court to stop them being sent back to prison.
And Dutton's well-versed in dealing with these women. Back in 2016, he saved the nation from an onslaught of people smugglers, when he tried to prevent a woman coming to Australia for an abortion, after she'd been raped whilst unconscious following a seizure on Nauru.
Medical experts asserted her pre-existing conditions made childbirth dangerous. But, Dutton knew better than letting the abortion take place here, as she was "trying it on". So, he suggested that she have the abortion in Papua New Guinea, where the procedure is unsafe and illegal.
Show no mercy
"It's essential that people realise that the hard-won success of the last few years could be undone overnight by a single act of compassion," warned Mr Dutton in June last year, just a week after 26-year-old Iranian-born Fariborz Karami took his own life after long-term detention on Nauru.
And now, Dutton wants to get the Medevac laws revoked to prevent asylum seeking "murders" and "paedophiles" in offshore detention coming to Australia, even though the majority of detainees are legitimate refugees and 80 percent of them are now suffering severe mental health issues.
A spate of self-harm incidents and suicide attempts commenced amongst the population of offshore detainees on Manus Island following the Coalition win. And it's the bleak prospect of politicians like Dutton being around for another term that's driven over 60 refugees to turn on themselves.
The Ministry of Truth
Despite Morrison removing immigration from his portfolio, Dutton's still lording it over the most powerful of ministries: home affairs, which has got ASIO, the Australian Federal Police and the Australian Border Force all under its belt.
Although, last month, unbeknownst to the minister, as he was in Sri Lanka, some of his AFP officers went rogue and raided News Corp journalist Annika Smethurst's home to punish her for writing an article in April last year about a secret domestic spying proposal.
The leaked documents that Smethurst exposed showed communications between the secretaries of the home affairs and defence departments discussing the idea of allowing the nation's international spying agency, the Australian Signals Directorate, to start surveilling locally.
The home affairs minister vehemently denied the truth of the story at the time. Then a week after the Smethurst raid, Dutton appeared on the ABC, saying it's about time Australia has a "sensible discussion" around actually letting the ASD spy internally.
And its thought police
Dutton told Sky News recently that he's no longer interested in being the leader of the Coalition government. And he's now predicting that Scott Morrison will be prime minister not only for this present term, but possibly the next.
This would lead one to gather that Dutton's comfortable to continue his campaign of whittling away at citizens' civil liberties from his home affairs stoop, which means his team will now have to devise a more draconian piece of legislation to top 2018's encryption busting bill.
Passed last December, Dutton's Assistance and Access Bill gave local law enforcement and intelligence agencies pervasive powers to delve into citizens' and corporations' private computer networks, which are unprecedented anywhere else in the world.
Big Dutton's watching
However, the home affairs minister already has something up his sleeve. It's a piece of legislation that will establish a national facial recognition scheme, which will mean footage from all CCTV cameras will be able to be matched with all citizens' ID photos through a central hub in real time.
The prototype for the facial recognition system has been up and running since late 2016. Back then, it was a pet project of former attorney general George Brandis. And it initially began with only citizenship photos, but the aim is to link in all identification photos across the country.
And although the legislation for the National Facial Biometric Matching Capability lapsed at the time of the dissolution of the 45th parliament in April, the Northern Territory government put aside $375,000 towards enabling it's side of the national scheme as part of its 7 May budget.
Receive all of our articles weekly