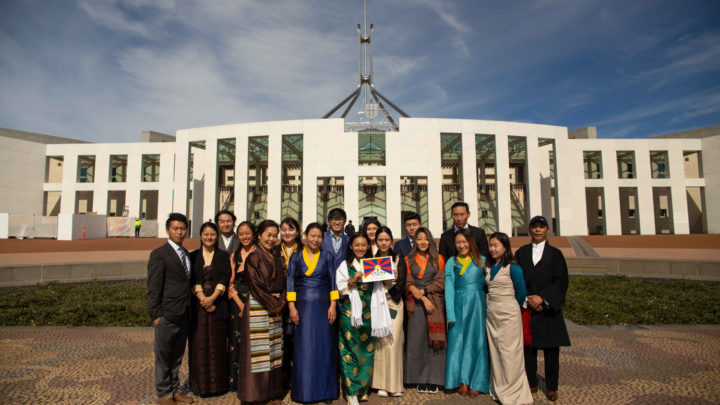 Freedom in the World 2019 ranks Chinese-occupied Tibet the second most oppressed region on the globe, following war-devastated Syria. Indeed, 70 years under Chinese Communist Party (CCP) rule, has left the once autonomous nation one of the most heavily policed and surveilled places on Earth.
While the international community has lately been shocked by the mass detention and monitoring of Uyghur people in the province of Xinjiang, what's less well-known is the architect behind that security clampdown – CCP politician Chen Quanguo – first honed his tactics on the Tibetan people.
Access to Tibet is extremely restricted and there are tight controls on information both going in and out of the region. And for this reason, the CCP can continue on with its decades-long program of political repression and cultural genocide beyond the watch of the rest of the world.
Around one thousand Tibetans now call Australia home. And a delegation of sixteen travelled to Canberra on 10 September to meet with 50 federal parliamentarians to garner their support for proposed laws that would guarantee greater transparency for the region of Tibet.
The Australia Tibet Council (ATC) delegation was advocating for the Reciprocal Access for Tibet legislation, which would ensure "Australian journalists, diplomats and tourists" have "unrestricted access to Tibet", thus lifting the veil of secrecy over human rights abuses being perpetuated there.
Exposing rights violations
"The Reciprocal Access for Tibet legislation is pretty self-explanatory," said Tenzin Tsomo, one of the ATC delegates, who travelled to Canberra. "Just as Chinese diplomats, media, general public and students come to Australia, we want Australian MPs, journalists and students to get access to Tibet."
"Right now, people do get access visas to go there, but very rarely," she told Sydney Criminal Lawyers. "And those who do get a chance to go there are highly monitored and chaperoned around. They can only go to a few parts."
The Tibetan refugee explained that the delegation split into four groups and met with ten MPs each. They spoke to about two dozen Labor members, a dozen Liberals, as well as Greens senator Richard Di Natale and independent MP Andrew Wilkie.
The delegation asserted that while China is Australia's top trading partner, this is a two way relationship and as a strong nation Australia should push for an opening up of the region to put an end to China's human rights violations, which currently, for the most part, go unchecked.
"Reciprocity is the fundamental principle of diplomatic practice. We have a relationship with China, based on respect," Tenzin Tsomo emphasised. "So, if China is not respecting our political leaders to get visas and access to Tibet, why are we throwing out the red carpet for Chinese diplomats?"
Legislating for human rights
"The bill would mean that if Chinese officials prevented Australian citizens from having unfettered access to Tibet," outlined ATC executive officer Kyinzom Dhongdue, "those officials responsible for restricting access would be denied entry to Australia."
Ms Dhongdue is a member of the Tibetan parliament-in-exile, where she represents Australasia and East Asia. The  Central Tibet Administration is based in Dharamshala, which is in the Indian state of Himachal Pradesh.
The "finer details of the Australian legislation are still a work in progress", Ms Dhongdue said. And members of the Australian All-Party Parliamentary Group for Tibet are currently working on the bill, which is based on similar laws that were enacted last December in the United States.
The US Reciprocal Access to Tibet Act of 2018 requires that the US State Department monitors the level of access to Tibetan areas China grants to US citizens. And the move has since prompted similar bills to be introduced in both the UK and Canada this year.
Ms Dhongdue remarked that the response from politicians in Canberra was in general very supportive. "They showed genuine interest in the stories our delegates shared and were empathetic about the need to stand up against China's ongoing human rights abuses in Tibet," she added.
A nation in chains
The Chinese Communist Party began its invasion of Tibet in 1949, when its troops marched into the eastern regions of Kham and Amdo. And a decade later, China had consolidated its control over the Himalayan nation.
The Tibetan spiritual leader the Dalai Lama fled his homelands in 1959, following a mass uprising of locals. And since that time, a steady flow of Tibetans have been fleeing the oppression in their country, where migration from China has seen them increasingly becoming a minority.
Beijing has perpetrated a program of cultural genocide in Tibet: destroying Buddhist monasteries and shrines, attempting to erase the Tibetan language, as well as forcing nomads off the land and into urban areas. And the CCP is systematically desecrating the region's landscape and waterways.
Kyinzom further stated that the interest in the plight of the Tibetan people has broadened of late due to the ongoing protests in Hong Kong, as well as China's incarceration of one million Uyghurs in "political re-education" camps in the country's far western province.
And just three days after the Canberra delegation, US lawmakers introduced the Tibetan Policy and Support Act of 2019 into congress, which seeks to prevent Chinese interference in the succession of the Dalai Lama, as well as to establish a US consulate in the Tibetan capital of Lhasa.
Independence once more
Tenzin Tsomo is a third generation Tibetan exile. She was born and raised in Dharamshala. And she came to Australia on a humanitarian visa in 2014. Today, she works for Settlement Services International, which assists newly arrived refugees and asylum seekers.
Tsomo's father fled Tibet in 1990, spending two months travelling to India on foot. And the Sydney University student also knows fellow Tibetans in their twenties that left their homeland when they were just children and haven't seen their parents – who remained behind – since they departed.
"I want them to see their parents and be able to talk freely," Tenzin Tsomo concluded. "I hope world leaders will see what's going on, and in the future, Tibet will be a free country. The things that we take for granted over here, I want that for Tibet."
Receive all of our articles weekly