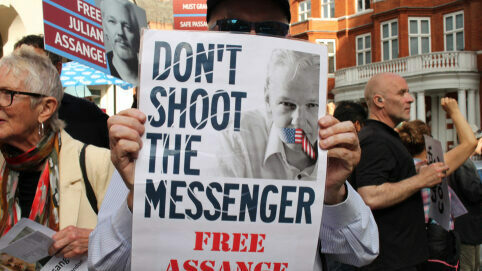 "I find that Mr. Assange's risk of committing suicide, if an extradition order were to be made, to be substantial," said UK Judge Vanessa Baraitser in her 4 January-delivered final findings into the US extradition case against Australian journalist Julian Assange.
The judicial officer went on to refuse the US request to extradite the Wikileaks founder, basing her decision in part on criteria established in the 2012 case Turner versus the USA, which saw a British citizen unsuccessfully appeal a decision to extradite her to America.
Washington has been seeking to extradite Assange from the UK since April 2019. This is in relation to an initial charge of computer hacking, which was soon ramped up to an indictment that also contains an additional 17 espionage charges, all of which add up to a maximum penalty of 175 years in prison.
This "effective death sentence", as Australian barrister Greg Barns SC has termed it, relates to Assange having published over 700,000 classified US documents online back in 2010.
Although, the US has framed this as a hacking conspiracy between him and whistleblower Chelsea Manning.
The UK court decision not to extradite Assange marks a victory for the Townsville-born Australian, however the judge also having found that the US evidence was sufficient enough for the extradition to have gone ahead, doesn't bode well for press freedoms.
"The tide has turned"
"I wasn't expecting it at all. I thought the Brits were going to buckle to the US," said long-term Assange supporter Tony Wakeham. "But, effectively, this decision is the Brits saying to the US, 'No, we're not handing him over.'"
The activist explained that with the US and the UK being the "two strongest members" of the 1946-established Five Eyes security alliance, the British refusal of the American request holds great significance.
Wakeham and other supporters have been staging the Julian Assange Sydney Town Hall Gathering every Friday afternoon for the last fifty eight weeks. And he's determined that they'll be there going into the future until the Australian journalist is returned home.
For now, Assange is still being held in London's Belmarsh prison pending a bail hearing on Wednesday. Having gone on for two years, his prolonged solitary confinement within the notorious British gaol constitutes psychological torture going by United Nations standards.
"The tide has turned, even though he's still in Belmarsh today," Wakeham told Sydney Criminal Lawyers. "It's unprecedented for a lower court to have come to this decision. We were expecting it to go to a higher court and go on for years."
A chilling effect
There are a number of unprecedented aspects to the attempted extradition of Assange. None more so than Washington's assertion that it could reach across international borders to arrest a foreign citizen under its own domestic laws for alleged crimes committed on the soil of other nations.
But as Baraitser issued the refusal to grant extradition, she also addressed all the defence team's arguments against the position of the United States and refuted every one.
So, in effect, the judge upheld the American position against Assange.
A major contention as to the lawfulness of the US case is that the UK-US Extradition Treaty forbids extradition over political offences, with espionage certainly being such a crime. However, Baraitser found that the UK Extradition Act 2003 holds, and it doesn't contain a political exclusion clause.
"In my judgment, Mr. Assange's alleged activities went beyond the mere encouragement of a whistleblower," the judge made clear. His "complicity in Ms. Manning's theft of the information…  separates his activity from that of the ordinary investigative journalist."
So, with the British judicial officer ruling that Assange's actions went beyond journalism, she has therefore justified the US persecution of him, and the long-term deprivation of liberty he's been subjected to within the UK criminal justice system.
Indeed, it seems that Julian would soon be on his way to the United States in relation to his acts of journalism if it wasn't the case that the treatment he's suffered at the hands of UK authorities wasn't so successful in diminishing his psychological wellbeing.
In boiling it down, the judge has said that the alleged actions of Assange did warrant such a degree of incarceration, and its accompanying slow torture, which could be taken as a warning by other journalists, when considering whether to reveal the secrets of Empire.
The light at the end
The lawyers for the US government are now set to appeal the extradition decision made by Baraitser, which also saw the judge declare that she has no "doubt that the usual constitutional and procedural protections" would be "applied to ensure that Mr. Assange receives a fair trial" in the US.
Wakeham expects that Julian will be denied bail, which would mean his "continuing illegal treatment", and he further posits that US president Donald Trump will drop the charges against the Australian citizen as one of his final acts in office.
But unless Trump does revoke the charges prior to 20 January, the activist confirmed that "as it stands right now, he's either going to be stuck in Belmarsh or stuck in Britain facing 175 years in a hellhole in America."
A national disgrace
According to Wakeham, a US presidential reprieve won't exonerate successive Australian governments from their neglect of a fellow citizen, whilst he underwent extended mistreatment at the hands of close allied nations.
Then foreign minister Julie Bishop worked behind the scenes to ensure the release of Australian journalist Peter Greste after his 2013 imprisonment in Egypt, while current minister Marise Payne pulled out the stops in 2018 to see journalist James Ricketson released from a Cambodian prison.
"Morrison has said diddly-squat about Assange, and Julia Gillard actually said he was guilty. She was judge, jury and executioner," Wakeham concluded. "All these prime ministers need to answer for their actions and personally, I won't rest until they face the music."
Receive all of our articles weekly
Author
Paul Gregoire
Paul Gregoire is a Sydney-based journalist and writer. He has a focus on social justice issues and encroachments upon civil liberties. Prior to Sydney Criminal Lawyers®, he wrote for VICE and was the news editor at Sydney's City Hub.