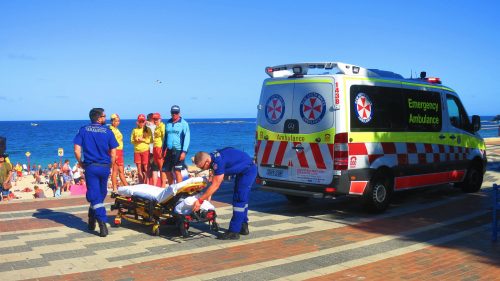 In the wake of a spate of violent attacks on paramedics and emergency service workers, the Health Services Union (HSU) is calling for frontline staff to be fitted with body cameras in an attempt to deter would-be offenders and capture incidents as they occur.
Latest incident
Paramedics were called to King Street Wharf Bar, Darling Harbour in the early hours of Sunday morning to treat an unconscious woman suffering a cardiac arrest.
As they tried to render aid, a group of people known to the woman allegedly became "agitated and aggressive" – to the point the Riot Squad were called in.
According to police, a 27-year old man attacked one of the ambulance officers and has since been charged with common assault, obstructing or hindering by an act of violence, possessing a prohibited drug and supplying a prohibited drug.
He was subsequently granted bail and will appear in Downing Centre Local Court on 19 September.
A 42-year old man was also arrested. He was initially released pending further inquiries and later charged with hindering police.
Most at-risk occupation of injuries and fatality
A paramedic is assaulted in New South Wales an average of three time per week.
Facing undeserved threats to their wellbeing and safety is reported to be increasingly common, and new national research has found there is no other occupational group at greater risk of injury or fatality.
Research by Central Queensland University academic Professor Brian Maguire found that Australian paramedics have the nation's highest rate of occupational injuries and assaults – a rate twice as high as police officers.
Professor Maguire's review used SafeWork Australia figures from 2001 to 2014, finding that the rate of violence against paramedics increased from five to 40 per year.
The study also found that female paramedics are at greater risk than men.
And a 2017 survey by Maguire of nearly 1800 paramedics from around the world found that 65 per cent had been physically attacked while on duty.
A growing issue
In the past year, in NSW paramedics have been bitten, punched and thrown across a room, and verbally abused, all in the line of duty, trying to help people who are sick and injured.
And of course unlike police officers, ambos are not equipped with weaponry which may be required to repel threats and subdue violent offenders.
The HSU attributes the rise in assaults to an increased use of drugs such as crystal methamphetamine, also known as 'ice' – which can cause 'ice psychosis' signified by paranoid delusions, hallucinations and bizarre, aggressive behaviour, and of course our culture of alcohol use.
While the NSW branch of the Health Services Union is calling for all paramedics to wear body cams to deter "idiots" from attacking them while they're working, the problem has become so dire in Victoria that the state toughened laws and increased penalties earlier this year for anyone who assaults emergency services workers.
A 'Category One' offence in Victoria
The problem came under the spotlight in Victoria last year, after two women avoided prison time despite being found guilty of assaulting paramedic Paul Judd.
On appeal, the pair escaped the mandatory sentencing regime introduced for people who assault emergency service workers, after the court found 'special circumstances' in their cases.
After a public outcry, the State Government ordered urgent advice on how to tighten access to the 'loophole'.
As a result, the Victorian Government agreed to have attacks on first responders and prison staff that result in injury classified as a category-one offence, which requires courts to impose custodial sentences.
Under the state's laws, courts are prohibited from imposing community-based orders, but can order that a custodial sentence be served in an approved mental health facility.
New South Wales
There are no similar moves on the cards in NSW.
However, Ambulance Commissioner Dominic Morgan recently introduced new safety initiatives which, among other things, direct paramedics to consider their own safety before attending to others.
The new policy makes it more acceptable for the frontline workers to actively avoid risks to themselves, even if it means ignoring injured persons.
And along with its call for the provision of body cameras, the HSU wants governments to better educate the community about the vital role of emergency service workers and the unacceptability of aggressive or violent conduct towards them – regardless of how stressful the situation may be.
The NSW Government is also under pressure to increase the number of ambulance workers in our state after it was revealed that some paramedics were forced to respond to jobs alone due to increasing demand.
Receive all of our articles weekly