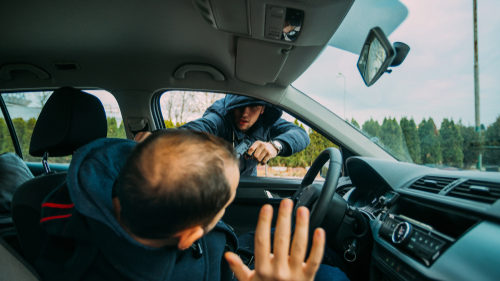 A little after 2pm on 5 May, a young man approached a 51-year-old woman as she was getting into her vehicle in the carpark of the Beresfield Bottle Barn and Tavern on Anderson Drive in the Newcastle suburb of Beresfield.
The 21-year-old man allegedly pushed the woman up against her black car, before taking the keys and driving away with it. Soon after, as he tried to take the roundabout at the intersection of Anderson and Glenwood Drives, the vehicle hit the gutter and crashed.
The man got out of the stolen car and approached another vehicle that had stopped in response to the accident. When the driver of the second car refused to get out, the 21-year-old punched him in the face several times, before taking off into swampland.
A number of witnesses followed the offender into the swamp and restrained him prior to police getting to the scene. As the officers arrived and proceeded to arrest him, several other witnesses stepped in to intervene and a scuffle broke out.
The accused was taken to Maitland police station and charged with a number of offences. These included unlicensed driving, resisting police, destroying property, intimidating police, as well as one count of aggravated carjacking and another count of attempted carjacking.
An emerging crime
Carjacking is a relatively new addition to the NSW criminal law books, although the actual crime itself has been around a long time. The offence entails the theft of a car involving threat, whether that be violence or intimidation.
It's a crime that came to the fore in the public mind in the late 1980s, when there was a great deal of media focus on criminal gang activities in Los Angeles and the influence that this had on street gangs in Australia.
Carjacking is also an offence that developed as a result of new technologies that made old-fashioned methods of stealing a car less viable. Car alarms and locking devices have made taking an unattended vehicle much more difficult, while a car with its keys is much more attractive option.
Carjacking scenarios
According to the Australian Institute of Criminology, carjacking is "both a crime against the person and a form of property crime". And while the media tends to focus on incidents of carjacking that involve violence, these are "relatively rare".
The institute explains that the term carjacking encompasses a number of scenarios, including targeting either moving or stationary vehicles, focusing on owners not in the immediate vicinity of their cars, as well as the occasional home invasion with the aim of securing a vehicle.
There are also a small number of carjackings that involve the victimisation of vehicle sellers. In March this year, a man arranged to meet a woman in Greenacre regarding the sale of a black Mercedes. And he subsequently stole the vehicle during a test drive.
Carjacking in the premier state
The offence of carjacking falls under section 154C of the Crimes Act 1900 (NSW). Subsection (1) stipulates that an individual has committed an offence if they assault a person with the intent to take a motor vehicle or vessel and drive it, or if they take the vehicle whilst someone is still in it.
If convicted an offender is liable to up to 10 years behind bars. The law definition of assault includes the use of unlawful force on another, as well as the mere threat of it, as long as the subject feels intimidated or scared.
A vessel relates to the definition set out in section 5 of the Marine Safety Act 1998 (NSW), which includes "water craft of any description used or capable of being used as a means of transportation on water".
Subsection 154C(2) of the Crimes Act states that a person who perpetrates a carjacking under circumstances of aggravation is subject to up to 14 years prison. Circumstances involving aggravation include being in the company of another or others, having a weapon, or causing actual bodily harm.
Basic carjacking carries a standard non-parole period (SNPP) of 3 years, while 5 years applies to the aggravated offence. An SNPP is a reference point for the sentencing judge when determining the minimum time spent behind bars before an inmate is eligible to apply for release on parole.
Enacting the offence
The Crimes Amendment (Gang and Vehicle Related Offences) Bill 2001 inserted the offence of carjacking into the Crimes Act. The legislation was passed by the Carr government on the 31 November 2001.
Then NSW attorney general Bob Debus explained during the second reading speech on the bill that the new offence of carjacking was "an attempt to fill the gap between robbery and larceny". Robbery is theft involving threat, while larceny is theft devoid of menace.
"The new offence will provide police with a simple and straightforward offence," the Labor politician told parliament. "It will apply in circumstances which involve actions more serious than joy-riding, but not as serious as robbery or kidnapping."
Stealing your own
There's contention over whether a carjacking incident that happened in the Victorian town of Mildura in September last year is actually a clear-cut example of the offence, as questions have been raised as to who the vehicle actually belongs to.
A man and his friend were towing his Nissan Navara ute on 11 September, after he'd been told to remove it from a property, where he used to live, as the vehicle owner had left it parked in the yard long-term.
As these men made their way up Etiwanda Avenue, Taylor Stewart pulled out in front of them in another car. A stranger to the other men, Mr Stewart allegedly got out of his vehicle with a 50 cm breaker bar and said he'd "smash" them if they didn't unhook the ute they were towing.
At a committal mention on 11 June, Mr Stewart told the Mildura Magistrates Court that the ute he subsequently took off with is actually his property. Although, the accused was refused bail, as he had already breached bail conditions that applied to him due to another offence.
Magistrate Andrew McKenna said that aggravated carjacking is an offence that carries a maximum prison sentence of 20 years in Victoria. And six witnesses have been called to appear at a committal hearing regarding the matter this coming September.
Receive all of our articles weekly
Authors
Paul Gregoire
Paul Gregoire is a Sydney-based journalist and writer. He has a focus on social justice issues and encroachments upon civil liberties. Prior to Sydney Criminal Lawyers®, he wrote for VICE and was the news editor at Sydney's City Hub.