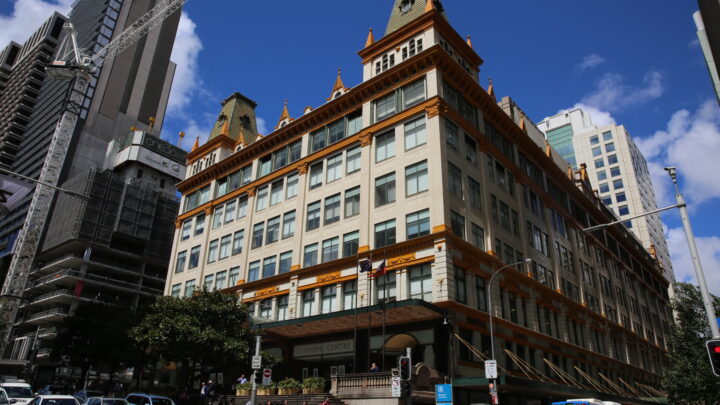 21-year old Haja Uma Timbo has pleaded guilty to failing to comply with a public health order by travelling interstate last year.
During the sentencing proceedings, the heard that Ms Timbo flew to Brisbane from Melbourne on 22 July 2020 after spending four nights in Victoria, which had been declared a Covid hotspot weeks earlier.
When applying for a border pass to return to Queensland, Ms Timbo failed to declare she had been in Melbourne – which was a requirement under the relevant public health order.
According to her criminal defence lawyer, Ms Timbo did this to avoid mandatory quarantine, which, she could not afford.
Subsequently two of her travel companions, Diana Lasu and Olivia Muranga, contracted Covid.
The pair became known as 'case one and case two' in the Logan cluster, which caused significant financial damage to the community through increased restrictions.
The Logan cluster
Authorities say the pair infected at least three other people and sparked numerous contact tracing alerts, causing the closure of both schools and shopping centres.
The Logan outbreak was linked to Covid cases in the Queensland Corrective Services Academy, Brisbane Youth Detention Centre and Ipswich Hospital.
All three women had originally been charged with one count of fraud and producing false or misleading documents, but these charges were withdrawn against Ms Timbo and Diana Lasu in the Brisbane Magistrates Court. The pair would have been facing a maximum penalty of five years in prison and/or fines of more than $13,000 for those charges.
Over the past several months, Ms Timbo has been subjected to hundreds of threatening, humiliating and vile online messages, and her lawyers told the court that she had suffered significant mental health issues as a result.
For failing to comply with a Covid border direction, Ms Timbo and Ms Lau, who also pleaded guilty, have been sentenced to perform 80 hours of community service and will have no conviction recorded.
Olivia Muranga is yet to face court.
Courts deal with poorly communicated Covid rules
As courts around the nation begin a 'return to normal' after lockdowns last year, many Australians will choose to fight coronavirus fines in court.
There are many potential ways to contest these fines, given the broad exceptions to the rules, as well as the available defence of honest and reasonable mistake.
Heath directions were rushed into place at the height of the pandemic, and there have been many documented instances where people didn't have enough information, and/or were given conflicting information, and were genuinely and reasonably mistaken about the fact they were breaching the rules.
The constant changes to the rules certainly did nothing to improve the situation.
Covid fines to kids and the poor
Earlier this year, data released from the Department of Justice and Community Safety showed that to 15 December 2020, a total of 1560 COVID-19-related fines had been issued to Victorians aged under the age of 18, worth about $2.3million.
Community legal practitioners working with young people who were fined say the "excessive" penalties are in some cases 10 times higher than what minors would normally receive for offences in the Children's Court, for what were, in many cases, inadvertent breaches.
There are very real concerns that many of young people, as well as those with no choice but to breach the rules while living on the streets, cannot afford to pay these fines.
There were also concerns over the cost of debt recovery, with the Government spending even more money chasing overdue amounts.
During the pandemic, Victoria Police handed out more than 19,000 fines and were criticised for their 'heavy-handed' approach.
Covid fines in NSW
There is no similar breakdown available in New South Wales, although last year the NSW Government announced that welfare recipients, or those suffering financial hardship, would be able to apply to have fines reduced.
It's now up to the courts to deal with the fallout.
In New South Wales, the Government can enforce sanctions if fines are not paid by the due date, or an extended due date.
If you have asked for a fine to be reviewed, and disagree with the outcome, you can choose to go to court, but it's worth noting that if you are convicted of an offence, courts can impose harsher penalties, so it's a good idea to seek legal advice.
Receive all of our articles weekly